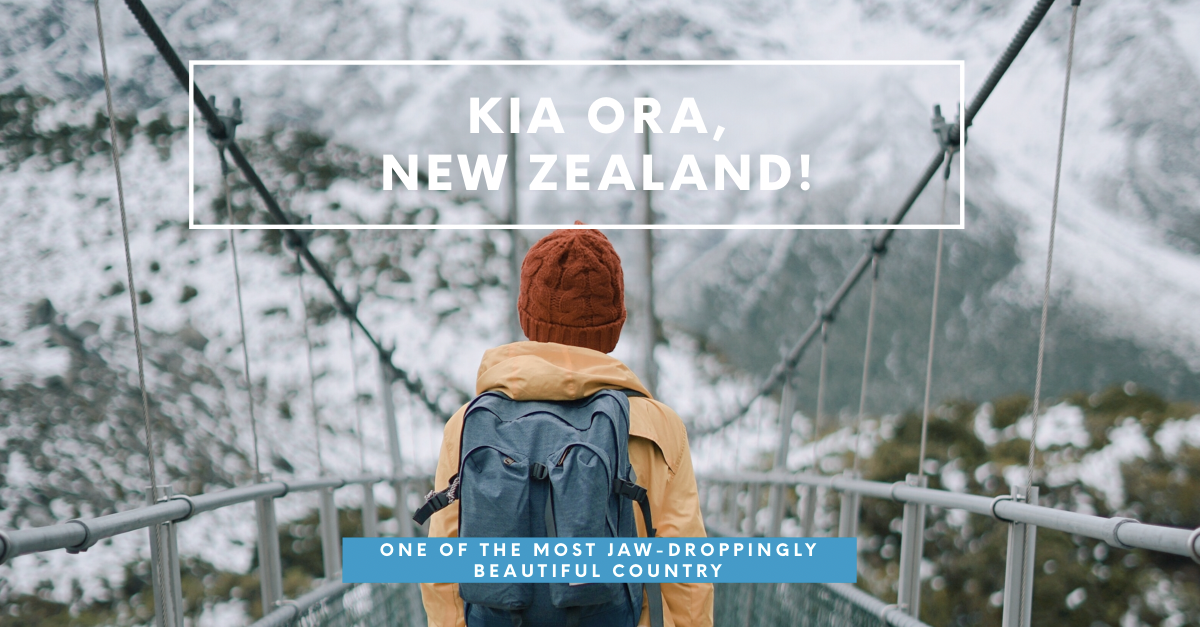 Before I jump into the amazing story from my trip, why don't we go back a little bit to the part where I somehow could go to New Zealand.
Yes, New Zealand… The place of where all kind of landscapes wrapped into one country. The country itself has been sitting duck on my bucket list, also at the same time was one of the most wanted countries to be visited. Last year, I was supposed to be there but I could not make it. It was a huge dissapointment! When I received an invitation from Pure New Zealand, my mind was blown! It was like a dream and not real at all. I also pinched my cheek, just checking it wasn't a dream. I'm glad, it wasn't! The moment I opened the email, I felt like I have the butterfly in my stomach.
THE JOURNEY STARTED
So we started my journey from Bali. Then, we continued to fly to Singapore for the transit and from there; we flew straightaway to Auckland, New Zealand. The total of the flight was around 12 hours. It sounds like a long boring flight isn't it? Nah, it totally wasn't! Guess what? That's all because we flew with the Air New Zealand. There were so many inlight entertainments which kept me and Kevin super occupied. I spent lots of time watching the most up to date films, you name it and I will tell you all (spoiler alert!)! The service did not stop till there, the flight attendants were delivering an excellent hospitality and surely they really wanted me just to enjoy and relax. Felt like in no time, I arrived in New Zealand already! The first destination was Auckland for me and Kevin!
AUCKLAND
Auckland, eh? Hahaha… There was an awkward moment between Kevin and I. We looked at each other and thinking, "Are we really in New Zealand now!?" It's always funny when you've been aiming something for your whole life, then when you truly get it, there's this disbelief feeling and you just have to settle down and get used with the fact that a dream really is come true.
We got pick up by a hired cab from the New Zealand Tourism body and the cab driver explained to us briefly about the neighbourhood in Auckland. Some bonus moment is when he also told us that there is a well worth hike at the park to the top of Mt. Eden. Now, there is another fact that you probably need to know about Mt. Eden, it is the highest volcano in Auckland. But, its last eruption was approximately 15,000 years ago! Wowza!
We finally reached the Heritage Auckland hotel. The moment we entered our room, there was already a tote bag for each of us from Pure New Zealand. Inside the tote bag, there were many kinds of stuff such as our next flight ticket to Queenstown, Pure New Zealand jacket, notebook and else. How thoughtful! The jacket was come in handy for us to enjoy the autumn season and the notebook, hey you can always take down something on it.
AUCKLAND DAY 1
We started the day with a superb English breakfast served by the Heritage hotel and then Kevin and I started to wander by ourselves. We walked around the city in the morning and in the end, we reached the Princes Wharf and Queens Wharf to spend our morning free time. Before us heading back to the hotel, we walked through Queens Street and bought the Vodafone Travel Simcard so we can keep updating our journey.
Around 11 am, we came down to the lobby and met our beautiful travel companion from Malaysia named Bella and Serene. Bella is a lifestyle influencer, meanwhile, Serene is not only a lifestyle influencer but she is also an actress.
Furthermore, we all had an appointment with Elle from The Big Foody Tour. She had designed a wonderful tasting food tour for almost a full day. Originally, Elle is not from New Zealand but from somewhere near Cambridge, UK. She has moved to New Zealand because she loves the country very much. So our first stop was a stylish café called Scarecrow. The thing about this place is that it has an urban farmers market and also flourish focusing on locally sourced and organic fare. Elle served u with a lot of food! But the one I really like was when I mixed the Bonnie Oatcakes with the Earthbound Manuka Honey and another fruit called Feijoa (so no only Kiwi guys!) which is only produced locally in New Zealand.
Next stop was The Kapiti Store! Their cheeses were new, exciting and memorable from 1984. We tried so many cheeses as the appetizer. The cheese that became my favourite was the Kapiti Pakari Smoked Cheddar Cheese. From the appetizer, we jumped straightaway to the desserts! Yummy! They also produced their own ice creams. Like their cheeses, we had the opportunity to try soooo many ice creams. There were Kapiti Black Doris Plum, Kapiti Feijoa, Kapiti Fig and Honey, Kapiti Vanilla and also Kapiti Triple Chocolate. My favourite went tooooooo; Kapiti Feijoa!!
By now, we actually already walk to our last stop with a full belly LOL! But, Elle was quite clever too. She took us to the Aotea Square first so we could have some time before we fill our belly again. Along the way, Elle also briefly told us that Auckland is surrounded by 48 active volcanoes. Fortunate enough, all of them now is dormant.
We finally arrived at our last stop called Culprit. The restaurant's method itself is to work together with the local New Zealand producers, suppliers and farmers. I tell you what, this place looks fancy and the way they served the foods were in style. Top notch!
Unfortunately, this is where the tour ended. We said goodbye to Elle at the Culprit. and we wished we will meet her again in the future. Our wrapped up our day by meeting our Kiwi host, Hanna at the Amano restaurant. We came at around 7.30 pm and the place was so crowded. I can tell this was a go-to place after office hours for the Aucklanders. Amano itself is another local produced restaurant with a belief in provenance and sharing only seasonal, sustainable from New Zealand growers and farmers. I can tell already that the Kiwis really love the stuff from their own backyards! People here were buzzing for their own foods and ingredients. So anyway, we had a chit-chat with Hanna about our plan for the next day and oh boy, the next day was even more fun!
AUCKLAND DAY 2 AND HAMILTON DAY 1
Today's was the next day that I told you it'd be more fun. We started our day by meeting each other in the main lobby. I could see Hanna already standing by. Then, not long after, Bella and Serene came along too. We walked for not even 10 minutes from the Heritage hotel to the Sky Tower Auckland. What a convenient location isn't it?
When we arrived at the SkyJump's counter, all the staff did some serious checking on us. From how height and weight we all to harnesses and stuff. Anyway, SkyJump is the NZ's highest jump and only Base Jump by wire. So, it's quite safe! The guys explained to us that we were going to jump from 192 metres high at 85 km an hour! Freakin' insane!
Since we all were chickened out, so we agreed to take the long-short paper to decide who's first. So, Bella was the first one and it didn't take her too long to jump. She did very well I must say. Then, Serene came as the second one and she was soooo scared. It made all of us scared too! But at the end, she jumped. Wohoo! Then after her was me! I tried to make it as quick as possible hehehe. Kevin's jump was a mess LOL, we couldn't hold our laugh at him. Hanna was the last and she did brilliantly too. Later, we found out that Hanna closed her eyes when she jumped hahaha sneaky!
After SkyJump we checking out from the hotel and heading to Hamilton. Our first destination in Hamilton was to drop our luggage at the Novotel Hamilton then go straight to the famous Hobbiton Movie Set. I never actually realised that the whole Hobbiton Movie Set is located in the family-run farm of Alexander. We had a lovely tour from one hobbit house to another. We ended our tour by spending the sunset time at the Hobbit pub drinking ginger beer and apple cider. Fun fact; although the movie set is quite massive, it actually only took a 1% of the Craig Alexander farming land. Crazy right!?
So we got back to Hamilton and then continue right away to get out dinner at the Dough Bros. I totally recommend you guys to have some bites at this place because we totally enjoyed our evening time here.
HAMILTON DAY 2 AND FLY TO QUEENSTOWN
We waited for each other in the morning as usual and didn't take much of a breakfast because we had a plan to go to the Hamilton Garden and do some picnic there. When we arrived, we were welcomed by one of the staffs. She explained a lot about the garden and how much care all the staffs have put to it.
Before the picnic begins, the staff said she'd love to take us for a bit of a stroll around the garden. Hamilton Garden itself consisted of many themes from around the world. There was a Japanese Garden, Indian Char Bagh Garden, Italian Renaissance, Chinese Scholar's Garden and many more. I personally love the Indian Char Bagh and Italian Renaissance because it reminds of my travel in India and for the Italian, and I just loved how beautiful the place is. Done with the walk around the park, we got to the main idea which was a picnic in the garden. Surely, I wasn't thinking to have a genuine picnic but instead when I saw the Hamilton Garden staffs brought us the proper picnic basket and I just think this will be a good one.
We spent almost an hour an a half talking about stuff, our next destinations, our own countries and else. I love this kind of quality time we were having in the garden! More importantly, we had a good bless with the weather! When we're talking about the picnic, we're also talking about the weather, right? The mid-autumn weather in New Zealand is definitely the good one. Unfortunately, we could not stay here for long because after this we had an afternoon tea appointment at the Zealong Tea Plantation.
When Hanna drove us to the plantation, we thought the plantation would like back at our home. You know that layer after layer after layer of teas. But when we arrived, I was surprised by how modern it looks. More like a tea institute for me than plantation LOL. We were guided by one of the staffs and he explained that everything about this plantation was about a dream, an obsession and passion. We watched the corporate video and sat down to watch the staff demonstrate how to enjoy the Zealong tea in a proper way. The day at the plantation ended with the afternoon tea time where there were the bunch of appetisers and desserts.
From the tea plantation, we headed straightaway to the Auckland airport and took our flight to Queenstown with Air New Zealand. The flight took about 1 hour and 50 mins. I think it was one of the flights that I could not forget because we started really smooth from Auckland. We enjoyed the sunset and the pastel colour sky at the beginning, but when the sky turned dark and we were very close to Queenstown somehow the turbulence coming intensely. Luckily, we arrived! Phew!
We'll be spending our days in Queenstown with a beautiful accommodation from Novotel which located just beside the Wakatipu Lake. Although everybody's rooms did not have the luxury of lakeside view, to be honest, it was just less than a minute walk. Even every places accessible within 15 minutes walk. For example, after we were done offloading our stuff, we went to our dinner place called Yonder which was just less than 5 minutes walk. The place was so hyped and probably because we arrived on a Saturday night. When we were done eating, there was a band who prepared to do a gig as well. People were so chill and look like just having a good time. At this point, I also had a good feeling about Queenstown will be my favourite place. I know it's too soon, but we'll see!
QUEENSTOWN DAY 1
On this day, Hanna took us to a little town called Arrowtown. There's a special reason on why she brought us here. Yes! In this autumn season, Arrowtown is very famous with its Autumn Festival. There were many things happened here, starting from; the local bazaar/market, food vendors, classic cars show, local bands and local performance starting from the kids to the adults.
We were told that there is a lovely restaurant and it is an Asian cuisine called Fan Tan. Unfortunately, we could not make it in time because we all were very excited about the festivals and we forgot to feed our own belly! So we decided to go to a local bakery and wrapped up some sandwiches which were the delicious substitute.
Done with the lovely Autumn Festival in Arrowtown, we headed back to Queenstown to catch our cruise tour and crossing the gorgeous Wakatipu Lake with TSS Earnslaw which designated by Real Journeys. A little bit about the TSS Earnslaw itself, it is New Zealand's most iconic boat and I have the reason to believe that it is also one of the reasons why people go to Queenstown. Because, by joining on the boat, people will have the experience of 90 minutes cruise across Lake Wakatipu and showed some of Queenstown's outstanding alpine scenery. There is a mini-museum, also I was able to visit the engine room which revealed how the giant steam engines at work, there is also café and bar, but still, the view was the one to die for.
Not only TSS Earnslaw and the stunning surrounding of Wakatipu Lake, We have also had the chance to visit Walter Peak High Country Farm for a guided farm tour. We had the time to feed the farm animals from sheep, cows, highland cattle, goats and alpacas. Alpacas gotta be the cutest one but they just that type of animal that does not give a damn LOL. Our guide told us that we can enjoy sheep shearing performance (which was not really enjoyable for me because of the poor the sheep tho). But, the one that made me really cheer up was the performance from the farm dogs. They were showing us how to control the dogs and bring the sheep back to their cage.
Done with everything at the Walter Peak Farm, We cruised back to Queenstown with the boat and once we arrived, it was the perfect time to have a dinner. Because we missed the Asian lunch earlier that day, then we made up with the Malaysian dinner of Madam Woo Restaurant. Finally something familiar and tasty for my hungry belly and tongue!
QUEENSTOWN DAY 2
Good morning from Queenstown (again)! I was so energetic today and woke up earlier than the other days before, that was all because we had an appointment with Nomad Safaris. So, Nomad Safaris basically is a scenic Glenorchy safari which offers breathtaking mountain and forest views along the Wakatipu Lake towards a small photogenic town called Glenorchy then end up at the Paradise Valley (And the name is literally Paradise). And I thought it was all that, but hey, there was more! They explained to us a bunch of info about Lord of the Rings film and some from X-Men and Narnia film.
The tour was awesome and we visited many remarkable spots. We even got a place for a picnic at the meadow surrounded by mountains. Truly magical! Although, I was thinking about passing some damaged road because we were driving around with a heavy 4WD jeep.
After we done with the tour, we made a decision to eat the famous Fergburger! At first, I only know some best burgers are from New Zealand because of the country is famous for its farming right. Then, when I posted some Instagram Stories, some people highly suggested the Fergburger and I was so curious about it. Kevin and I actually passed the place a couple of times when we were wandering by ourselves but we did not know it was the Fergburger's place. I tell you what, the line was impressively long! I salute you if you can get a sit at the place. However, I think it's much better if you do like we did. We got our burgers and walk a little bit to the park beside the lake and eat there. Much better!
After the Ferg, Kevin and I headed back to the hotel and get some rest and also work with some assignments. Later in the early evening, we decided to take a walk before we met with the others to go to the Queenstown Skyline. The view of Queenstown from the top was magical! Unfortunately, it was too dark to take some photos, but I think I got some. We also got our dinner here too and after dinner, we did some stargaze for a while before it got too cold and we went back to the hotel. We needed to take an early rest as tomorrow will be a long trip for us.
QUEENSTOWN DAY 3
I think for today, we woke up around 5 am and get ready for a full day trip to Milford Sound. For today's trip, we were using the great service from Real Journeys. From Queenstown to Milford Sound with a bus took about 4 hours. We had a stop at a nice town called Te Anau, in here we had sometimes to enjoy the beauty of its lake. Although we travel for 4-5 hours to the Milford Sound, the journey wasn't even felt that long. I think the custom-built glass-roofed coach played a big part there because I kept starring up where we passing the gorgeous Road 94. This road is passing through mountains and forest, so believe me when I tell you to not fall asleep!
On this journey, we met a strange type of bird called Kea. This bird looked like it could get along just fine with the humans and did not seem like so much of flying.
Anyway, the Milford Sound is believed to have been discovered by the Maori over 1,000 years ago. There's a reason it's called the 8th wonder of the world by the Kiwis. I really enjoyed our trip here because these landscapes were just nowhere to be seen but here.
Once we were done with the cruise ride, we were told by Hanna that we can go back to Queenstown by using the scenic flight. Unfortunately, the weather told us differently. The scenic flight was cancelled due to the thick fog rising up to the Milford's air. So, we gotta go back to the coach.
When we arrived, we were late to catch our dinner reservation which was fine. Because we opted to get some cheap Asian food and we really enjoyed that.
WANAKA DAY 1
Sadly, today we were leaving Queenstown but it's also whole new day because on this kind of trip, leaving means heading to somewhere new and yes, we were heading to probably the most trending town in New Zealand. It's Wanaka!
Driving from Queenstown to Wanaka, we took the pass called Crown Range Road. Hanna on purposedly took this pass because she wanted to show us some perfect spots to be enjoyed since driving from Queenstown to Wanaka normally only takes an hour-ish.
We even make a stop at a place called Cardrona. Like Arrowtown, Cardrona also has the look of the wild wild west but much smaller size. At Cardrona, some people (including us) also took some photographs at the Bradona, the name which given because there was a raise fund for breast cancer and someone decided to leave her bra here and since then the tradition was carried on. Unfortunately, we weren't prepared for it. So we didn't leave our bra there hahaha.
We finally arrived at the Wanaka town, but we didn't go to our accommodation right away. Instead, we were heading to the Lavender Farm. At the Lavender Farm, not only we met the owner, we also were introduced with Nicola, the marketing coordinator of Lake Wanaka Tourism.
The Wanaka Lavender Farm is just a few minutes from Wanaka, where we could experience 10 acres of beautiful lavender fields and display gardens. Not only that, we also had the opportunity to enjoy a walk through the flowers, meet their friendly farm animals, play a garden game, unwind over a cup of herbal tea, then tasted the lavender ice-creams.
After running around at the farm, Nicola invited us to get a lunch at the Double Black. The recommendation was spot on because we all were dying to try some local food after spending nights with Asian cuisine.
Lunch was over and it was the right to get some adventures! Hanna told us that we will go for another 4WD jeep ride again but this time will be different. First, we arrived at a small pier and from there we took our own water taxi. The water taxi brought us to the remote island and it was super windy! From start to finish we are off the beaten path, no people, truly remote, truly stunning.
We cruise past Stevenson's Island to our landing point at the foot of Mt Burke. Boarding our 4WD Vehicle we climb above the lake, the view expands until all of Lake Wanaka lays before us in a stunning panorama of crystal clear blue water and the alpine peaks of Mount Aspiring National Park. ABSOLUTELY INCREDIBLE!
We really took our time before we were checking in at our accommodation! But now, it was the right time. We spent our night at the beautiful place called Edgewater. Since it was already dark, I could not see the surroundings. But, the place was massive because it even got its own kitchen and living room, just like a studio apartment. Hanna told us that the view is facing straightaway to the lake, most importantly, it was near to the most famous tree (I think) in New Zealand and that is that Wanaka tree!
We spend our dinner at a fancy bistro called Bistro Gentil which uses a modern French type of cuisine. There was one funny story though, Kevin forgot to read the itinerary and he thought that we were going to spend the dinner time at some youth bar. So he didn't dress properly for the occasion. But, he was fine. It's not like he got kicked out for that hahaha.
A night in Wanaka is different than in Queenstown. In Queenstown, you still can sense the people around. Meanwhile, in Wanaka, it was quite silent and not too many light pollutions. So we could see much more of stars than any other places we've been before.
WANAKA DAY 2
As Hanna ever told us before, our accommodation also located beside the lake. This time, all of us have a lake view room each and I'd say the room was too big for a person each. It was more like a studio than a hotel room! I had my own laundry machine, living room, kitchen and that was awesome! Most importantly, Hanna also mentioned that our accommodation located not too far from the most famous tree in entire New Zealand and probably the world. Yes! That is that Wanaka Tree!
I decided to walk around the lake in the morning with Kevin, and then I met Serene too at the lobby. Serene had this idea of walking to the town centre because she thought it was close by. So, we tag along with her since going to the town means walking beside the lake too. About 10-15 minutes walking, the scenery was insane! Probably because we were there in the autumn season. But, the path led to the town centre was surrounded by the falling leaves. I thought that was already insane enough until we finally came across the Wanaka tree. After all these years just enjoy looking at it from my phone screen through somebody's post on Instagram, and now here I am, standing in front of it. Well, of course, I need to be honest in here, not only us who standing in front of it. But, there were dozens of other tourists as well.
After admiring and taking some photos for quite a while, we continued our walk to the town centre which took about another 10-15 minutes-ish. When we arrived, everything was closed due to the public holiday. Some were still open late in the noon. We met Hanna and Bella for our lunch at the Francesca's Italian restaurant. The place itself was gorgeous and the foods look stunning. However, we had to doggy bag them because we had to catch our schedule.
We drove back to Queenstown to catch a flight but before that, we needed to stopover to get one last awesome thing. And that was the Shotover Jet! Oh man, I wish I can tell and describe it really good for this one but words on my mind fail to do so. The ride was great and crazy at the same time! I kept screaming everytime our Jet driver put some sharp turns. We were soaking wet and head spinning full of air from the swift ride. But yeah, I wish it was more than 30 minutes ride full of adrenaline rush hahaha.
Now, we were heading back to the airport. For others, it was the end of their trip. So, we bid a farewell with them, wish them well and hopefully we will meet again in the future. For us, we still have other things to do. And guess what, it was a road trip.