Thanks @kevineanda for writing this stories .
LEAVING BALI FOR PULOCINTA
Emm… So we had an early flight which was around 08.40 AM (I knew from the beginning this is going to be a bit challenging!!!). Well, as usual, I am a morning person and easily awaken by the 4-5 alarms that I setup on my iPhone for every 10 minutes sequences. I read it somewhere it actually helps your body and brain to process everything nice and with steps. First, second alarm help to make your body and brain aware that it's time to awake but you can have a bit of additional rest. Third and fourth is like "Wokey buddy, we really need to get up". The fifth be like "DUDE! You're about to FU*%ED UP!".
Blablabla… I woke up and I rush to wake Anggey and she basically said: "pissed off!" LOL.
TOUCHED DOWN IN GORONTALO
Then, we reached the airport and flew to Gorontalo through Makassar as the transit point. Been ages since the last time I was in Makassar. Some of my families from my mother's side in here though. So, we reached Gorontalo! Do you know that Gorontalo has a small nice airport named Jalaluddin Airport? You gotta know it guys. So we got Anggey's luggage and suddenly we stopped by the lady that checking the luggage ticket that proofing the luggage actually belongs to you. Anggey lost her boarding pass (he he he don't worry, I knew it) then luckily the luggage ticket sticked on my boarding pass. Lesson learned, don't let Anggey brings your ticket :P.
So, out from the airport and so many drivers shout "PULOCINTA?! PULOCINTA?! PULOCINTA?! PULOCINTA?! PULOCINTA?! PULOCINTA?! PULOCINTA?! PULOCINTA?! PULOCINTA?! PULOCINTA?! PULOCINTA?! PULOCINTA?!" I was like "I'm starting to not loving this island". Funny because PuloCinta means in literal "Love Island". Should I share why? Nah I don't think so.
We got picked up by the driver that supposed to be our official driver called Mr Noval and I think this is arranged by the Cotton On (he was a super kind guy who understood we were super tired and he decided to just be silent for the whole trip until we threw him some questions). He told us the journey to the pier is about 2 hours so we decided to just sleep on the entire drive. I woke up somewhere around random small bumpy road on the hill. I promise you, you won't expect to pass this kind of road to a pier. Then Mr Noval all of a sudden broke his silence and with a very calm voice said "That's PuloCinta". He didn't point with his finger, he just moved his head a little bit to the right. We were like a kid from the first Jurassic Park movie, looking through the car's window and said "Wooooow!".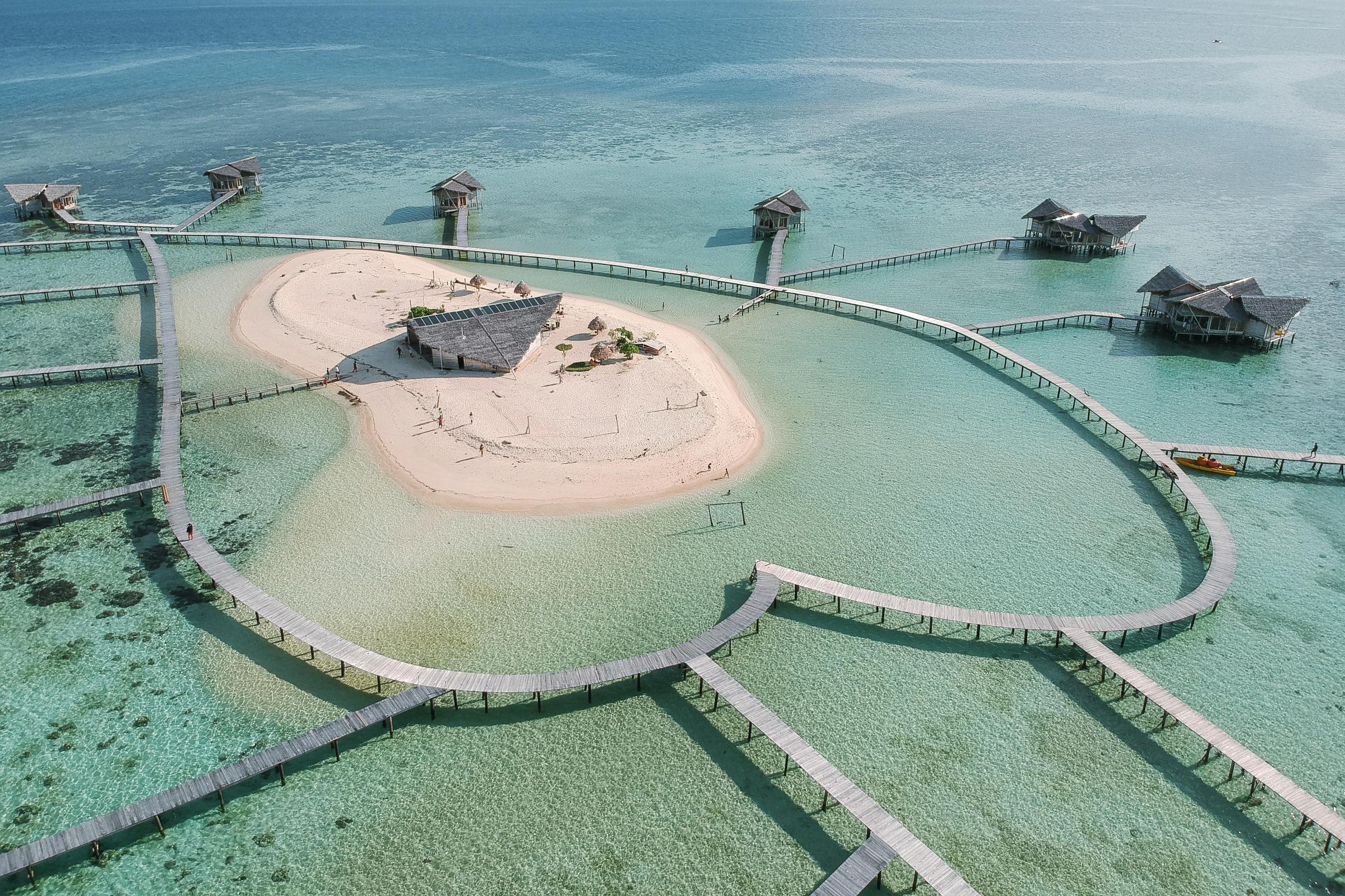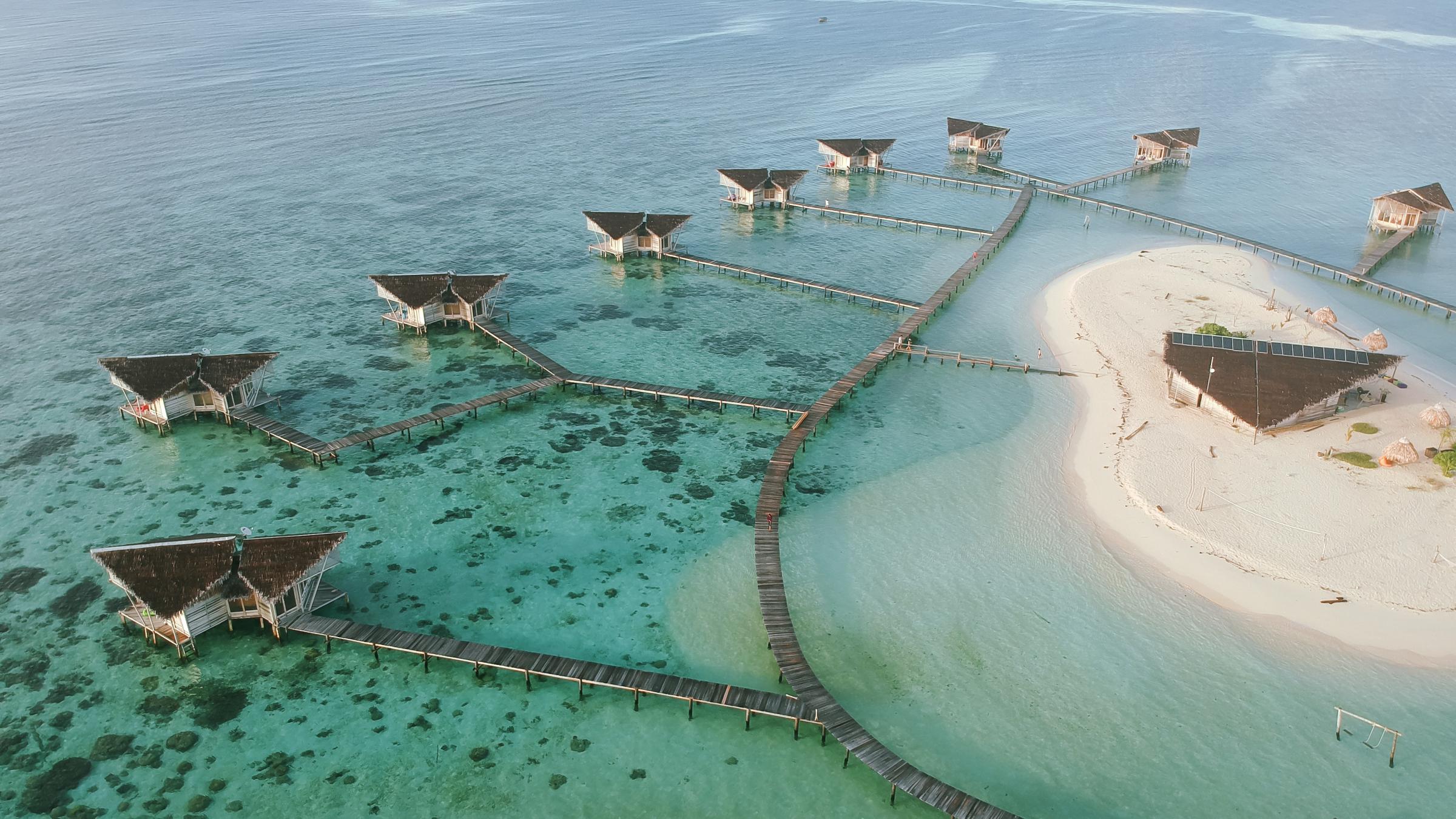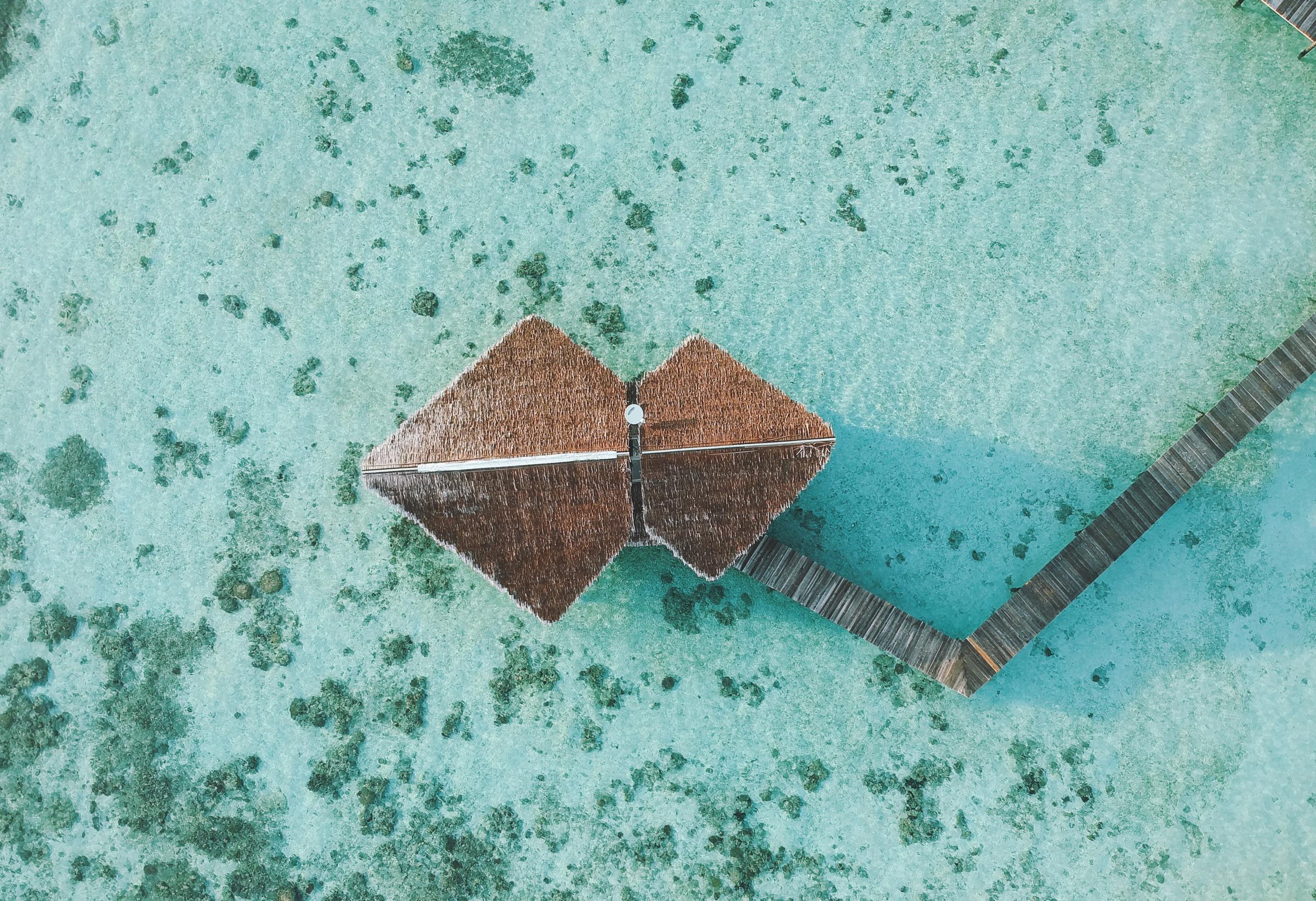 Then, we arrived at a very small port named Tilamuta Seaport in Boalemo, Gorontalo. The port is so small and I think it can only occupy few small boats. There were small white sand beaches surrounded by mangroves. When I was still amazed by the view, then Mr Noval took our belongings straight to a small boat that was about to take off from the pier. I realised we weren't the only ones that go to PuloCinta at that time. There were some girls and a guy who just could not stop talking along the way (I'm assuming, he was their guide?). When I was going to jump into the boat, there was this girl from the pack just finished smoking and then casually threw the cigarette but into the super turquoise ocean. Damn, my heart was aching like there was a shattered glass threw into my heart. Still, can't believe that I witnessed this kind of thing by myself.
Okay, forget that girl for now. Finally, we took off from the port. The glimpse of the dreamy island slowly became the real one. Just about 15 minutes swim-away from the island and the captain (should I say "captain"? Or the "boat guy"?) descending the speed of the boat and let the ocean slowly pushing and pulling us to the PuloCinta. The boat guy really knows how to tease people huh?

STEPPING INTO PULOCINTA ECO RESORT
The place was indeed really admirable. I can see why some people would love to spend the nights here and especially for those who enjoy the ocean. I don't think I can count myself in. I spoke with the staff of the resort about what we can do around here, and then they said you can either snorkelling around by yourself or with a guide and hopping from one island to the others. One other thing that we can do is considered as the most famous one; none others than sailing around the ocean with a dive master to find the gentle whale sharks. I swear to God, if I'm not terrified with the swimming into the ocean I would've gone there. It's going to be pretty awesome to see such a humongous fish labelled with a name "shark" but won't even think to bite and eat you.
Okay, so the process to get our room was quite easy. I wouldn't even have to go to the receptionist / the office to get to know which one is our villa because the guy who greets us guided us straightaway into our villa (thanks to Cotton On which managing everything pretty well). We had the number 14, and I am telling you guys… You must have this villa! Because it is the most gifted one! I won't tell you now though. We were a bit surprised because after the guy finished walk us through then he left us with no key or card whatsoever. Yes, we couldn't lock our door because everything in here was perfectly safe. Nobody's robbing somebody's villa or else.
There was a moment when there were lots of people visiting the island (I heard that you can actually come to the island without having to stay in the resort), then the staff guarded the path that leads to the villas. It was to avoid unnecessary things happen. I would say they do great with it.
Around the first early evening, we were famished! They did serve snack time too. Lucky us! So here's about the system in the resort; it seemed like they have a package which your breakfast, lunch, snack time and dinner were covered. However, though, we could not be so picky (and thank God we are not those kinds of people). The meal system in the resort was quite limited. They provided all of us with few foods. For example, we had fried rice, mee hoon, sunny side ups and some toasts. For lunch or dinner, can be anything but there's always some seafood and what they called as "Sambal Dabu-Dabu". One of my friends told me that they have the best one which I second that.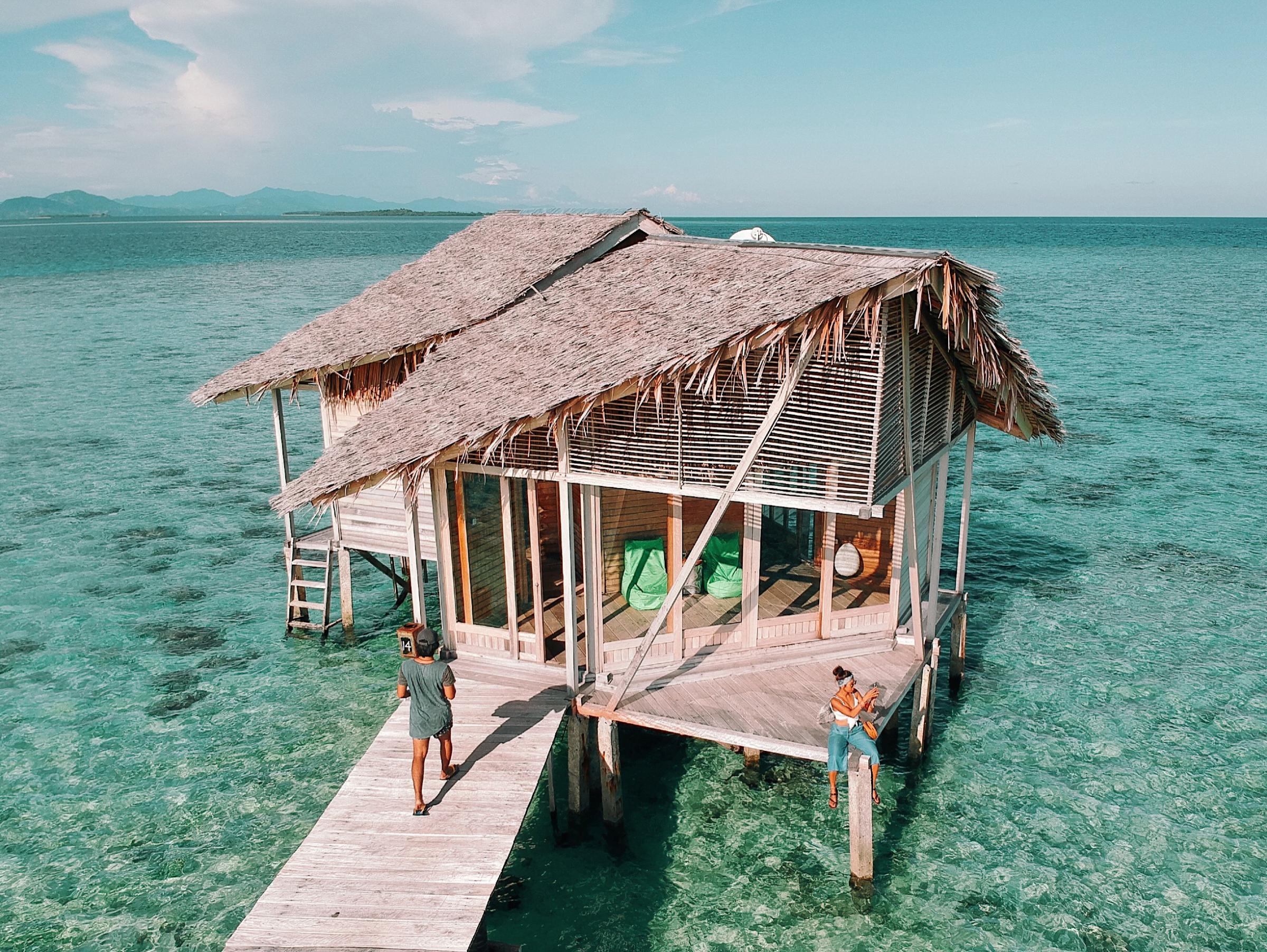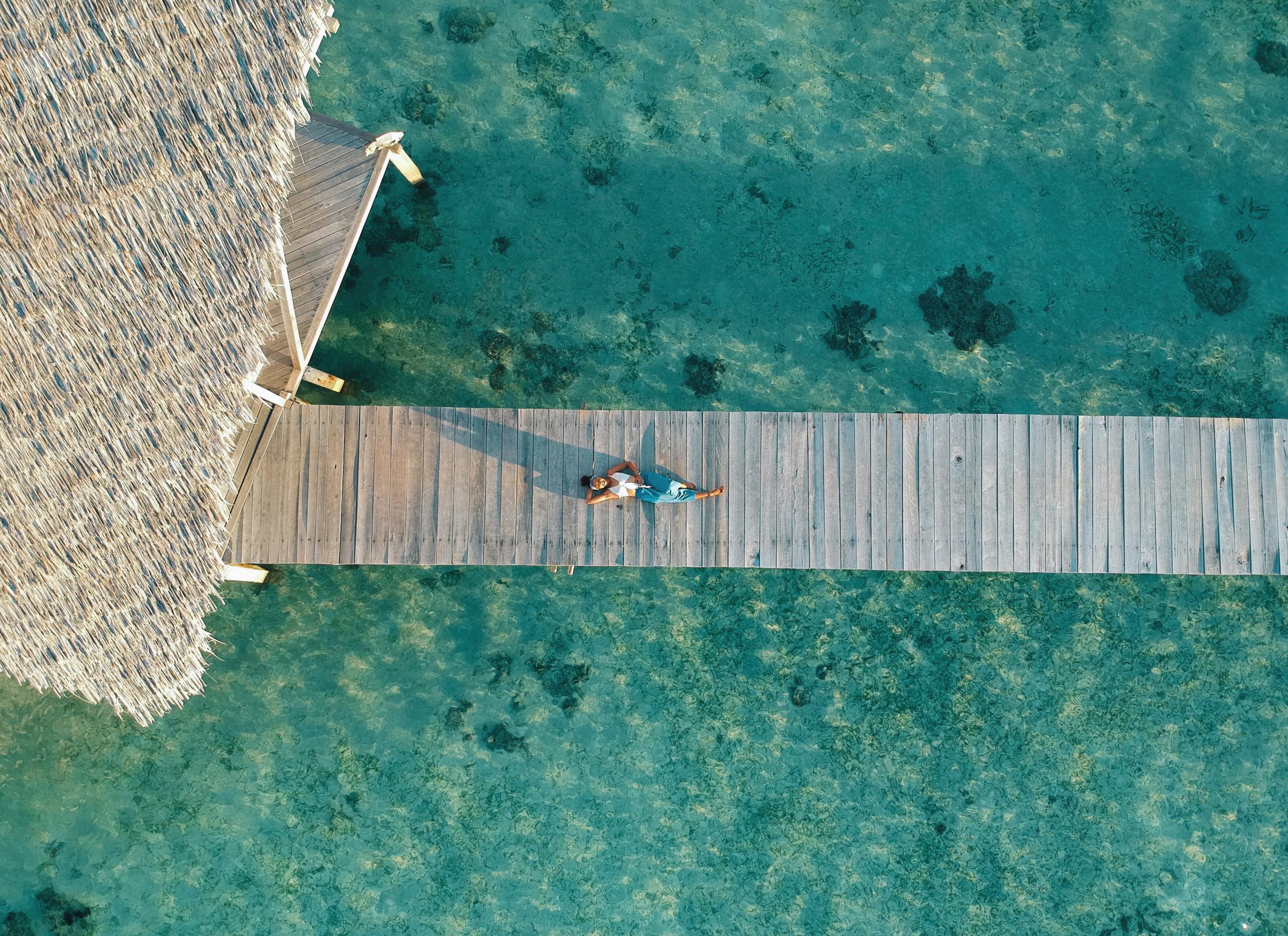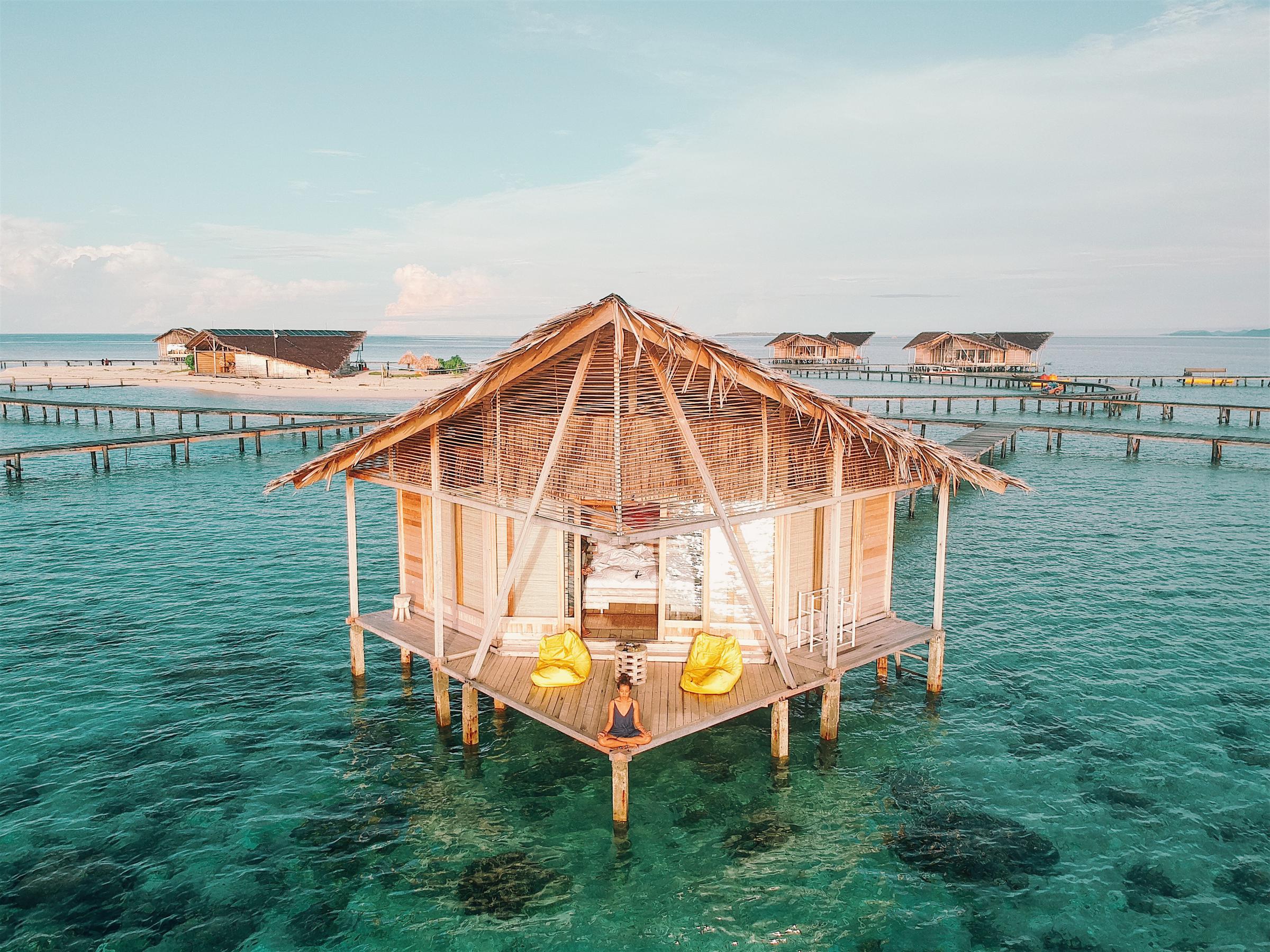 THE NIGHT AT PULOCINTA
What you actually expected from a superb greeting from a dreamy island during the day time? All the white sand beach with an inviting turquoise ocean colour, lovely people with a comfy villa to stay in. Then during the first night, we can actually see the moon almost at 100% going to be a full one. I've enjoyed everything so far and I bet likewise with Anggey. Then I fell asleep.
All of a sudden, Anggey woke me up. I was half awake when she started mumbling something. Then, everything slowly came to me. I could hear Anggey kept telling me about the heavy rain outside. At the same time, I could feel there were some raindrops bashed by the wind hitting my skin and my face. I opened our back balcony and I could hear the storm and see the ocean that at first I thought would be the calmest I've ever seen turned into unpredictable moving monsters. I could have sworn if I jumped, you won't find me typing all of these things. The villa was starting to show that it could not handle the storm as there leaks everywhere. We had to move all of our stuff to the driest spot in the bedroom. Moreover, we had to secure all of the electricity and plugs were safe from the raindrops. Oh hell, I did what I think was the best one. I turn off the electricity from the main switch.
After everything was safe, we unbelievably tried to sleep again. Believe it or not, we survived the night. When we woke up, the sun was already raised and the tide was already gone. The monsters have gone and now switched again with the calmest one. I could see some gorgeous fishes swimming around in the ocean of our back balcony. Everything just went from horrible to beautiful again. I remember one of the Indonesian phrases said: "After the dark, the light will rise".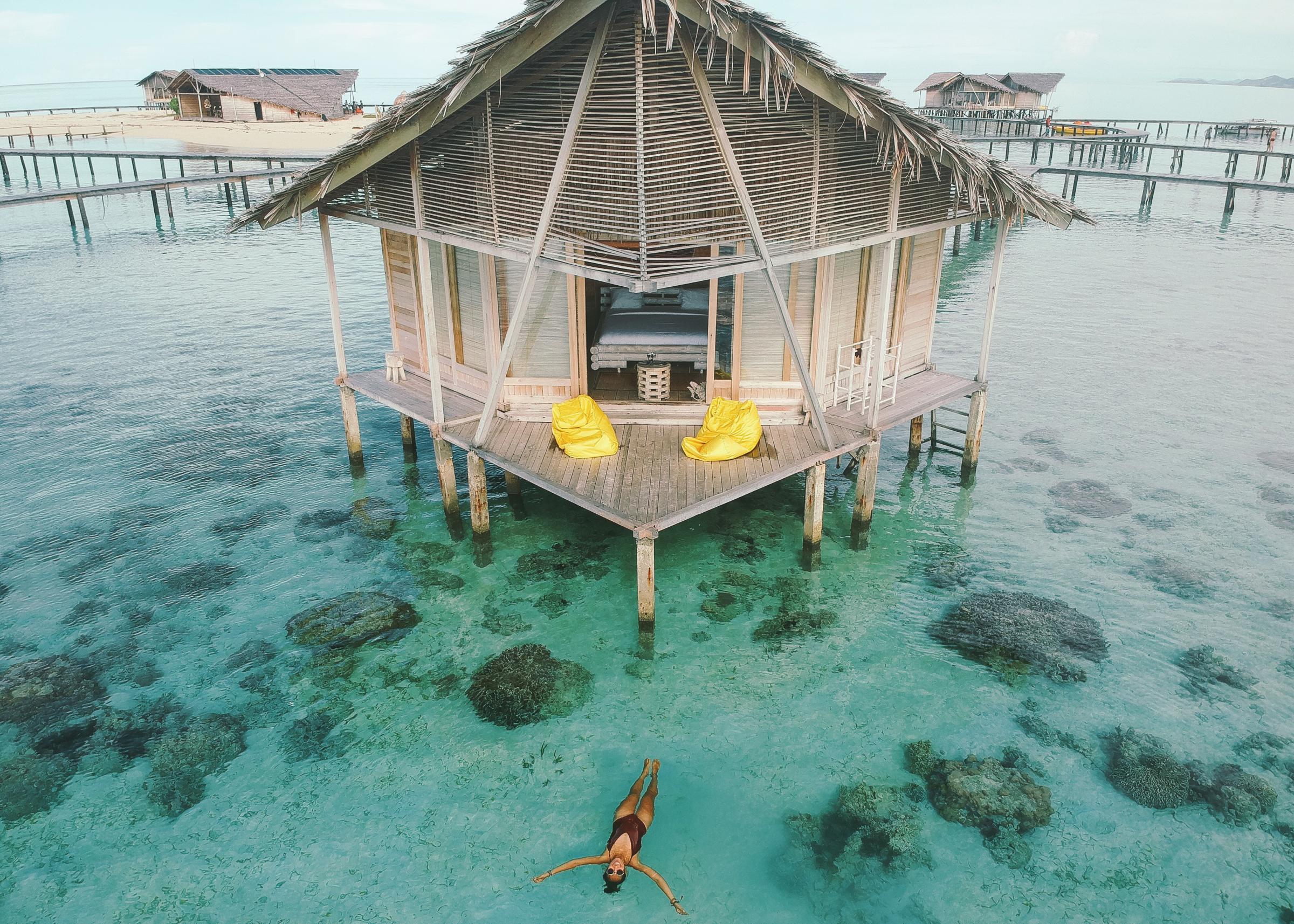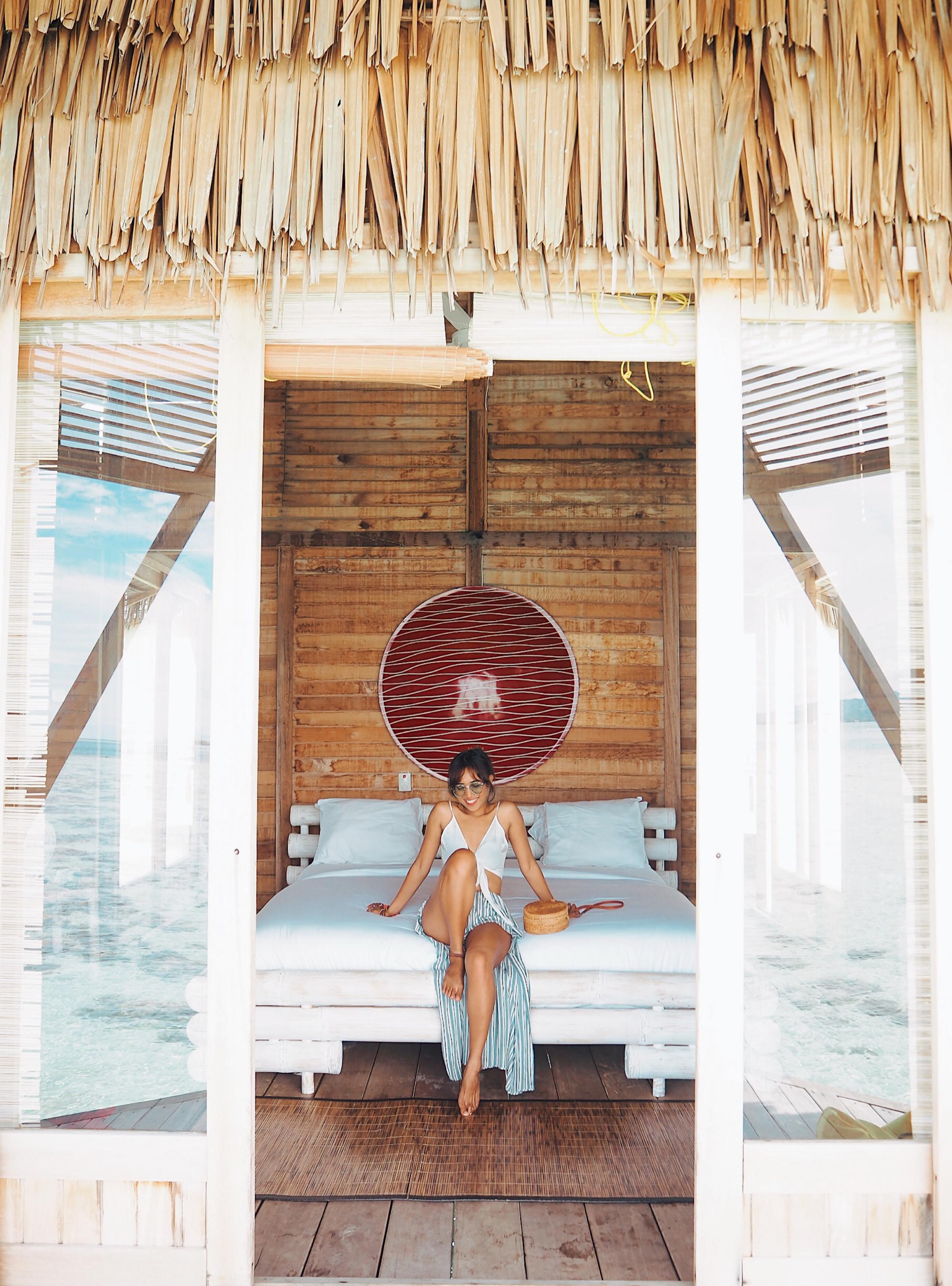 THE NEXT DAY
On the next day right after the storm that I've just described, I went to the office for the first time. Leaving Anggey still barely catch her consciousness. I went for the snorkelling goggles for sure. Then, I tried to look around our villa by hardly floating on the ocean. Wasn't the best coral but I could see a hundred fishes around. I could even witness around three small stingrays(?) / mantas(?)… Heck, I don't know. I told Anggey but she didn't believe me though. Apart from those beautiful living beings that I found, I also found sea urchins. Tried so hard not to step on those dark needles creature bastards. That was all, hahaha! I am not so adventurous when it comes to the ocean as many times I have told you.
Oh yeah… I flew our DJI Spark many times as well and found out it was even more outstanding the view from above! Even though I could only fly it for 50 meters but that was quite enough I would say.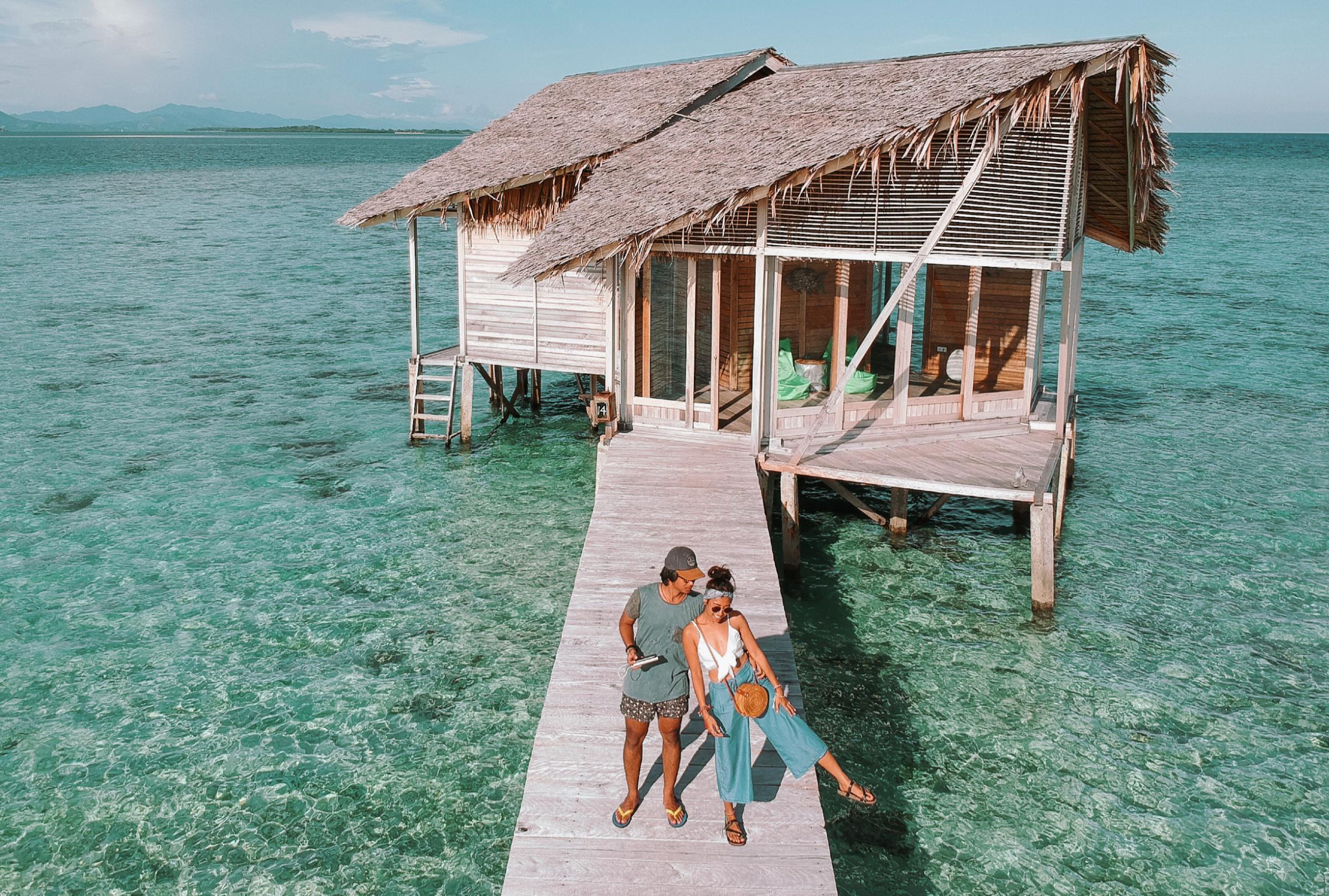 LAST NIGHT
During the night, we had a romantic dinner that set up by the Cotton On (you have my many thanks!). Not so romantic actually, knowing that we weren't the only ones who had the same type of dinner and also we both not really know how to be a romantic couple. Sure we compliment each other a lot but more than that is nothing. So we kinda stuck and it was more like an awkward dinner haha! We enjoyed more eating some great foods around the street and not entirely know how to set things up when it comes to a formal dinner. We were more thinking about ditching the romantic dinner and get the normal dinner since with the normal dinner we could get a free flow food hehe.
We were surprised by the full moon and guess what guys, the full moon is on the same line with our villa! Yes yes yes!
One of the staff walked passing by but he told us not too worry about the storm again because when it's a full moon, there won't be a storm. Phew… I was so glad to hear that. We enjoyed the night and that was quite romantic I would say. Lovely villa, great view at the back balcony with the sound of the sea, who wouldn't want that huh?
Then, we went to sleep. Surprise surprise! I've awakened myself and then heard the sound of waves from further away. I checked the back balcony and damn me the sea level was rising and it was higher than before. This really made me anxious! At the back of my mind, I was like "This is it, time to use the life jacket in the cabinet!". I couldn't really sleep that well knowing and hearing the sea was so high! But then again, I knocked myself out.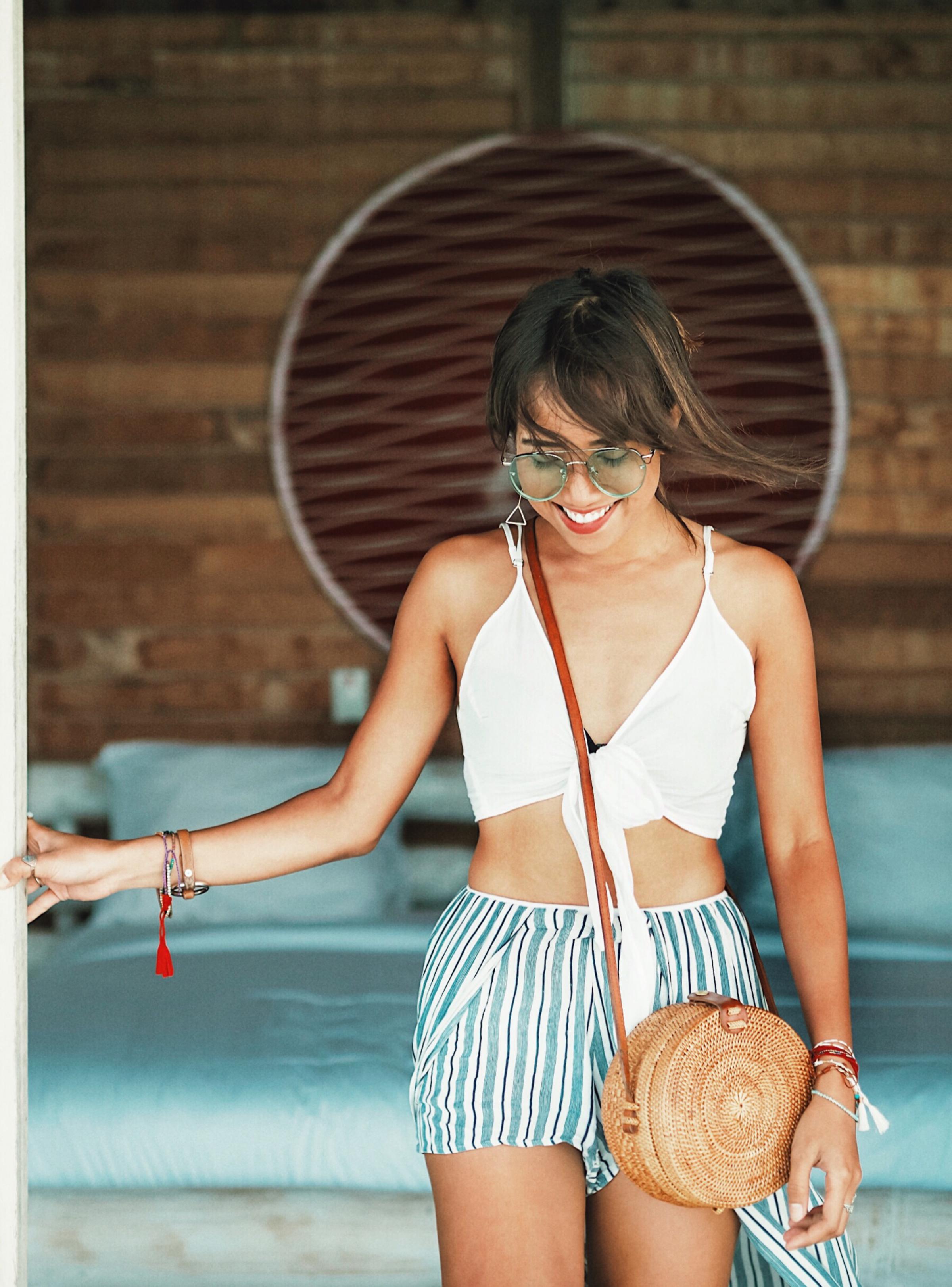 UNTIL NEXT TIME PULOCINTA ECO RESORT

During our last day, we went to take some photos, flew the drone again and that was it. We spent most of the time in the office and talked with the staffs. We were amazed that the staff went quite transparent to us and telling us that behind this beautiful place, there are tons of complaints from the guests who were staying at the resort.
Most of them because of the storm. So actually, the storm comes to the island quite often. It is understandable for us knowing that the resort located on a very small island in about 20 minutes from the main Sulawesi island. The weather, obviously changing rapidly around here. The storm apparently really disturbing the guests and I could see why. Some of them might experience the leaks in their villas. Well, we also understood that when you paid tons of money to stay in the resort, of course, you will expect everything to be pleasant not like experiencing almost get drown situation. It is difficult if you put your feet under the resort management's boots and also guests' boots.
Not only that, some of them even complaining about the meal system. Again, you paid handsomely and you can't even choose what you'd want to eat? Or at least a one to two pages menu? We understand you, guests! But hey, would you so understand to think how hard and expensive it is to get all the supplies and send them to the remote island?
I really feel the pain that the resort management is facing but some of the guests just don't want to know about it. They come, they paid and they want to be the kings. I would say, this situation can be more understandable if backpackers or well flight time travellers stay in the resort but then it is expensive though.
We enjoyed chatting with the staff but as the boat guy called us to come, we sadly had to leave the island. Anggey kept saying that she wished she could stay longer. So did I. We touched down at the pier and got picked up by Mr Noval and he drove us back through the 3 hours ride to the airport again. When we arrived, we just kept saying we wish we were there again and bye bye to the lovely PuloCinta Eco Resort.

Special thanks to Cotton On Indonesia (@cottononid) & PuloCinta Eco Resort (@pulocinta)