So this is our itinerary of my fourth visit and Kevin's second visit in India.
DAY 1
On the first day, we struggled really hard with our flight plans. We bought a separate flight of Jakarta (Indonesia) to Kuala Lumpur (Malaysia) arrived at 18.30 and Kuala Lumpur to Delhi (India) departed at 19.15. We missed our flight because we forgot to print our Kuala Lumpur to Delhi boarding passes. (Biasa deh gue sama Kevin suka gesrek emang!)

Then we bought another flight, but we did not really check them (tickets). We supposed to fly to Kolkata but we ended up in Kochi. We didn't realize where it was, until we Googled it. Turned out Kochi was in the Southern part of India, even more south than Goa. HAHAHA. (yes, baru hari pertama aja udah dua kali gesrek). But at least we knew that Kochi new terminal was modern and we were amazed (even better than Delhi's).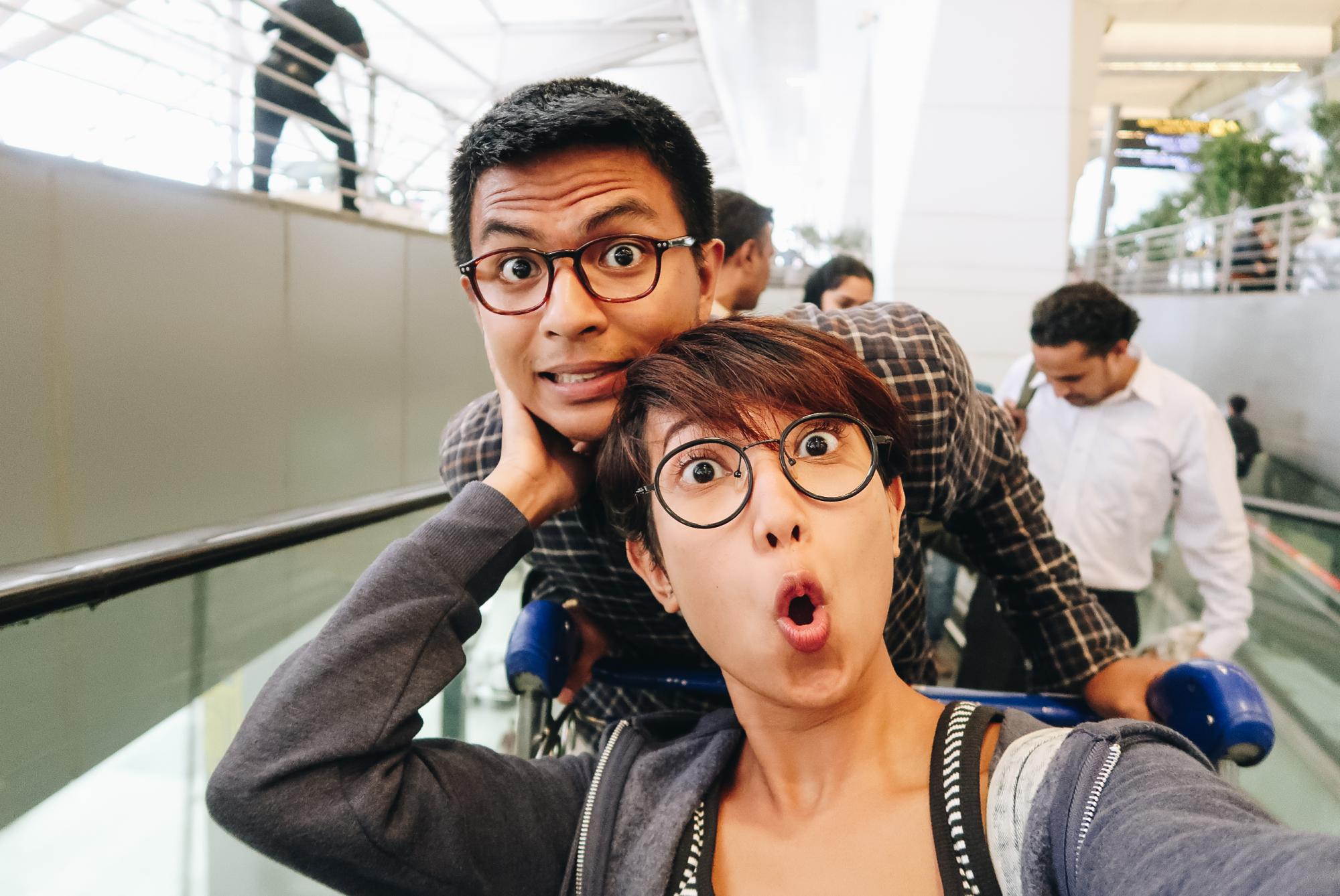 DAY 2
We flew to Delhi in the early morning. Flight time was about 3.5 hours (same from Kuala Lumpur to Kochi). We finally arrived in Delhi and were absolutely have a slice of relieve feeling. India surely always gave us such an uneasy feelings. Our next flight was 14 hours away, so we decided to stay at the waiting room for the passengers because we can only enter the terminal 4 hours before the departure time. During the wait, we made a new friend; a woman from Portugal just finished her cycling tournament in the highlands of India. Her stories were unbelievably crazy! She had her bicycle with her too. 8 hours later, she left us for her flight.
DAY 3
It was hard to consume the reality about we still stuck in the airport and yet to step on the land of our real to go place. But then, our flight finally was there. The feel of joy could not be contained much longer, knowing I was about to comeback to the breathtaking and surreal place. Sometimes I always think, "Is that place really located in India?"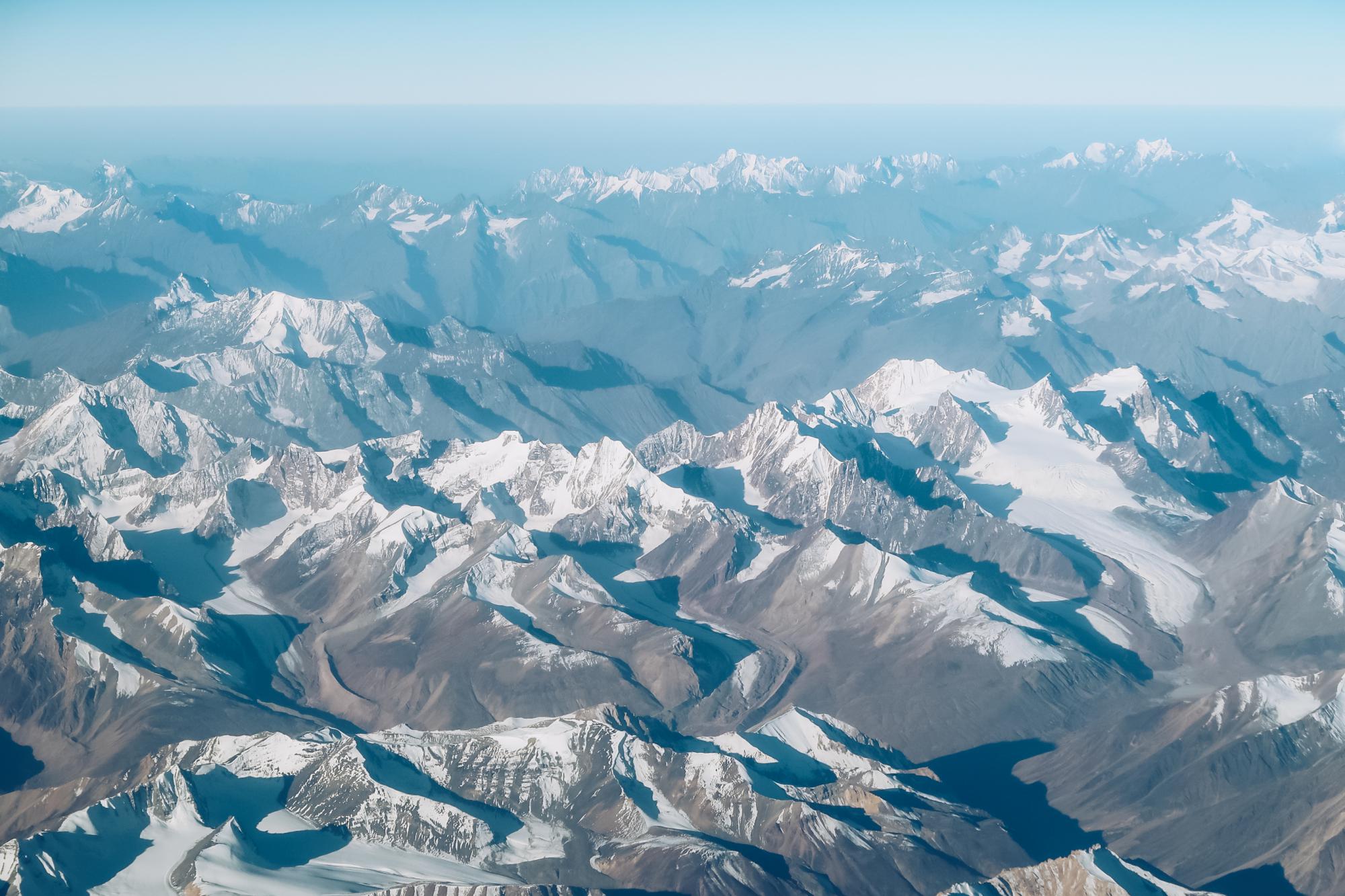 We finally arrived in Leh, the city in Ladakh, part of Jammu and Kashmir. Yes, this is our true destination. Not, Kuala Lumpur, Kochi nor Delhi. I was happy to see a jaw breaking face made by Kevin because his first visit in India was not that pleasant. We arrived at 09.00 and the flight took about 1 hour 40 minutes-ish. Simply, one of the best flights with some spectaculars sceneries of mountain range.

After took a pre-paid taxi from the airport, we arrived at Zaltak Guesthouse. I can't recommend anything from this guesthouse except the personal feeling that I had from my first visit to Leh, how kind the host and how peaceful the area is. Zaltak is located not too far from Leh Main Bazaar, I would say approximately 10-15 minutes walk. Before we went to the bazaar, we had to take some rest with drinking lots of water because they are good for acclimatization. Changing from 250 masl to 3500 masl surely gave Kevin a hit.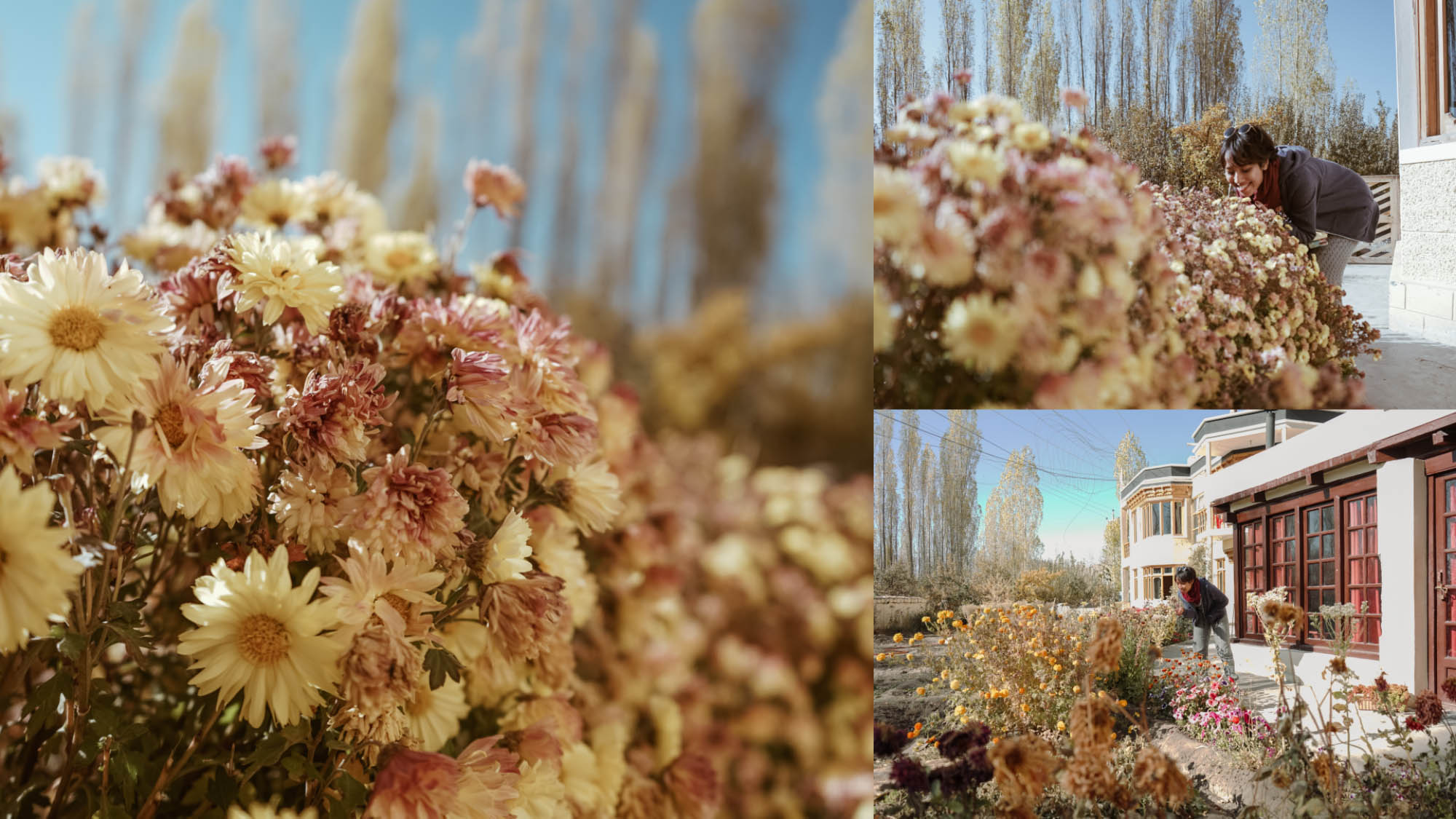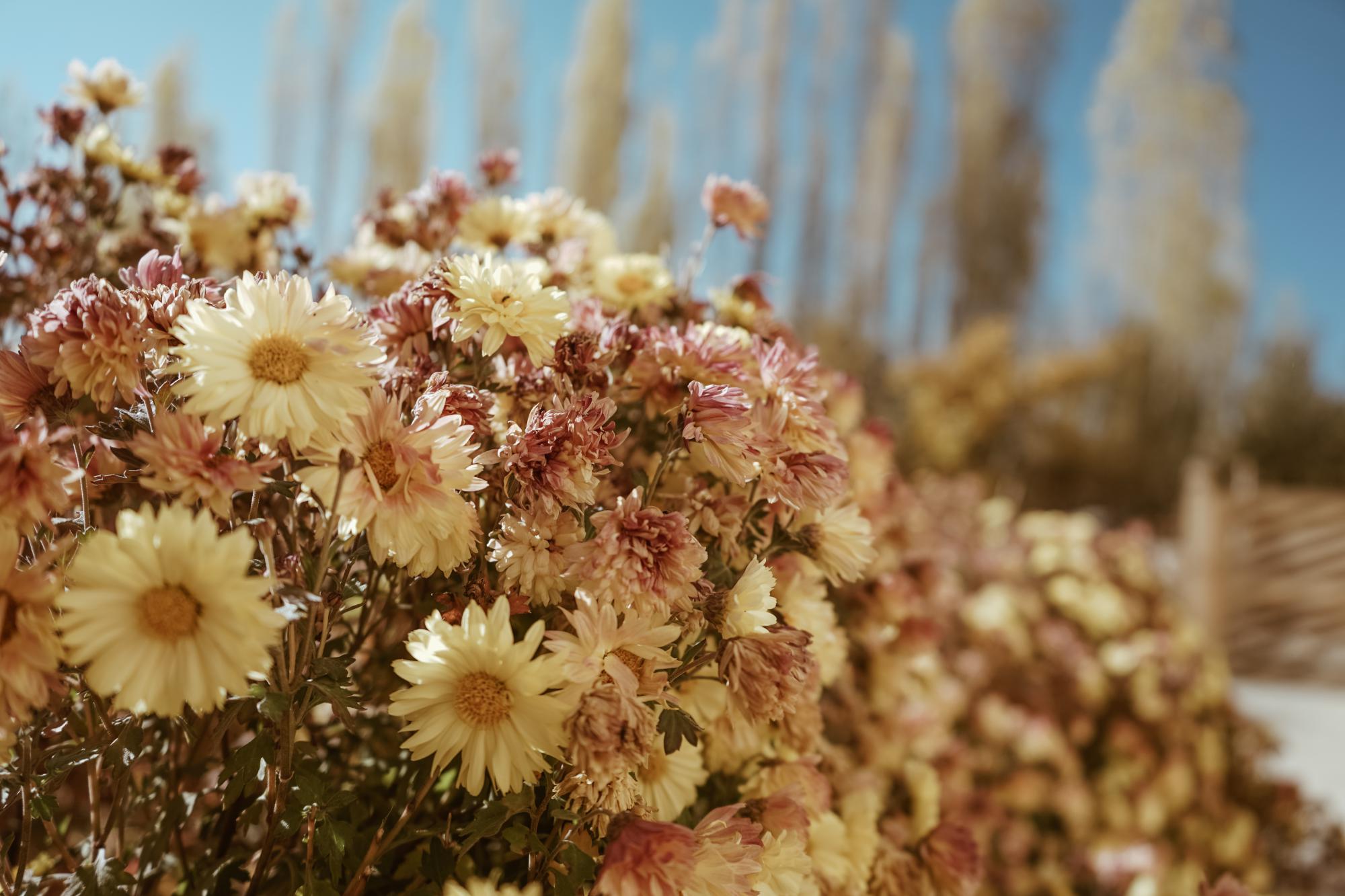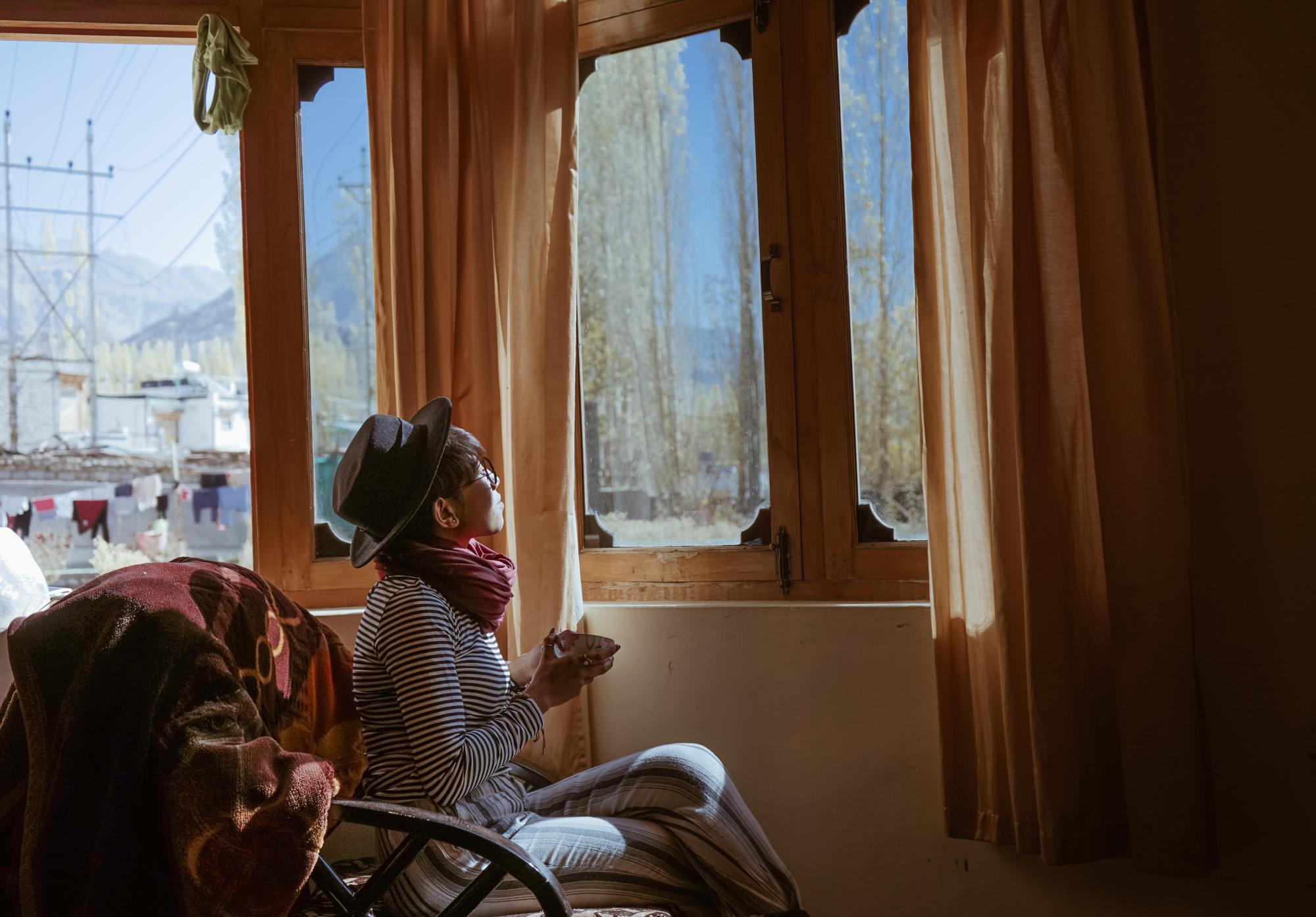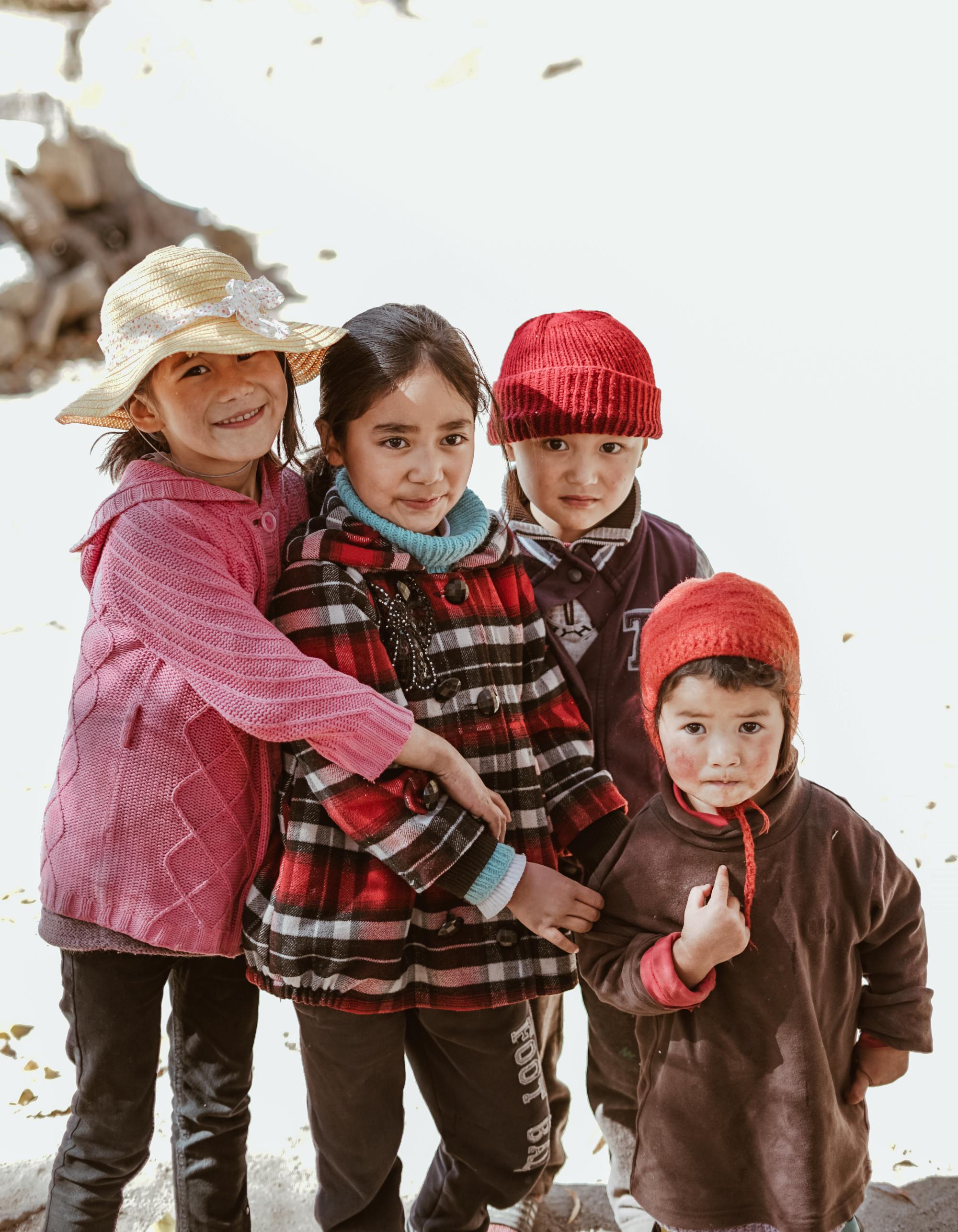 As we walked around the bazaar, I realized that many places have been closed and when I asked around, they told me that the winter has come. This was the beginning of winter. Different than last year, on November was not winter season yet. So I figured that the winter season came early this year.We went to a small food place just in front of the back entrance of the bazaar. The cooks were old lady with a big smile on her face and the other one must be her husband but he could not speak English properly. I told the lady that I need a scooter to go around the city and she said beside her food place is a tour agency and he could help us to get a scooter. We finally talk to the guy; the place's name was Yak Travels. He was really helpful and has lots of insights. After we secured the key for the scooter, I asked him if his agency can bring us to the highest mountain in the region called mt. Stok Kangri (6153 masl). Since now is already winter, the guy refused to help us as it would be dangerous. "The weather would be unpredictable," He said. We changed our hiking plan to a 2 days 1 night taxi trip for the next day.

We got our scooter high up to the Leh Palace to catch the sunset. Then we both decided to hike the hill behind/ beside the palace to get a better view of the city and sunset. This was the best first day in Leh.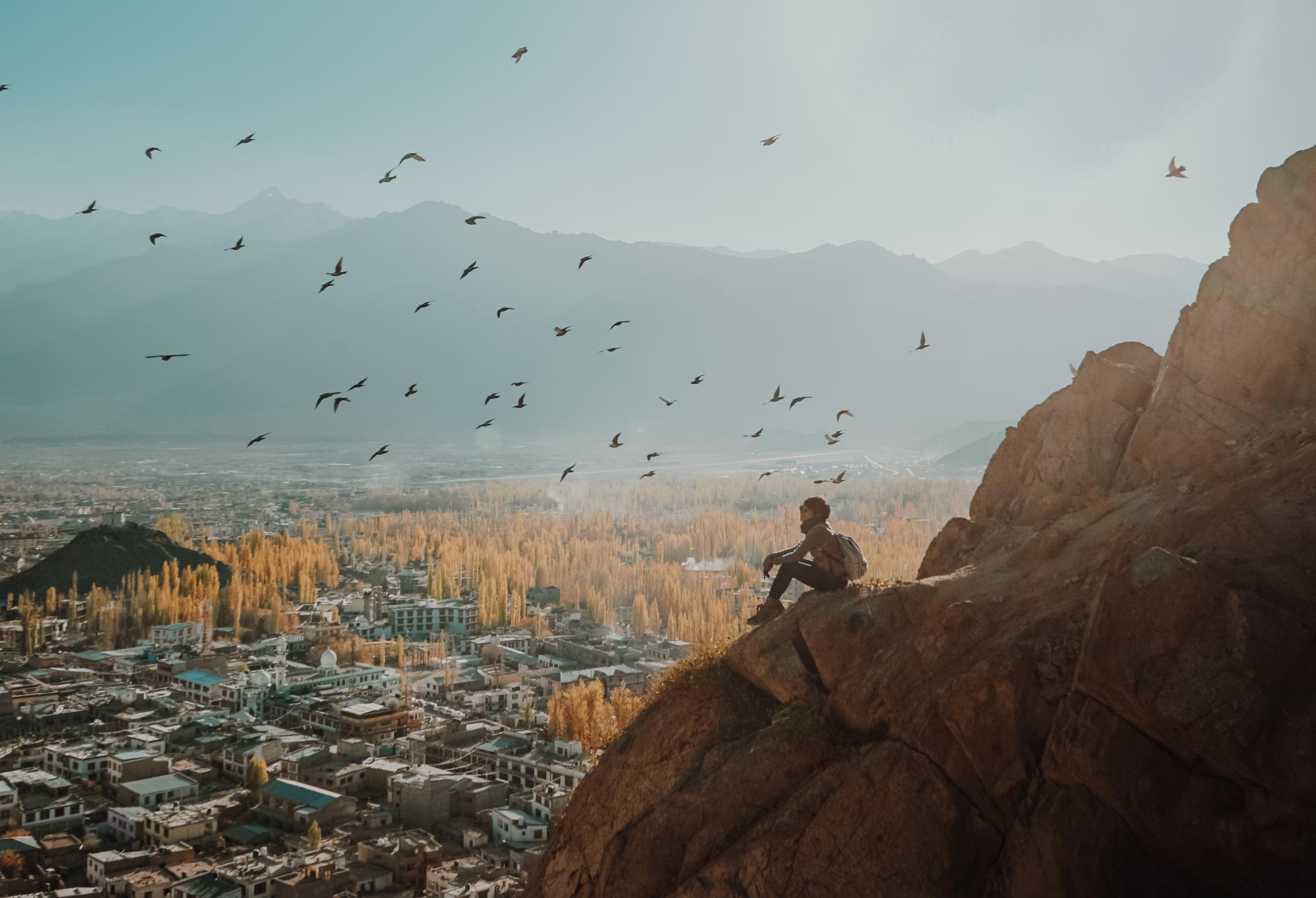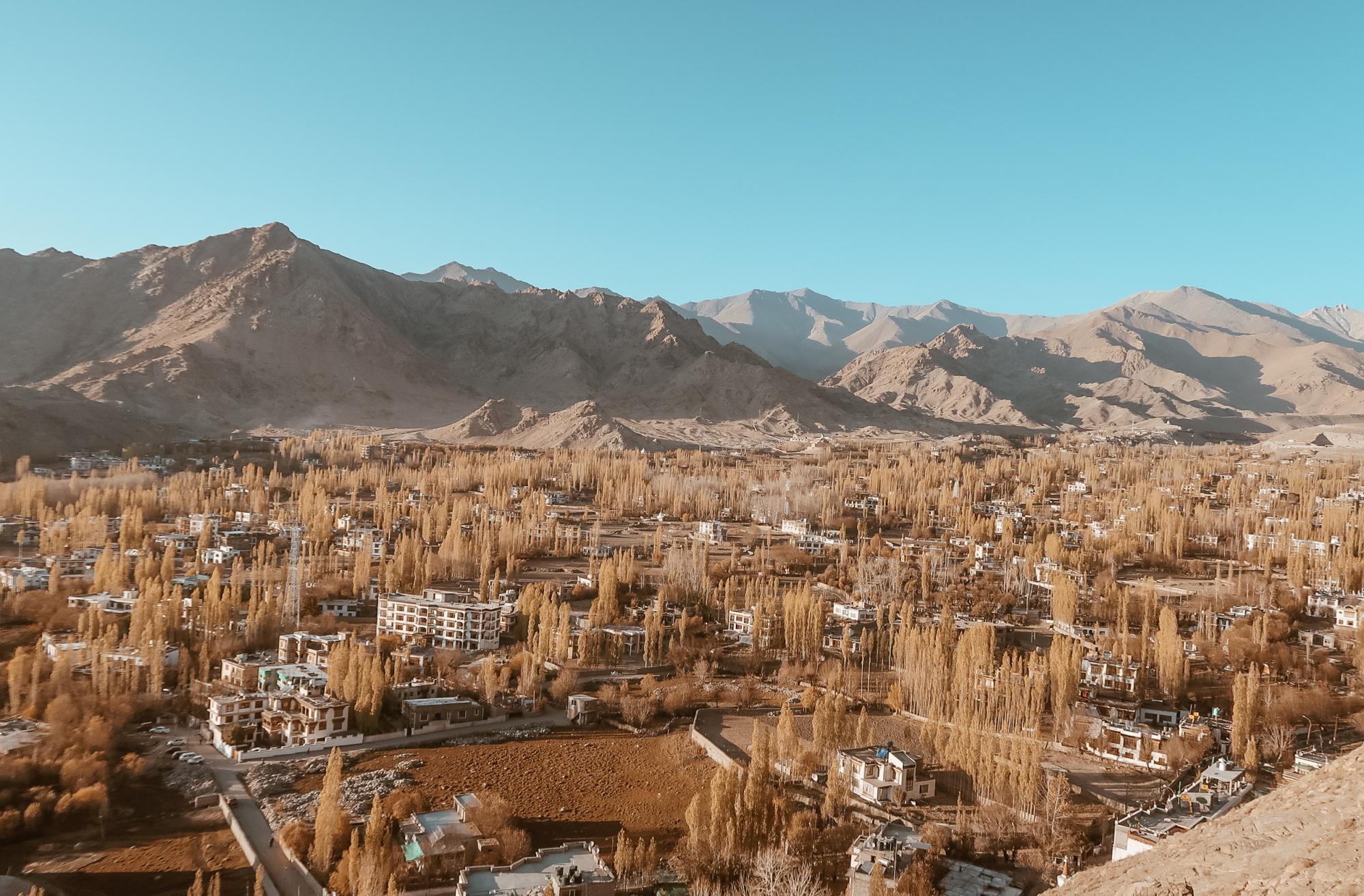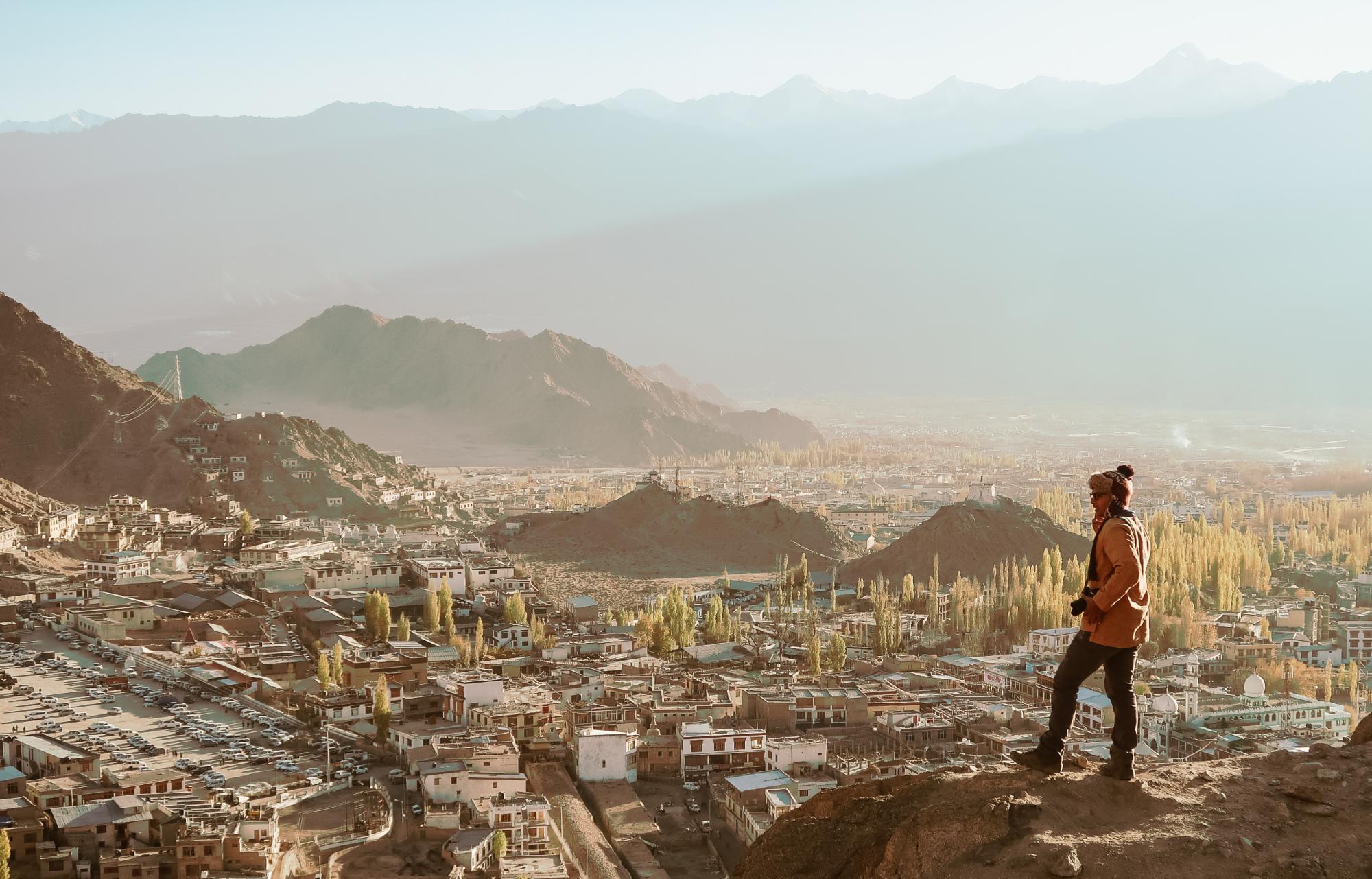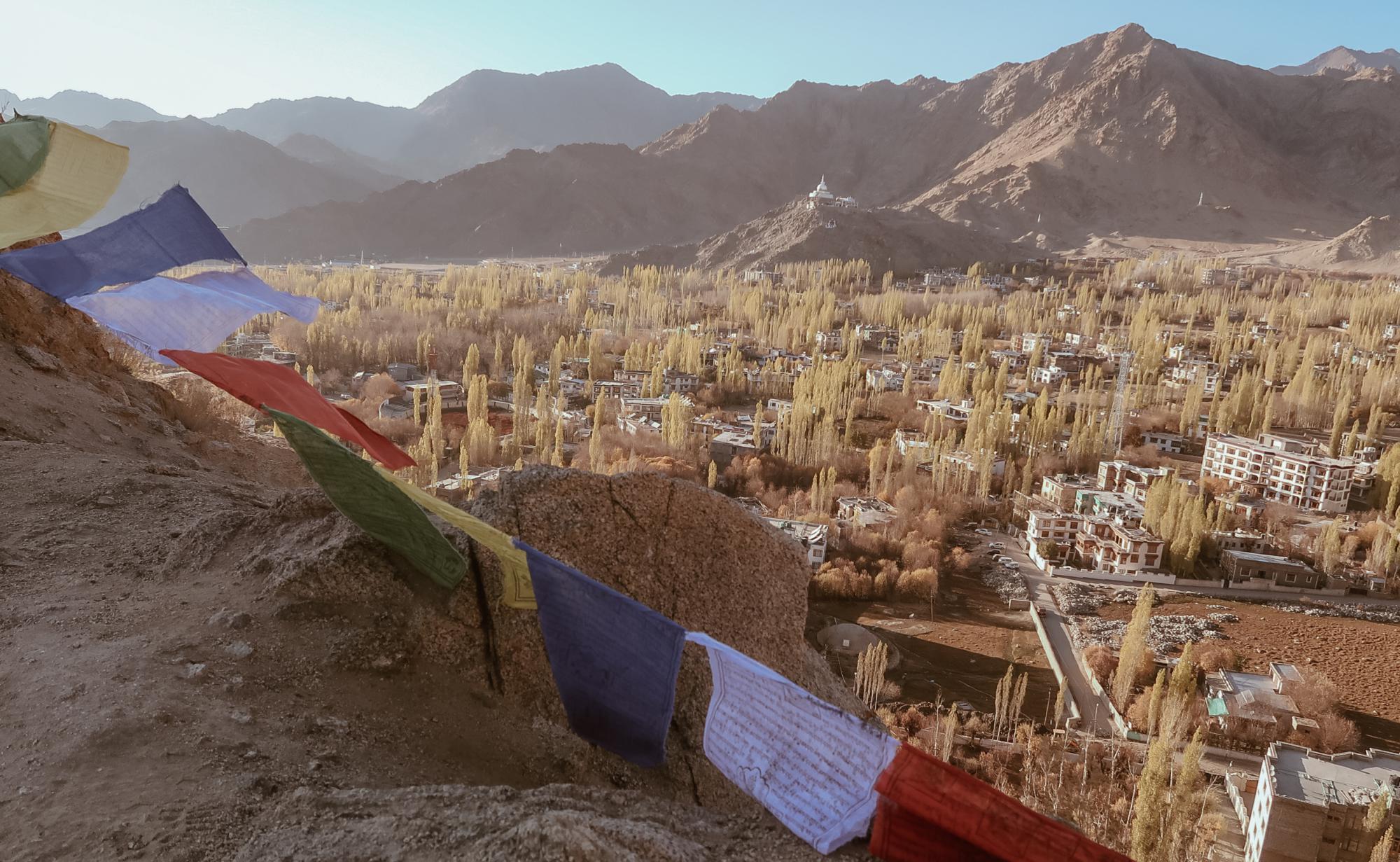 DAY 4
Today was the day where we woke up very early, packed and get ready for the trip. We came to the front of Yak Travels at 08.00 and met the 2 Indian guys who will share the trip with us. Their name was Ankit and Abhisek. Luckily, both of them love to take photos and that's all we did the most in the entire trip.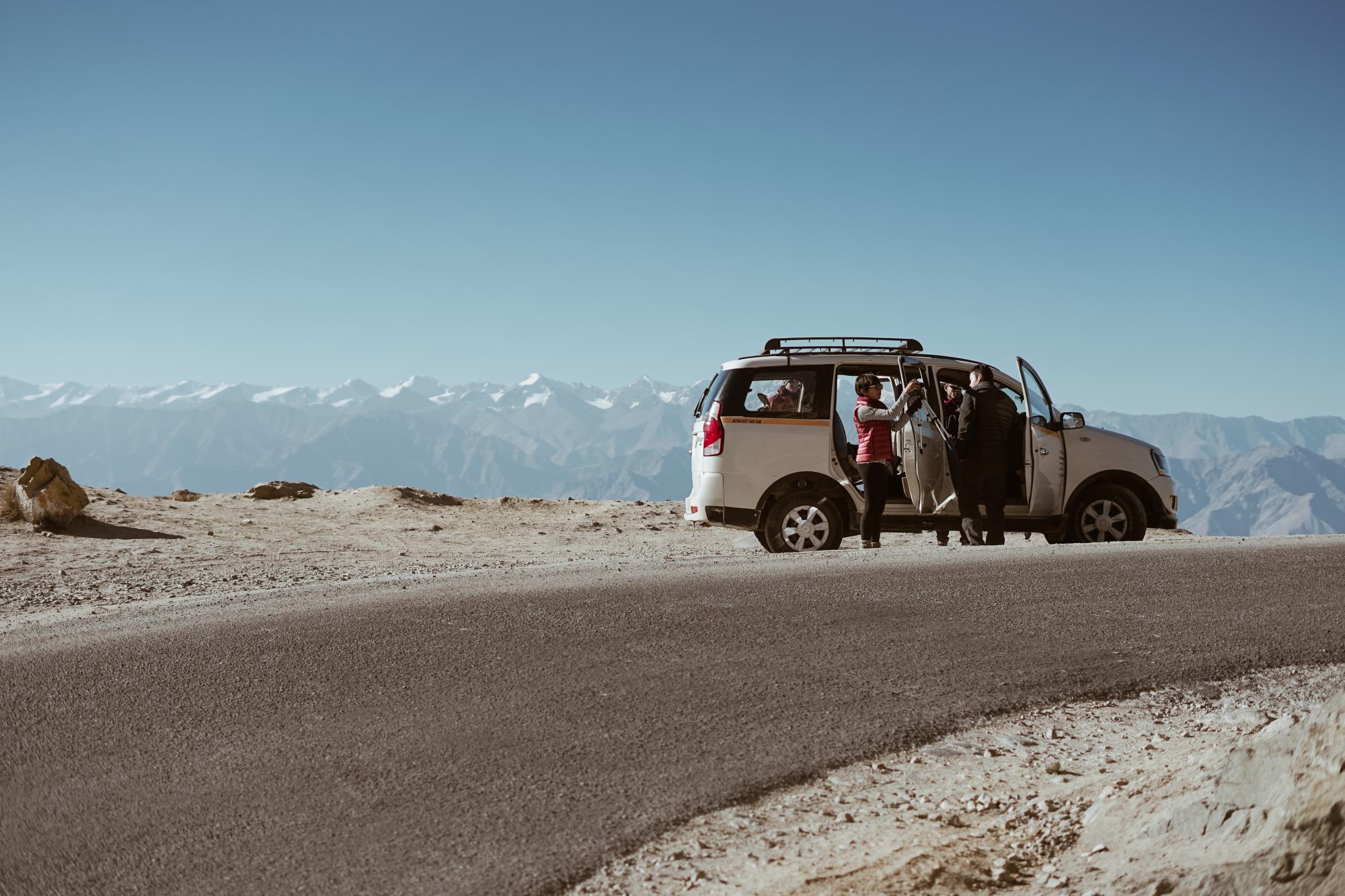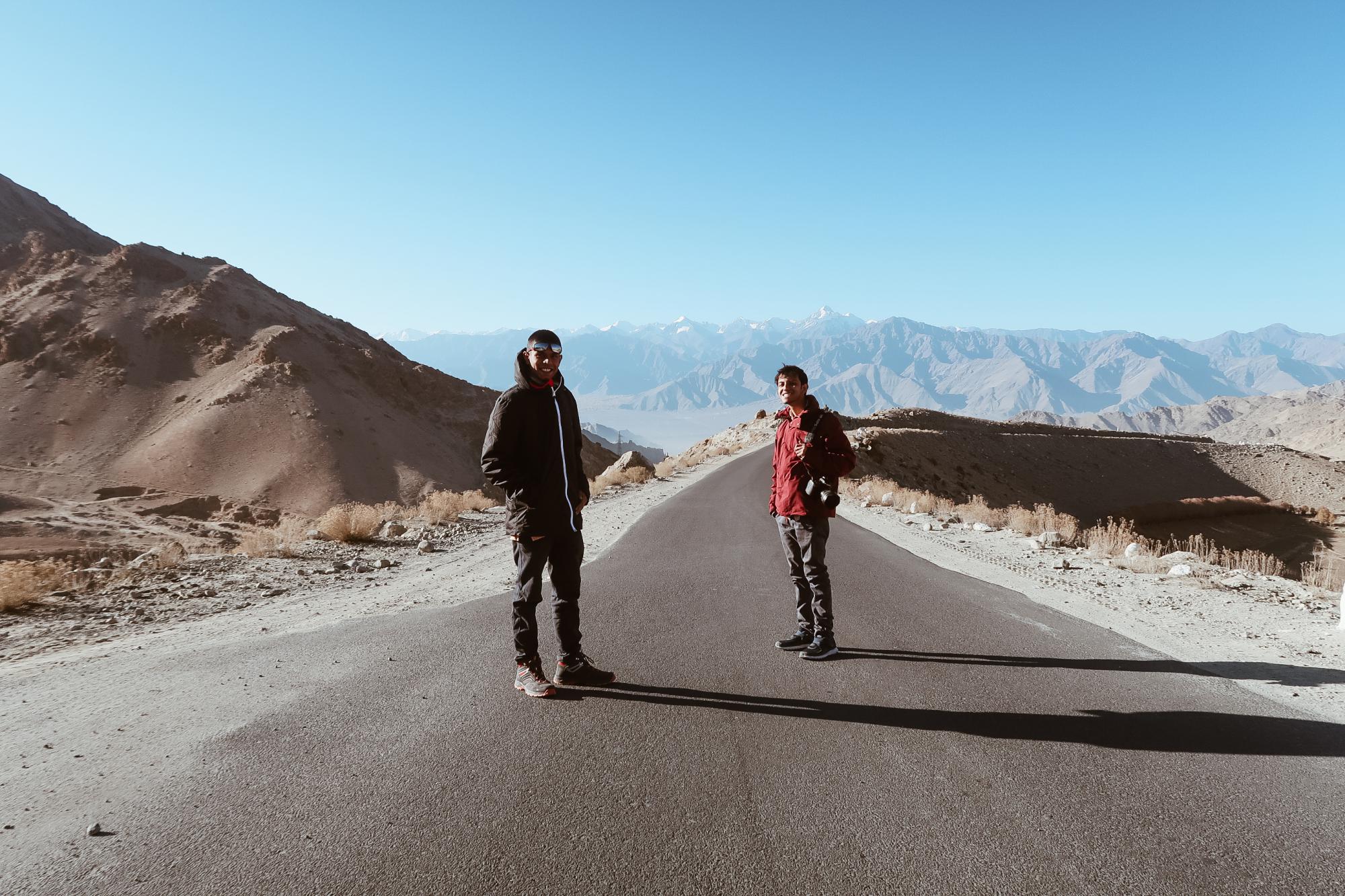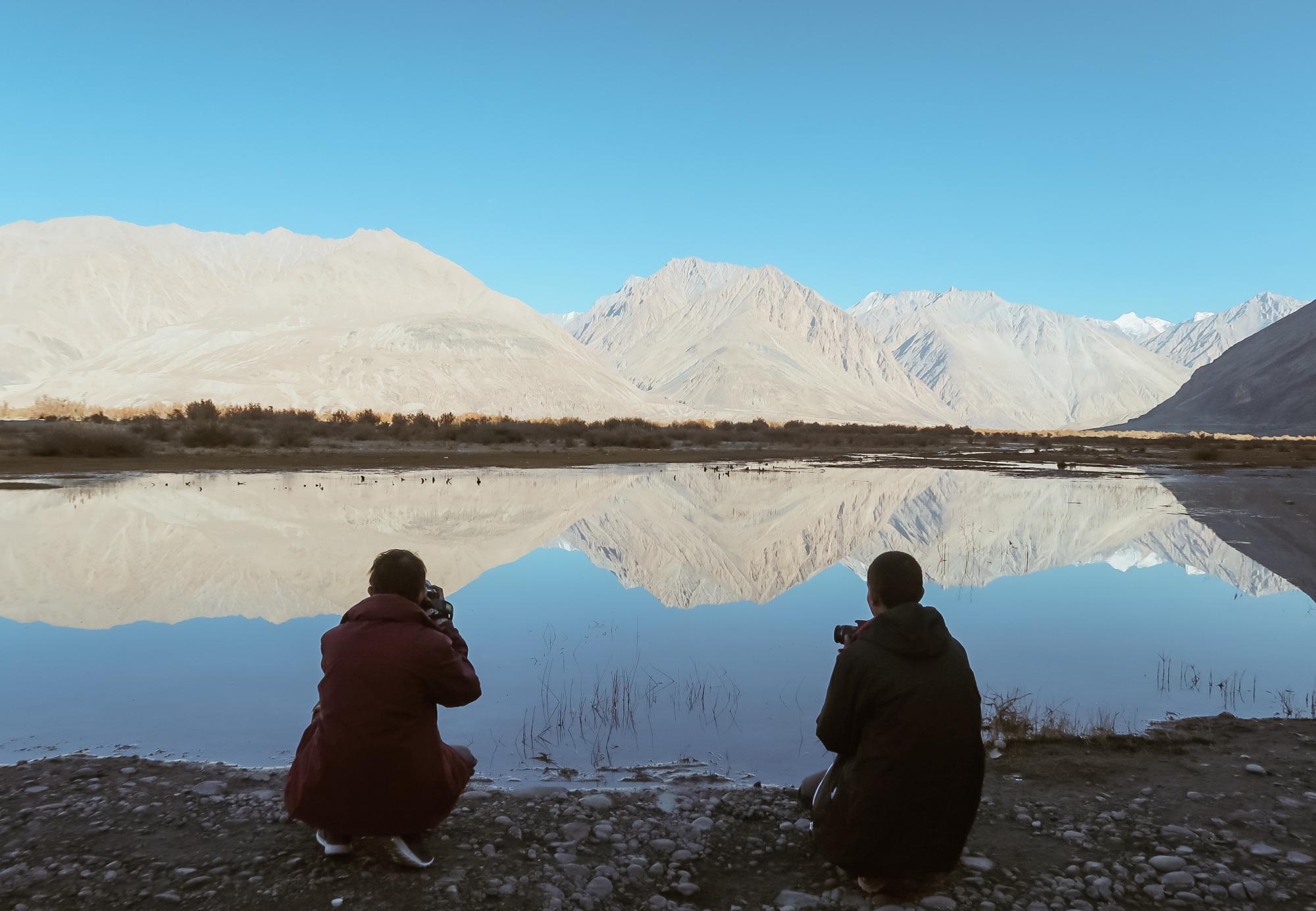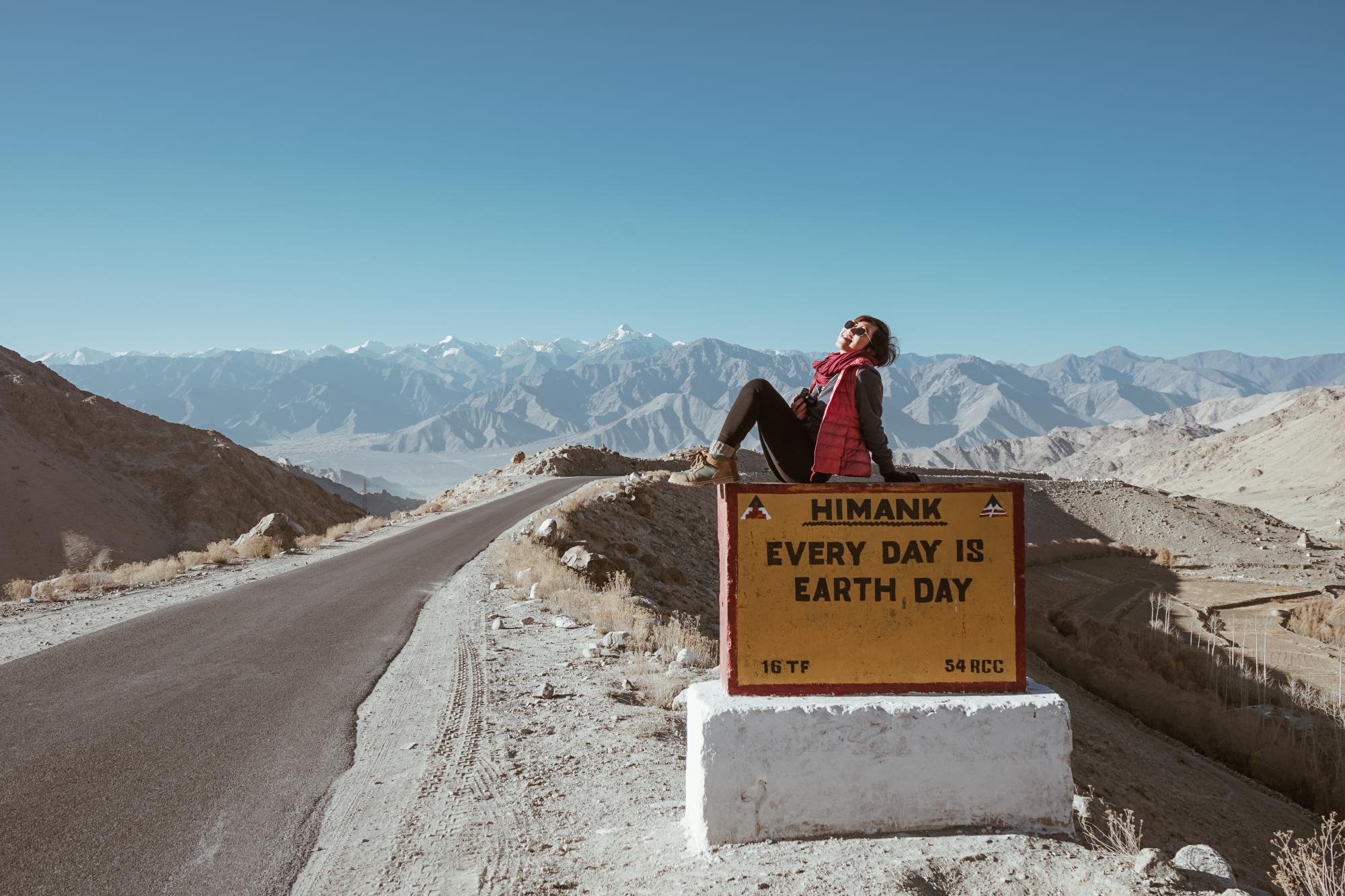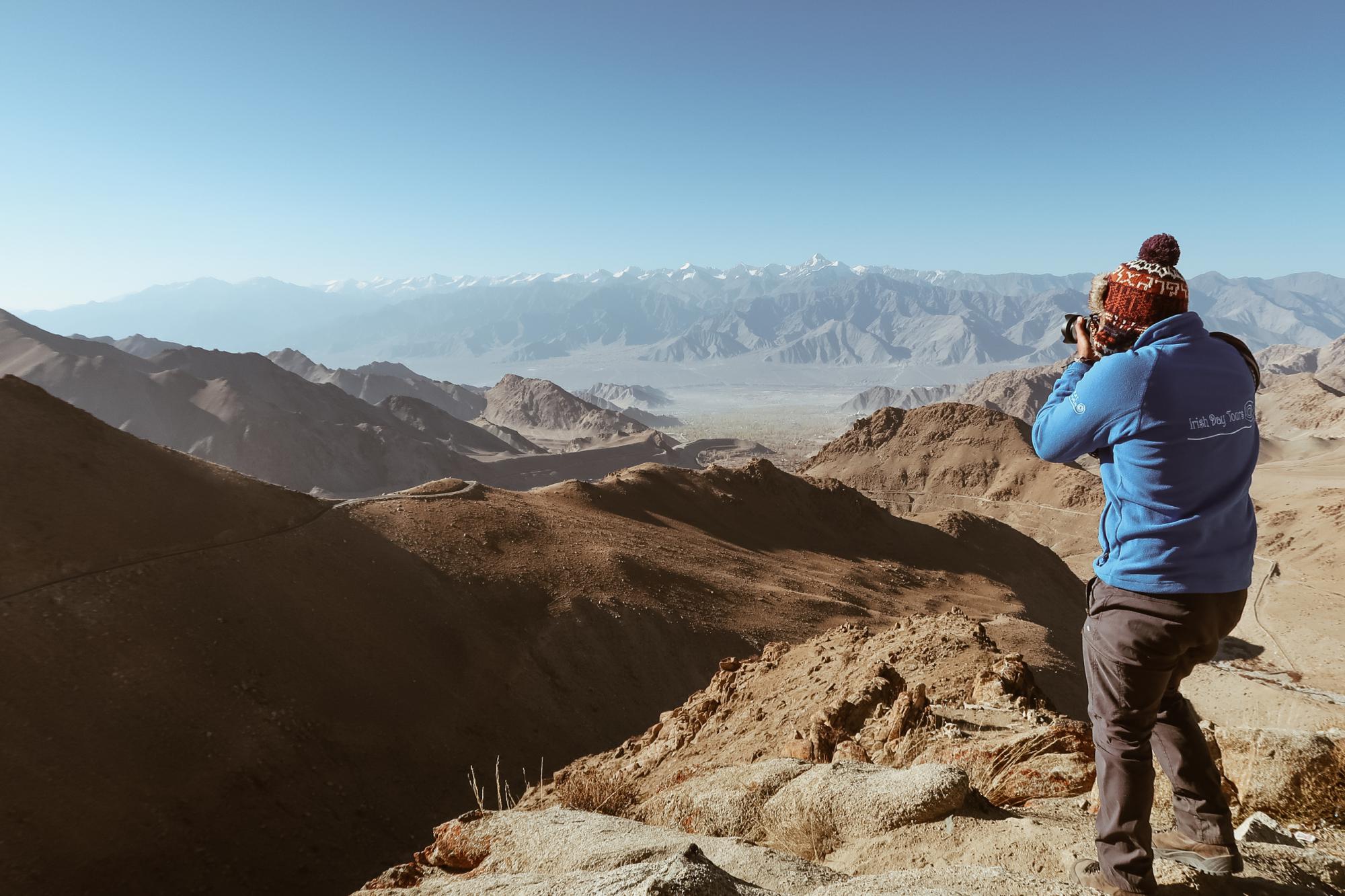 We went to Khardung La Pass for the first main places to visit, but I can assure you we visited many places along the way and all because the sharp pointy mountains view were just too tempting. Finally, we arrived at Khardung La Pass where it claimed as 'The Highest Motorable Pass in the World" and stands at 5359masl. You know that feeling when you really happy to claim that you have been somewhere with the title 'The Most…'. Until recently, I read an article from devilonwheels.com and sadly Khardung La Pass is not actually the highest one.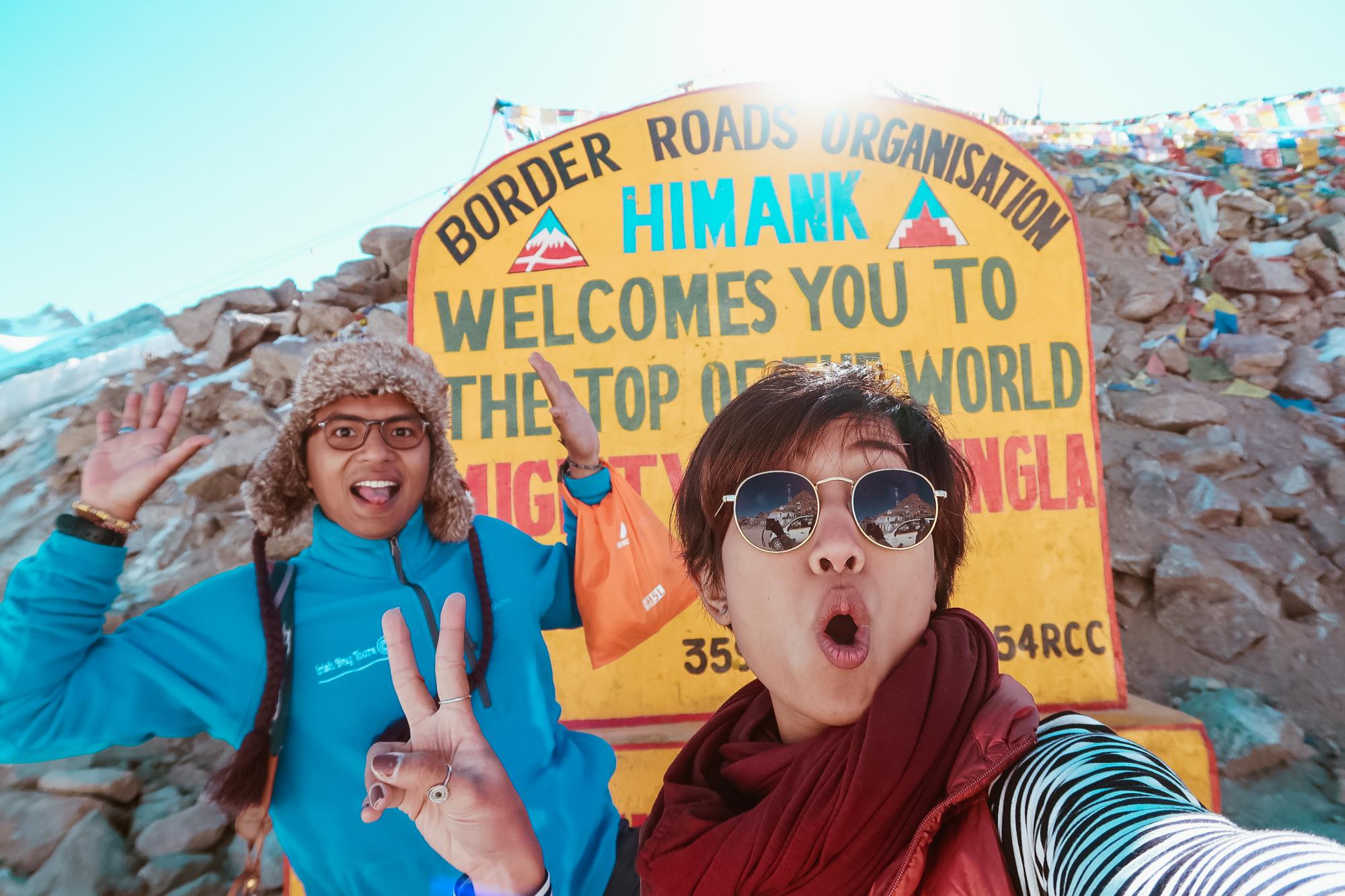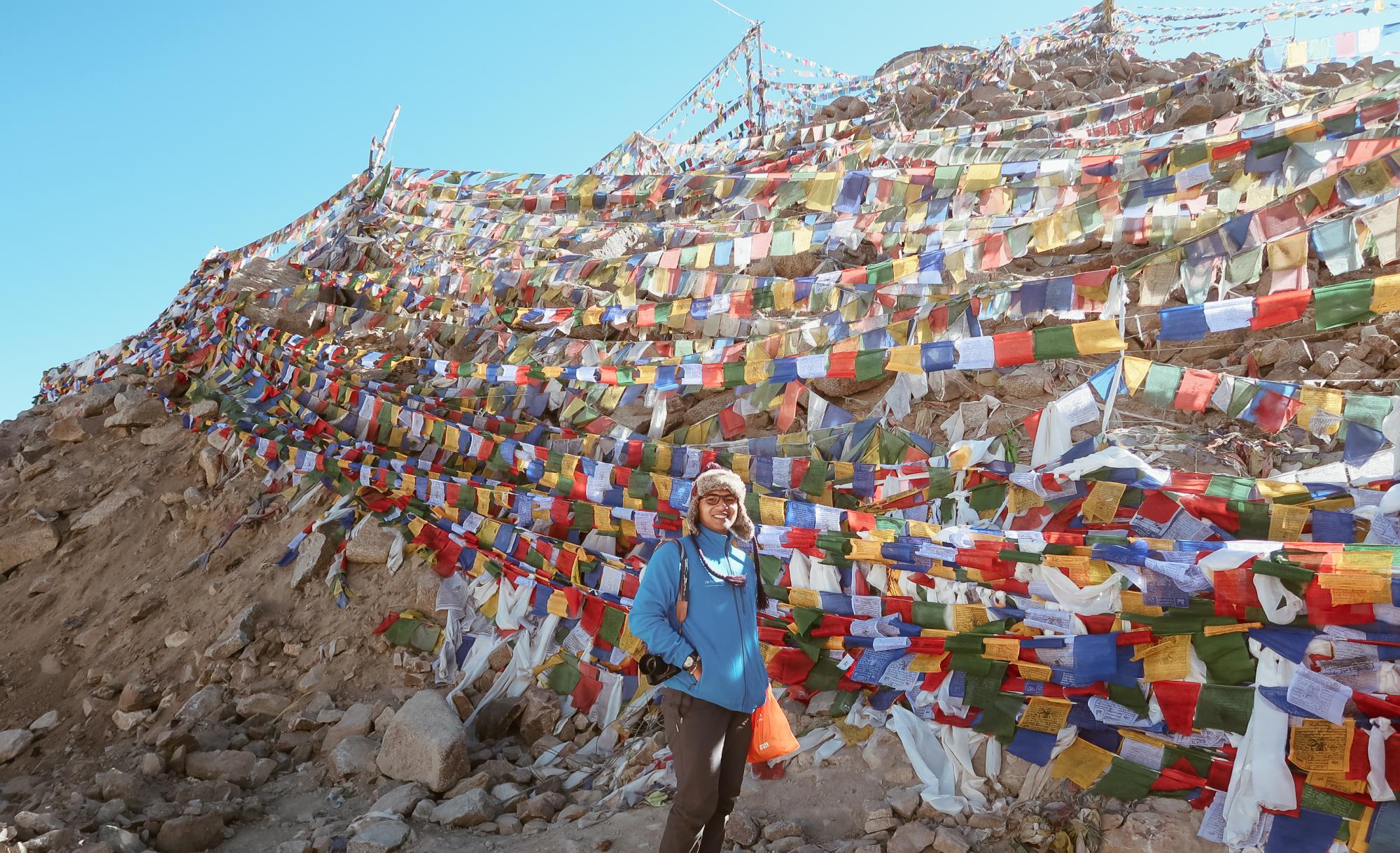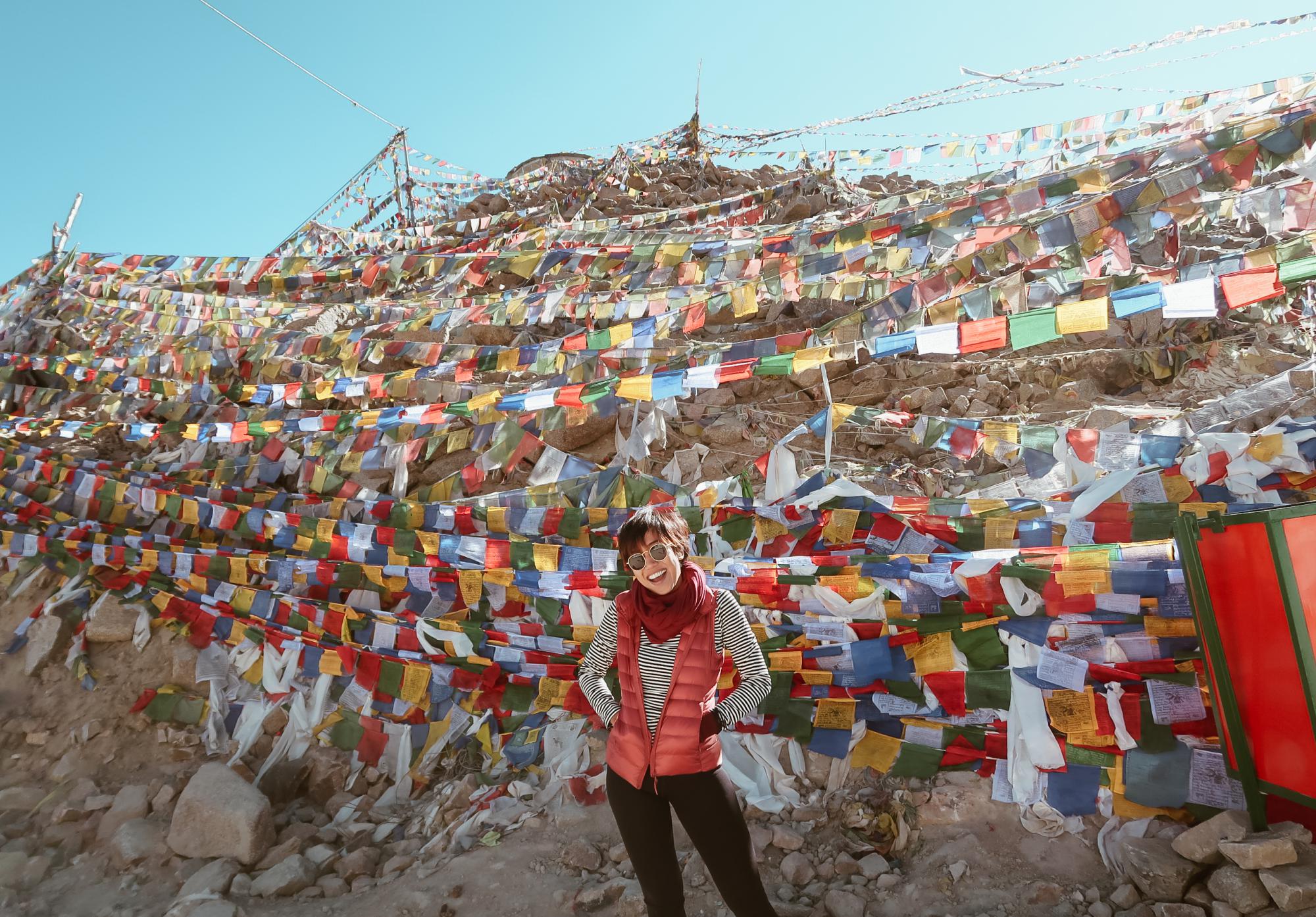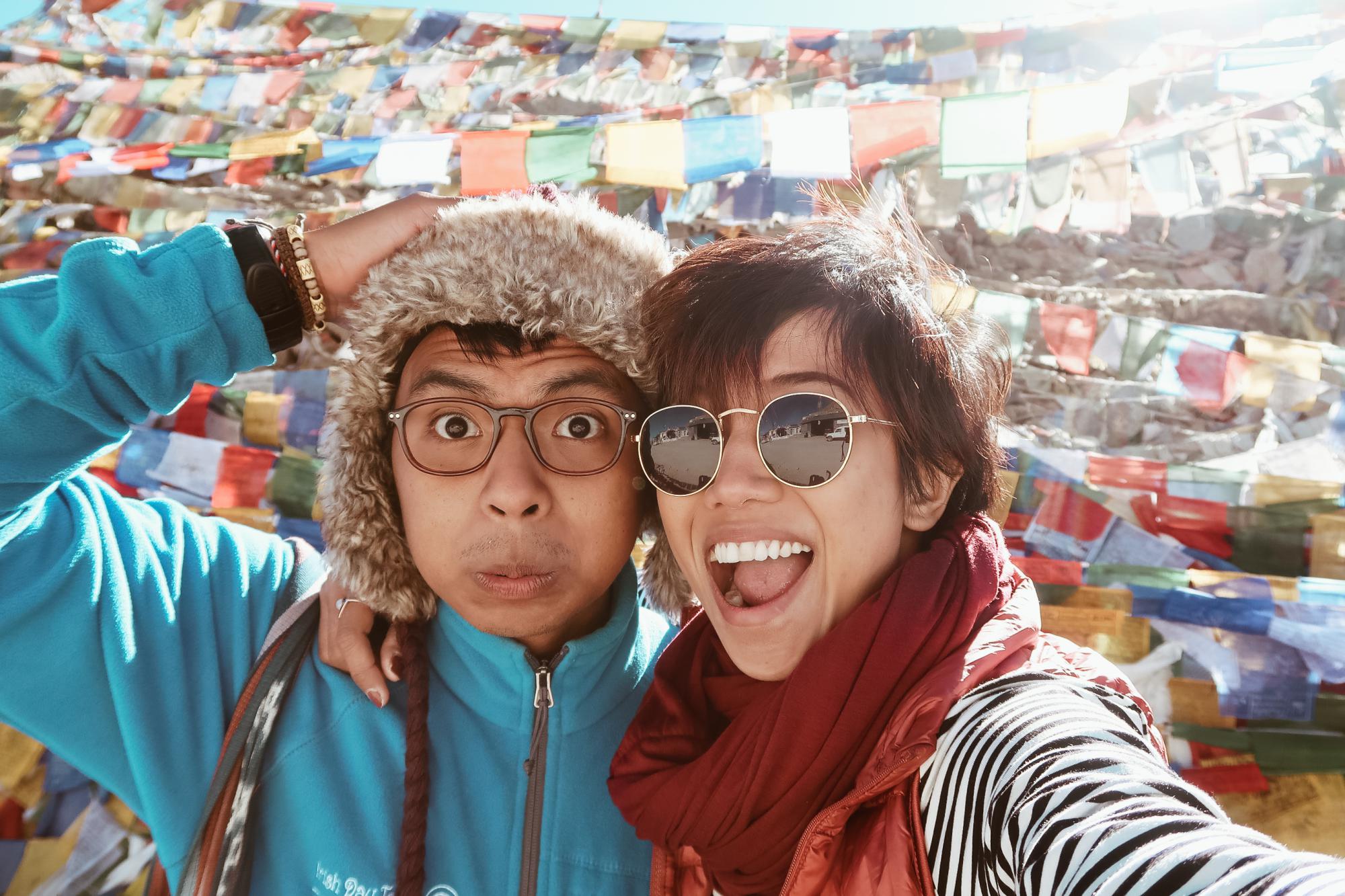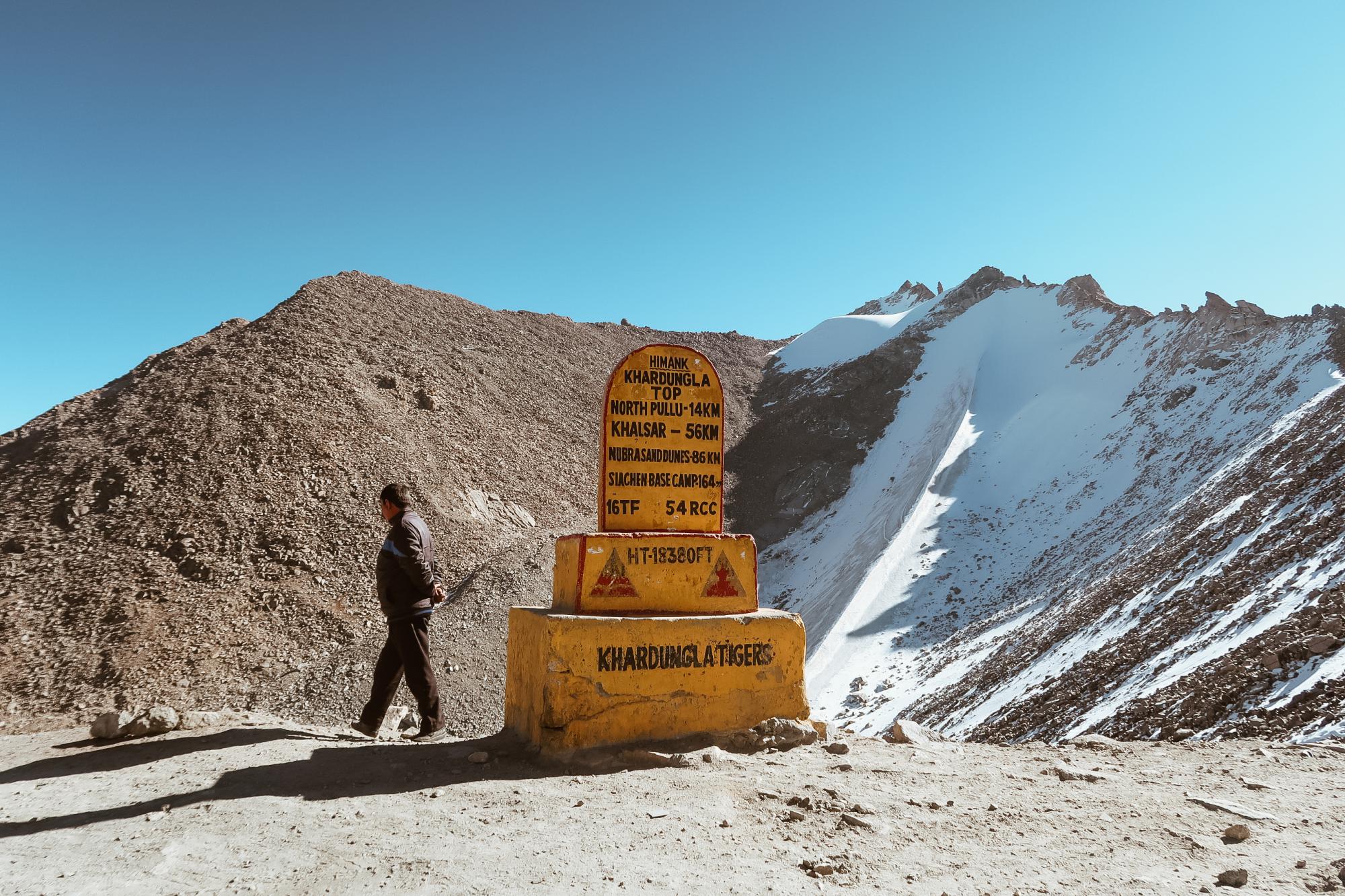 From here, we continue to a place called Nubra Valley. It's been my long long time bucket list to visit this gorgeous valley and I finally can scratch it off! The journey from Leh to Khardung La Pass was about 3 hours and Khardung La to Nubra Valley was around 4 hours. WOW! So before we reached Nubra Valley, we made a small stop to a close monastery. The view from this place was so beautiful! Such an appetizer to start with before the main course (Nubra Valley)! In this valley, there was this medium size sand dune area where of course if there is a sand dune there will be camel riding. I didn't do it though; I just enjoyed my time talking with the camels! Then the sun already set and we had to go to the hotel where we stayed for a night before the next day we reach other destinations.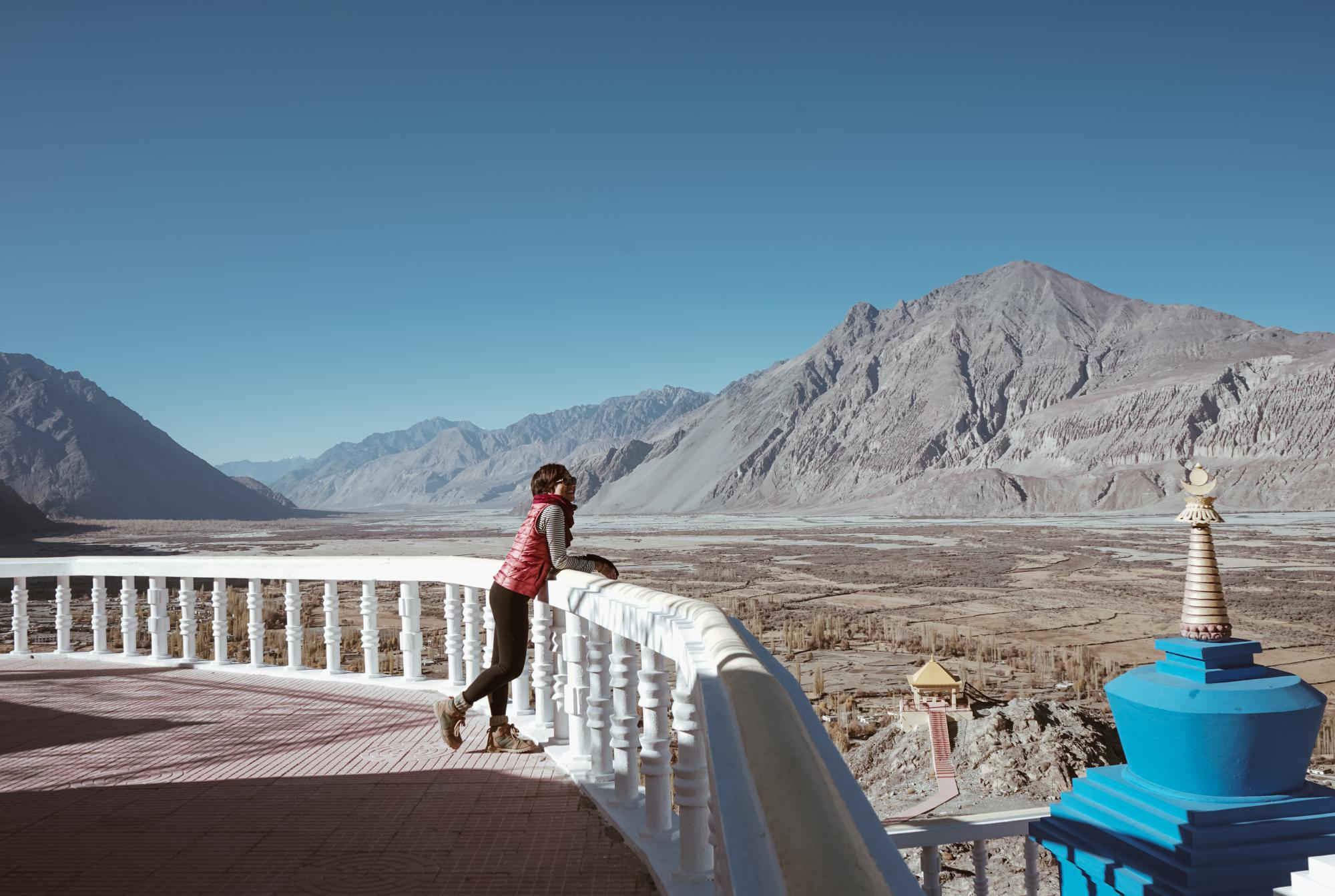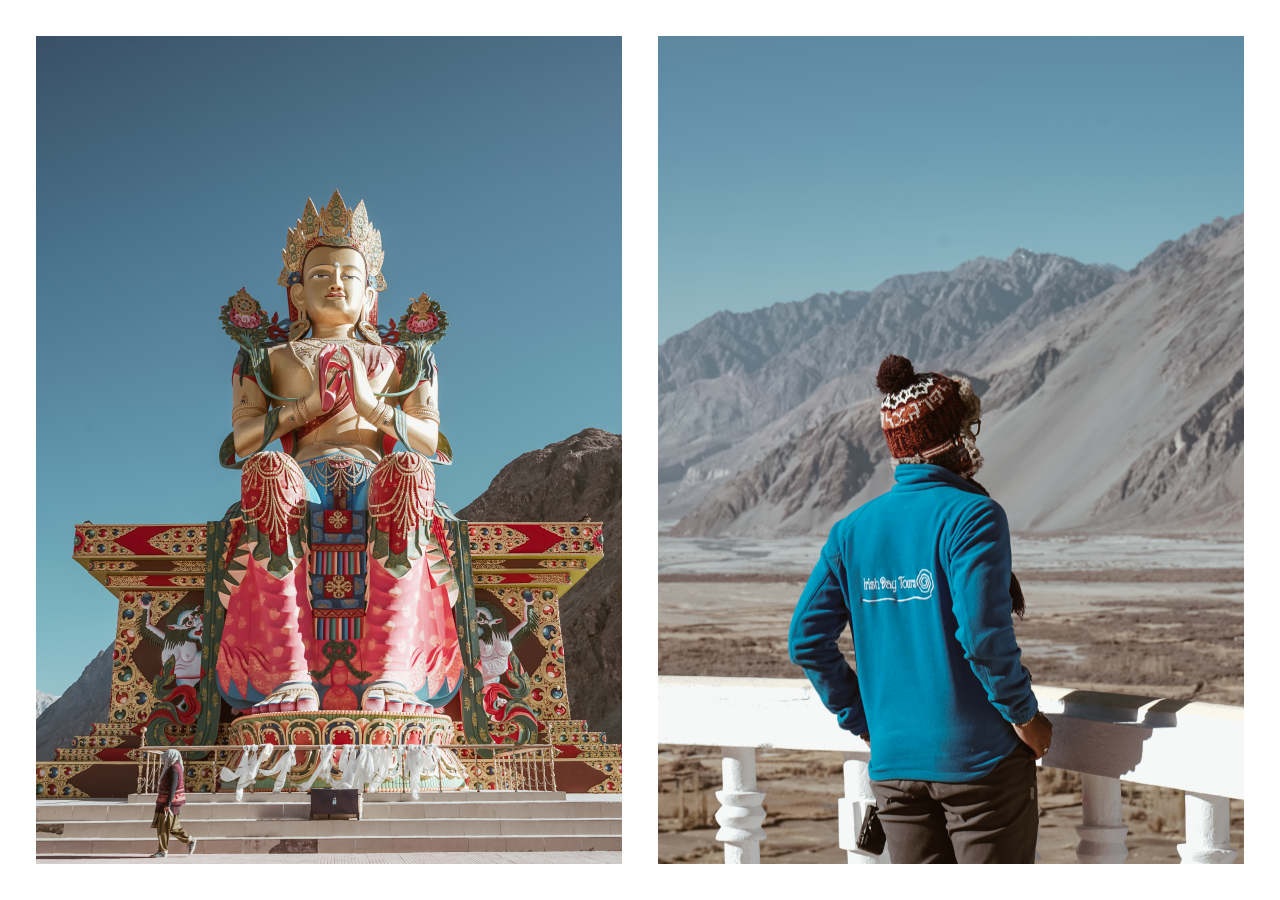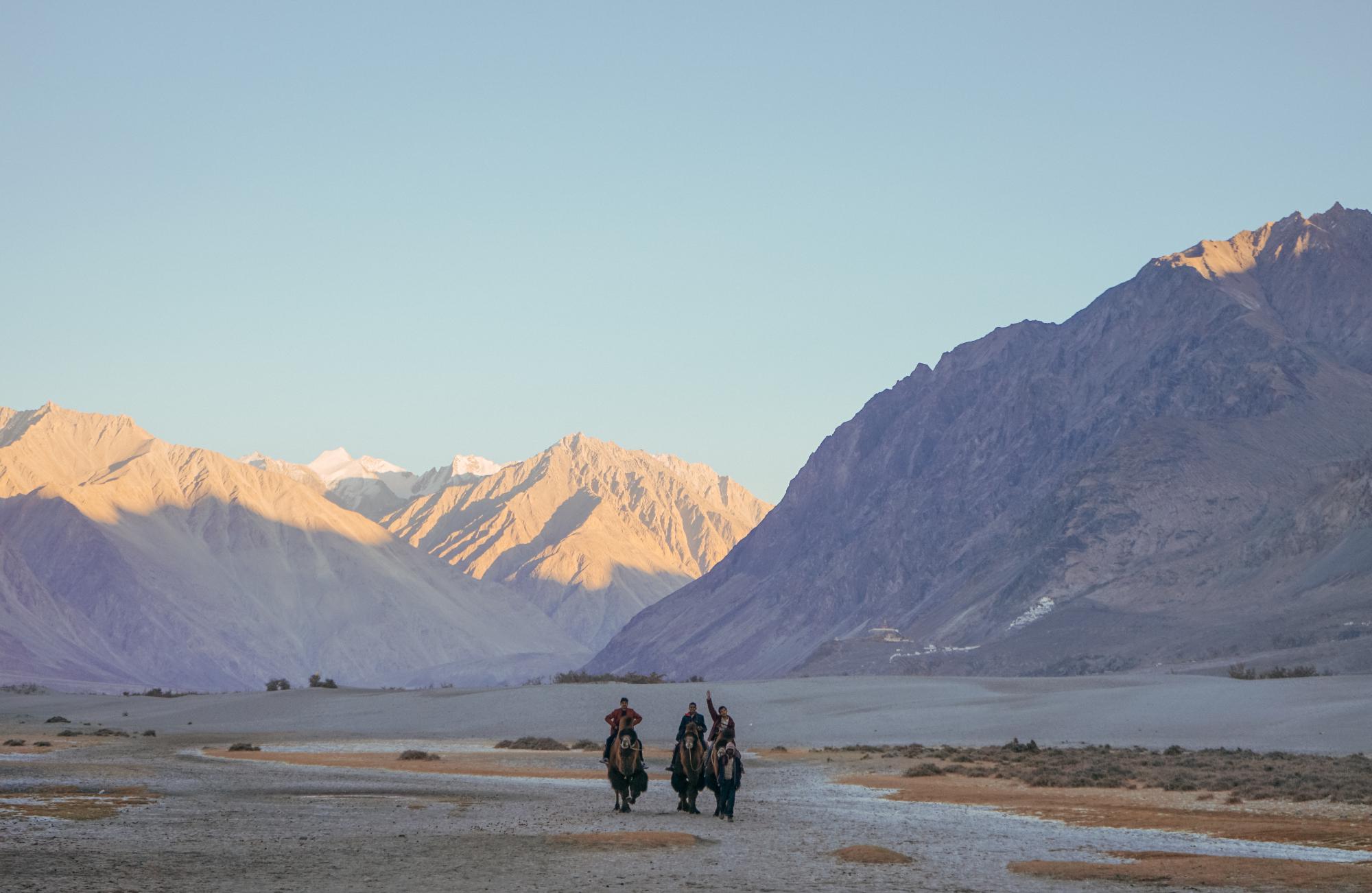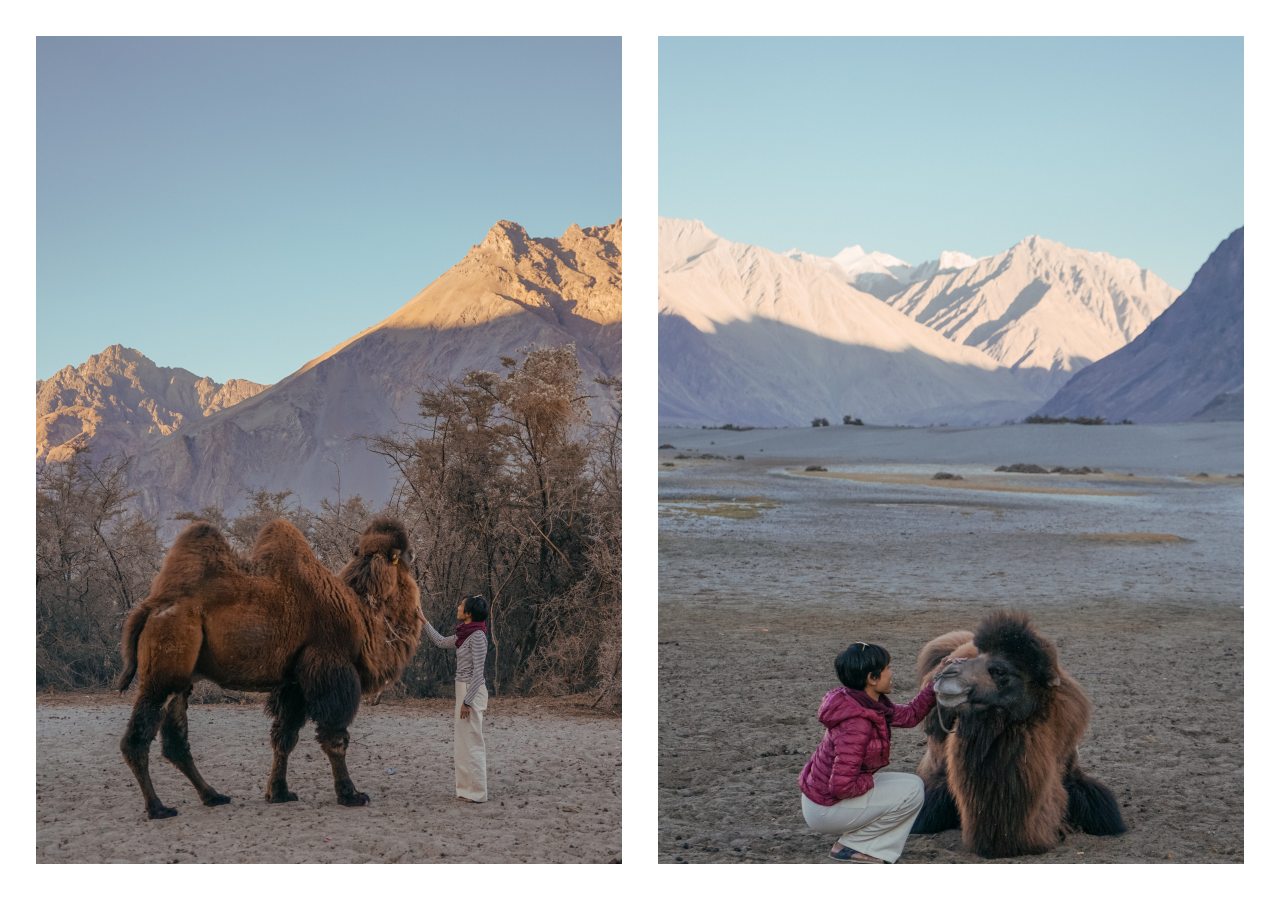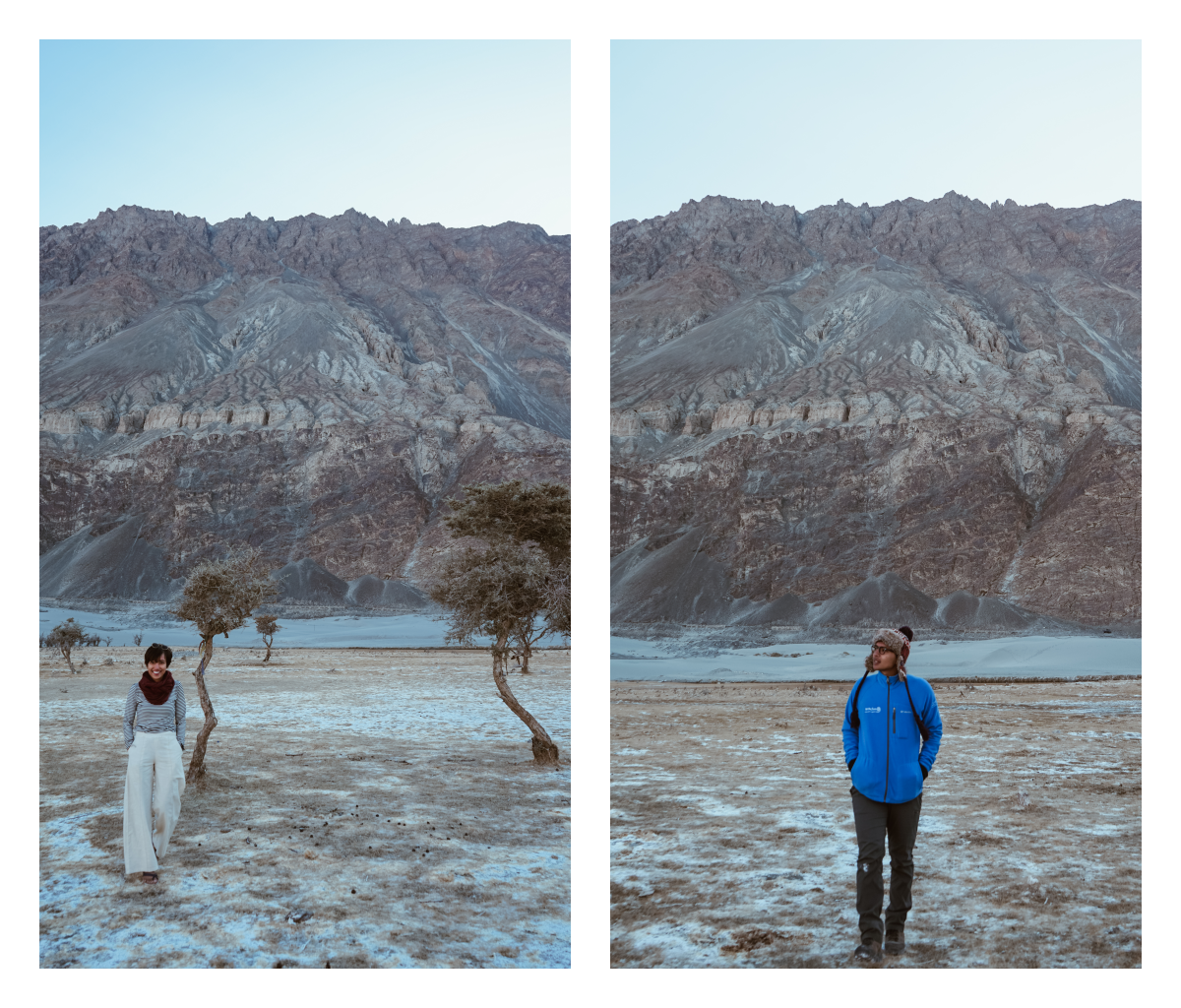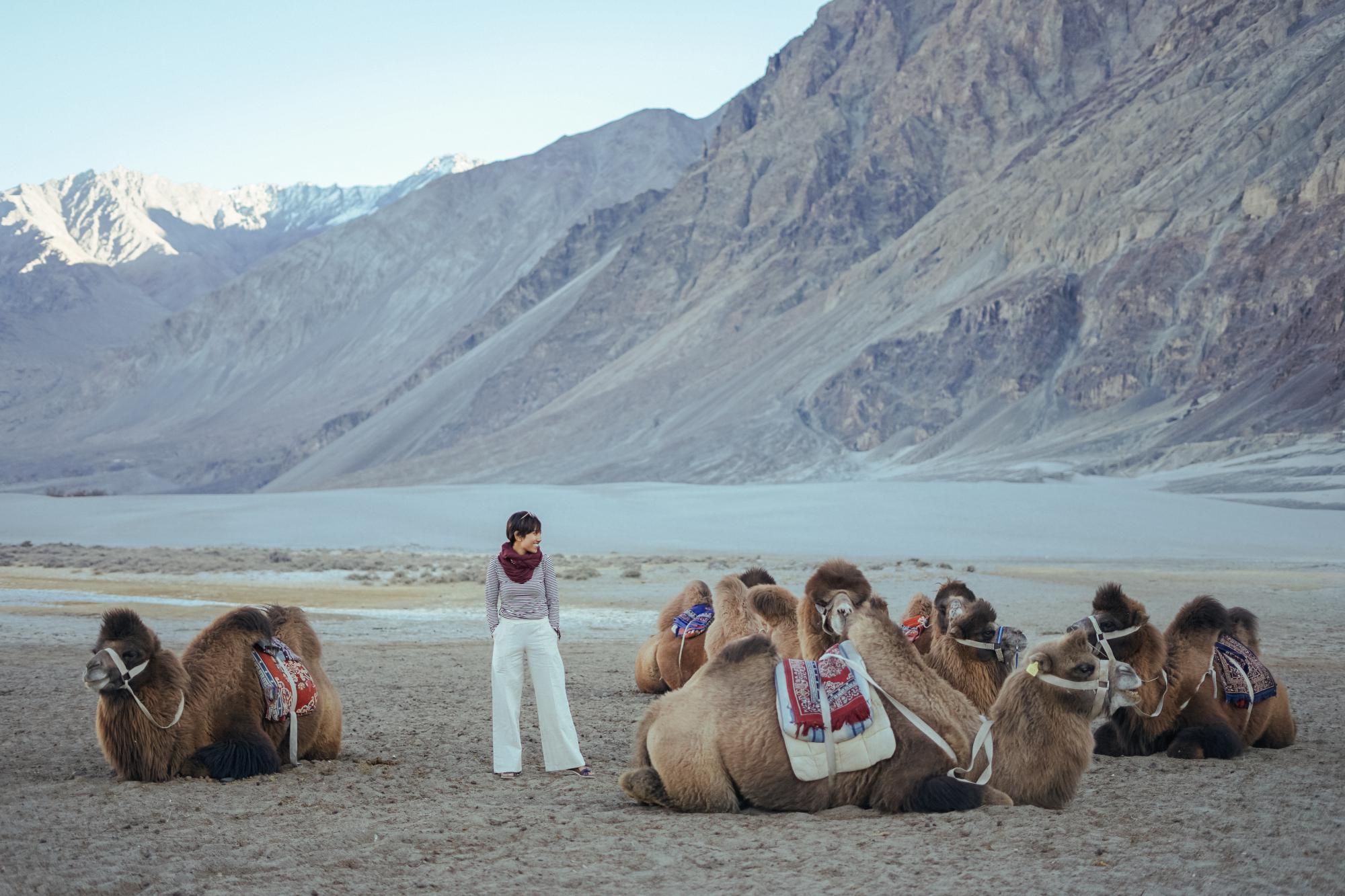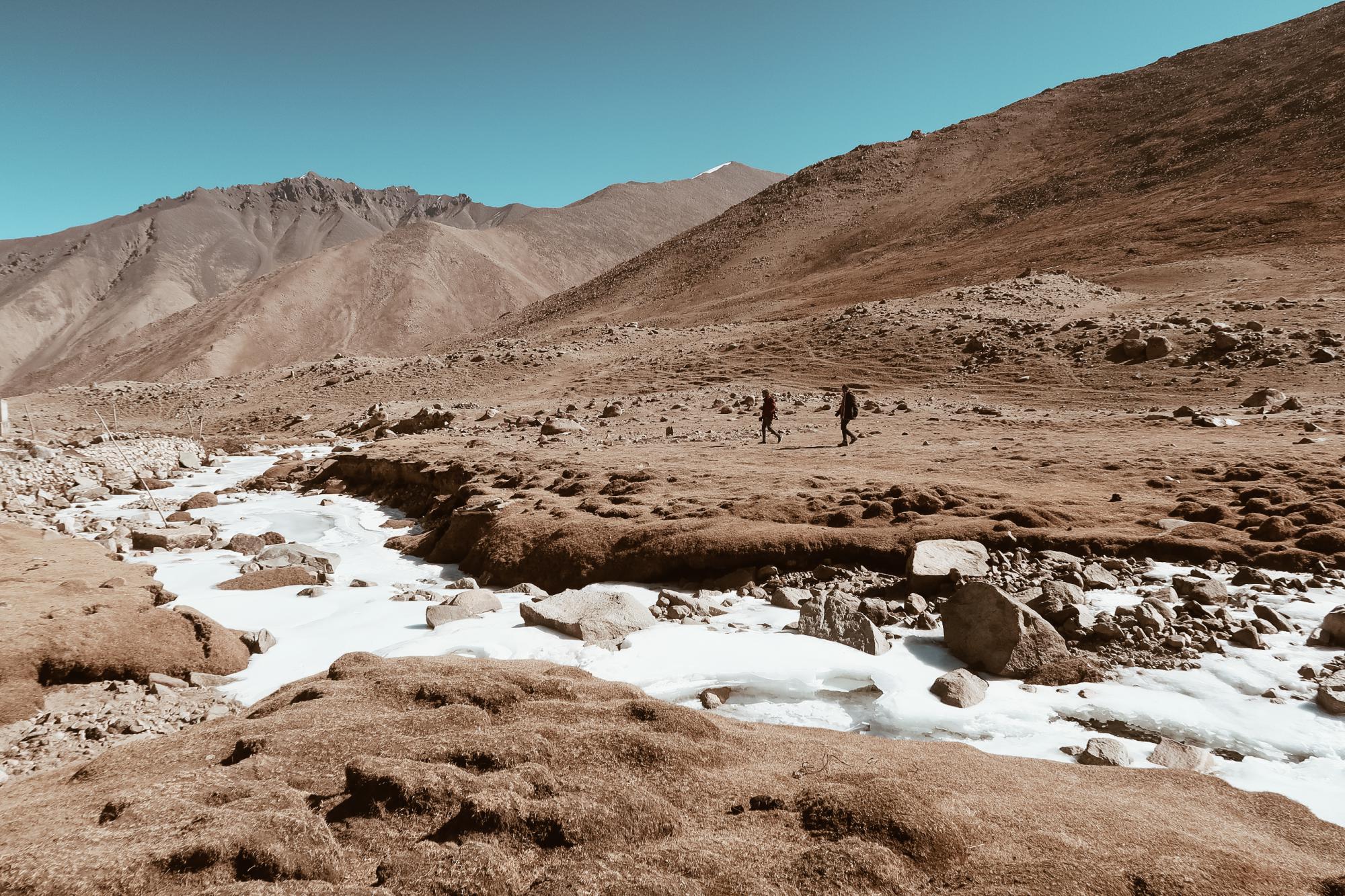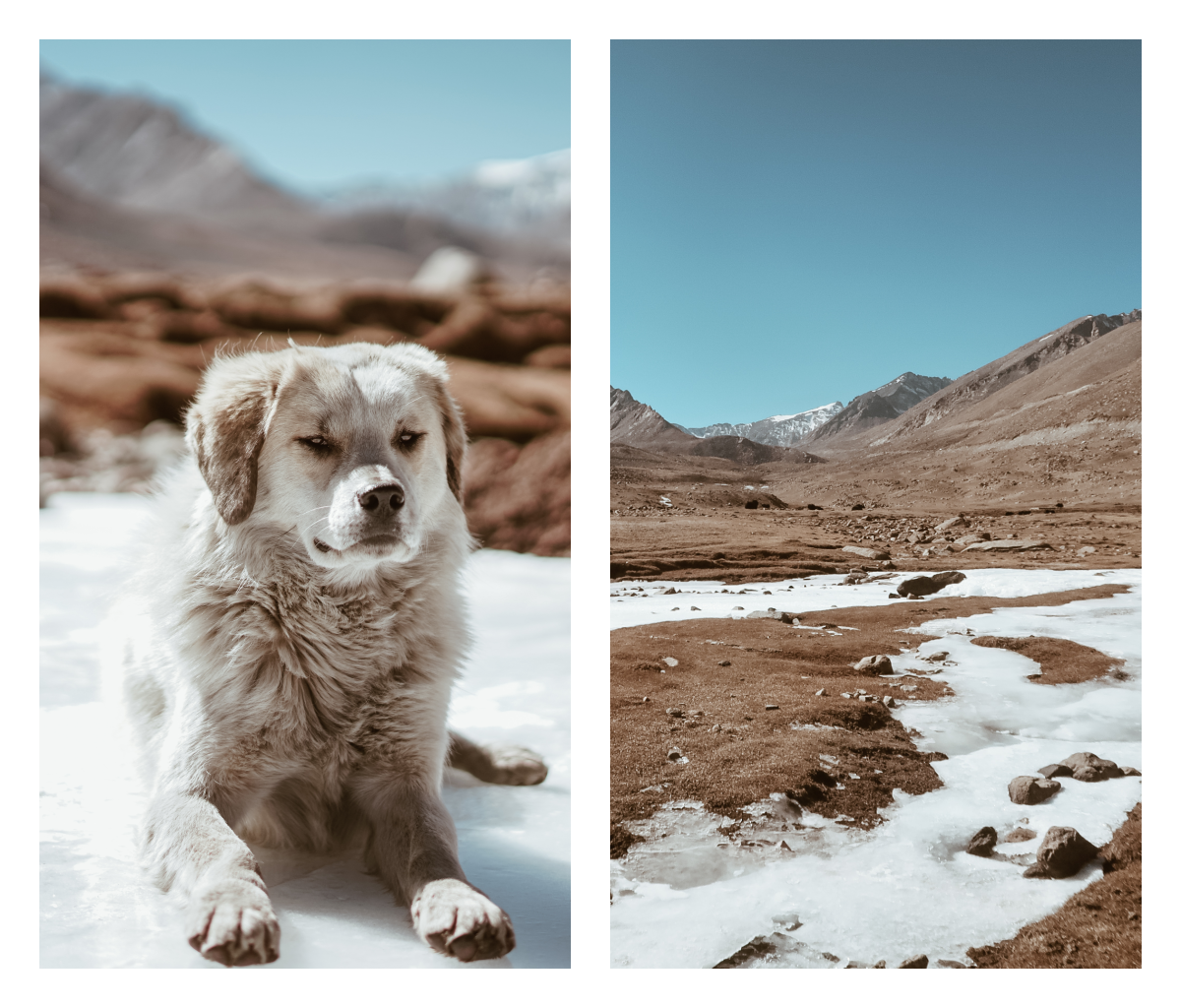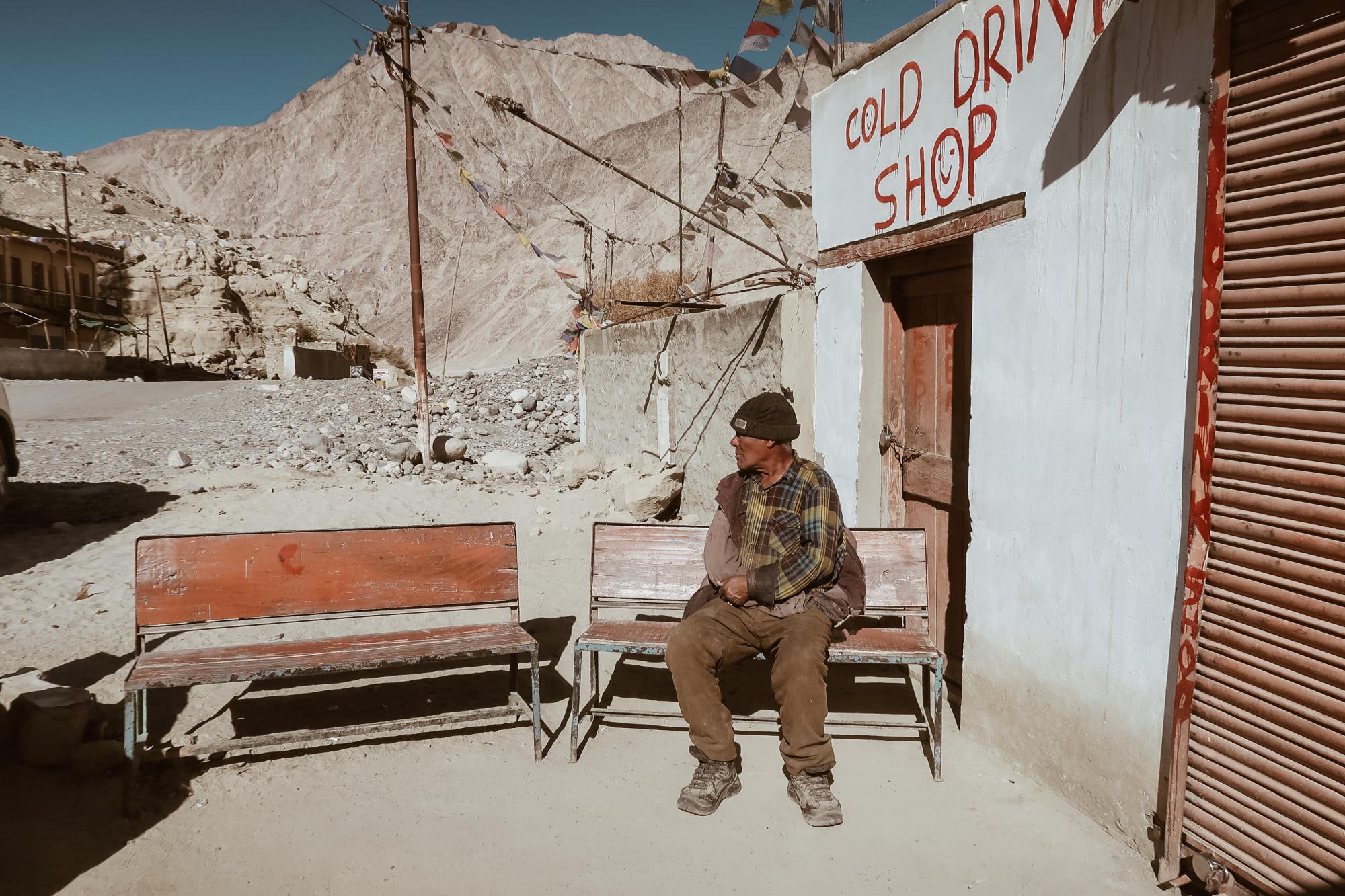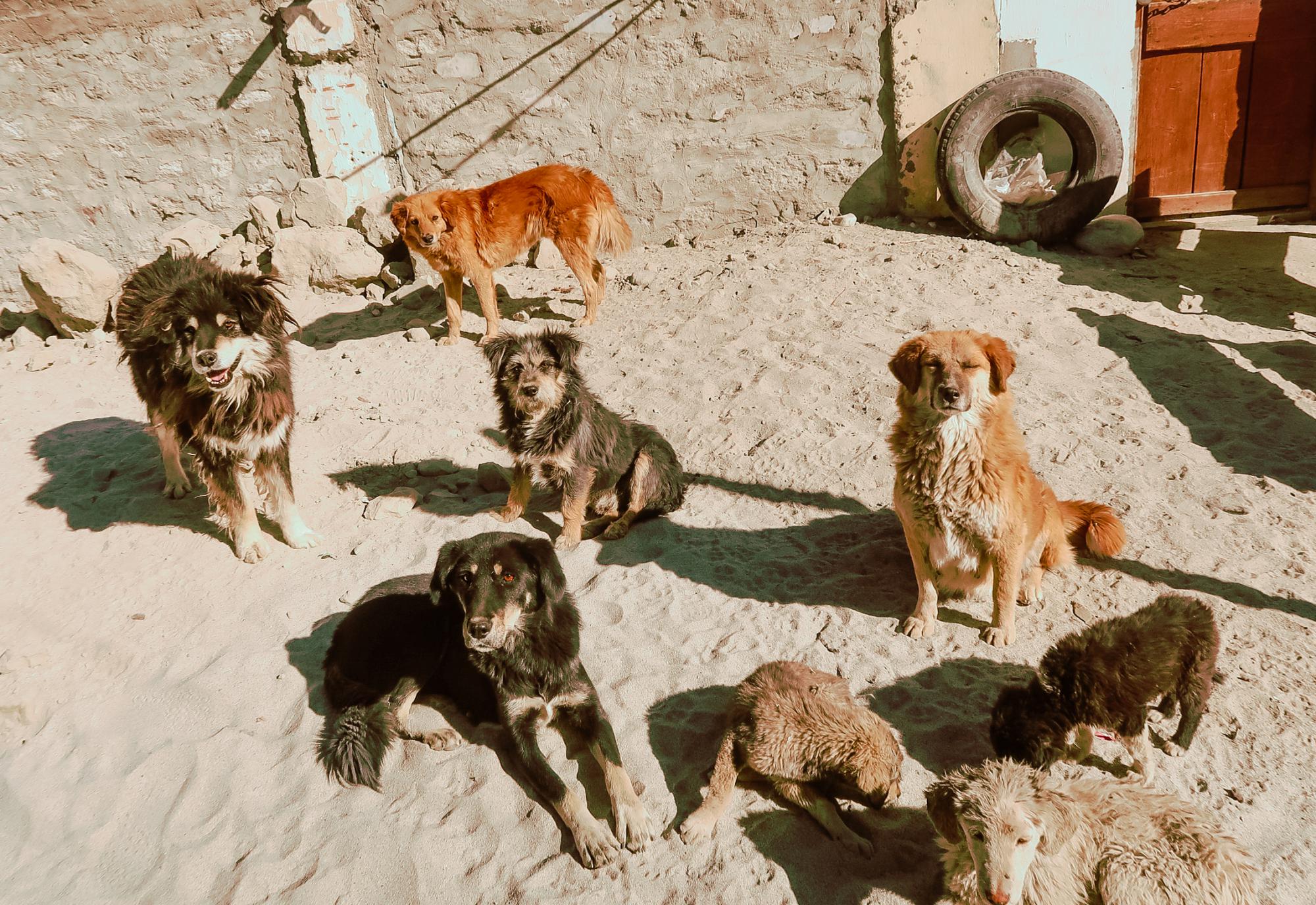 DAY 5
We woke up and continue the ride! This time is the longest one because we drove from some hotel near Nubra Valley to the (my favorite) PANGONG (TSO) LAKE! The journey took about 4 hours ride and this time we had to minimize the amount of stops that we should take.
It could have been more than 4 hours if our driver did not go to the shortcut. But this shortcut was so beautiful! A bunch of different scenes! There was a place like a canyon (I was thinking about the Grand Canyon when I saw this), which I wished I could have stopped in here. Then, we drove along this big river with a turquoise color, which was just a stunning thing to see.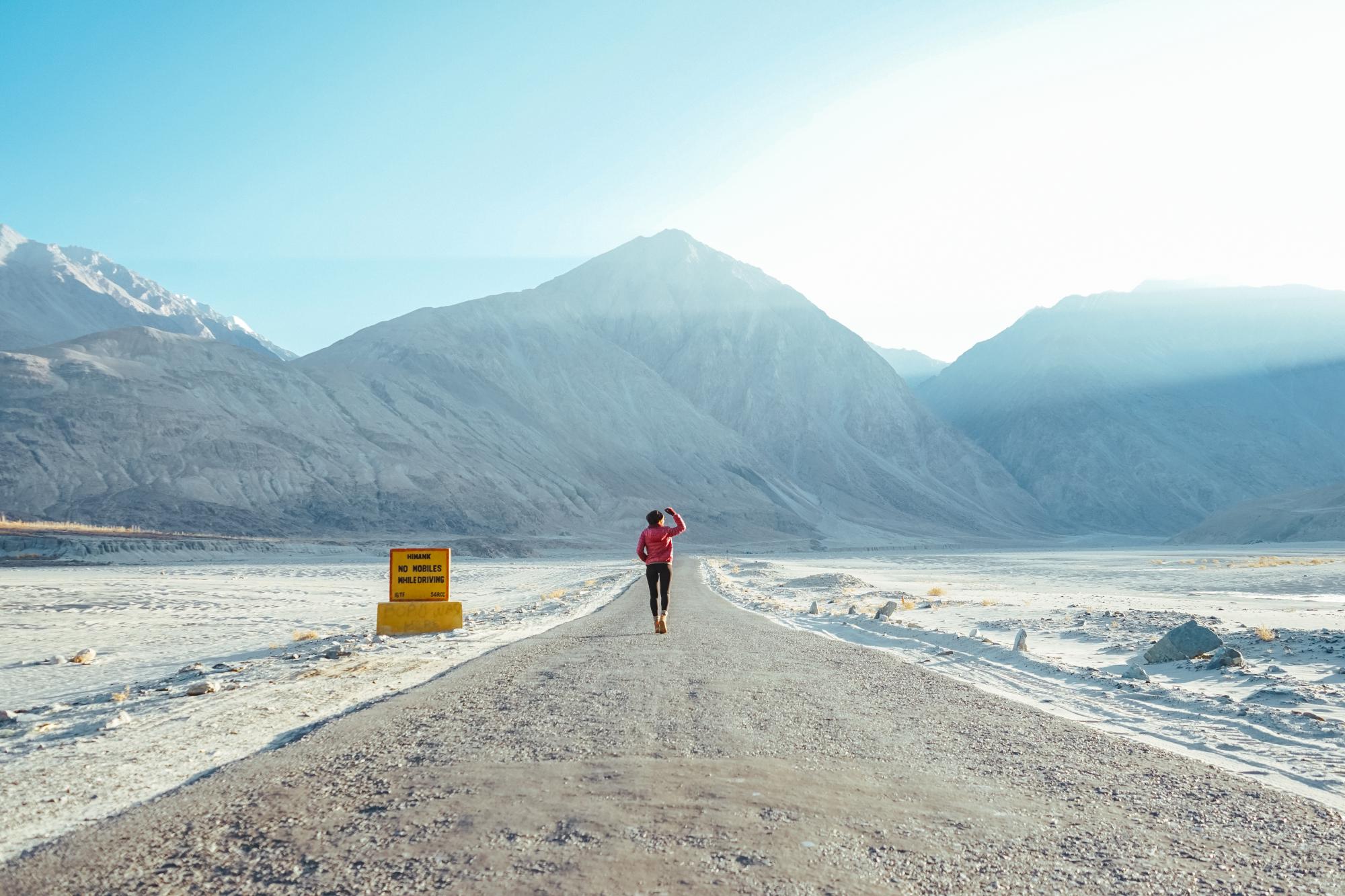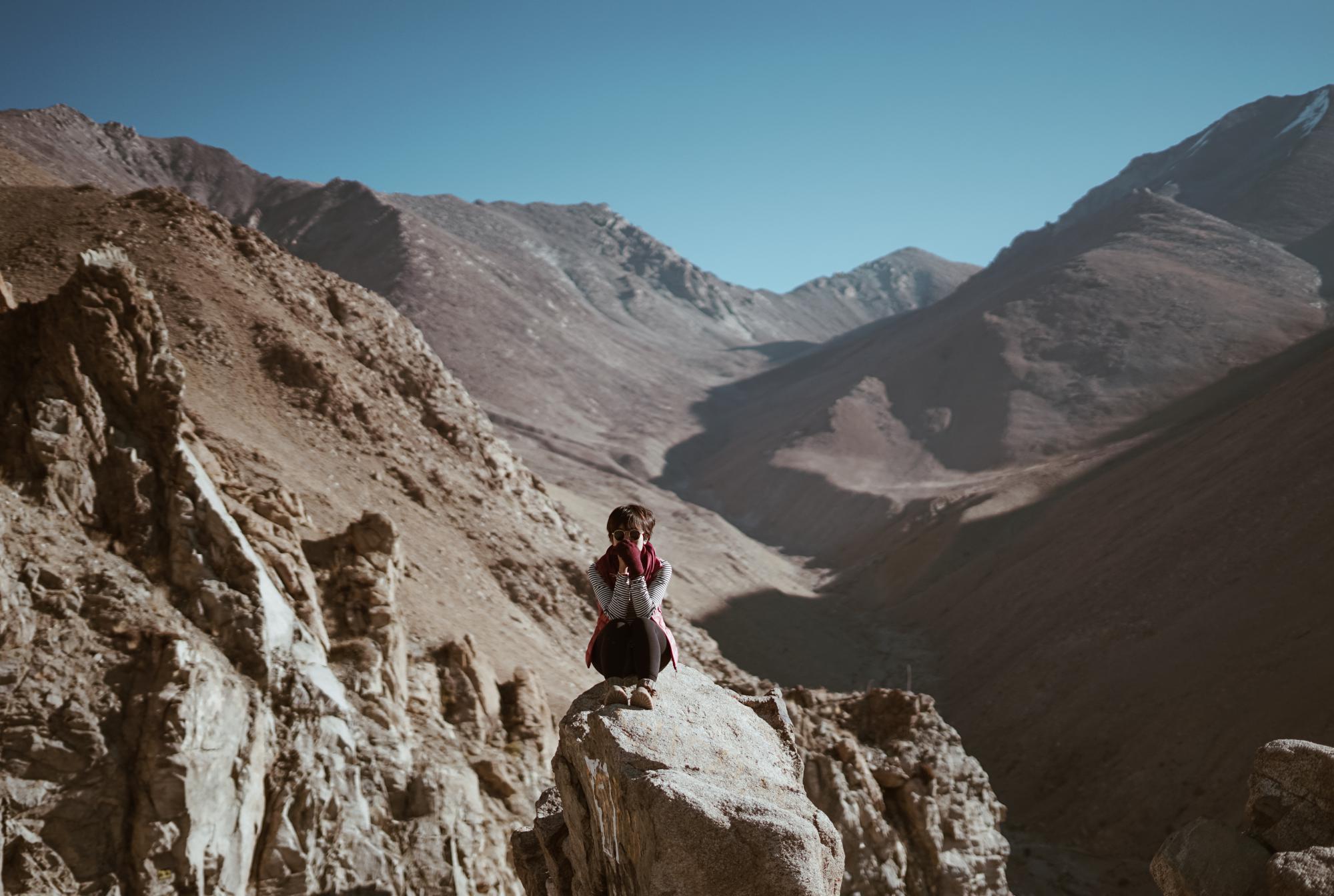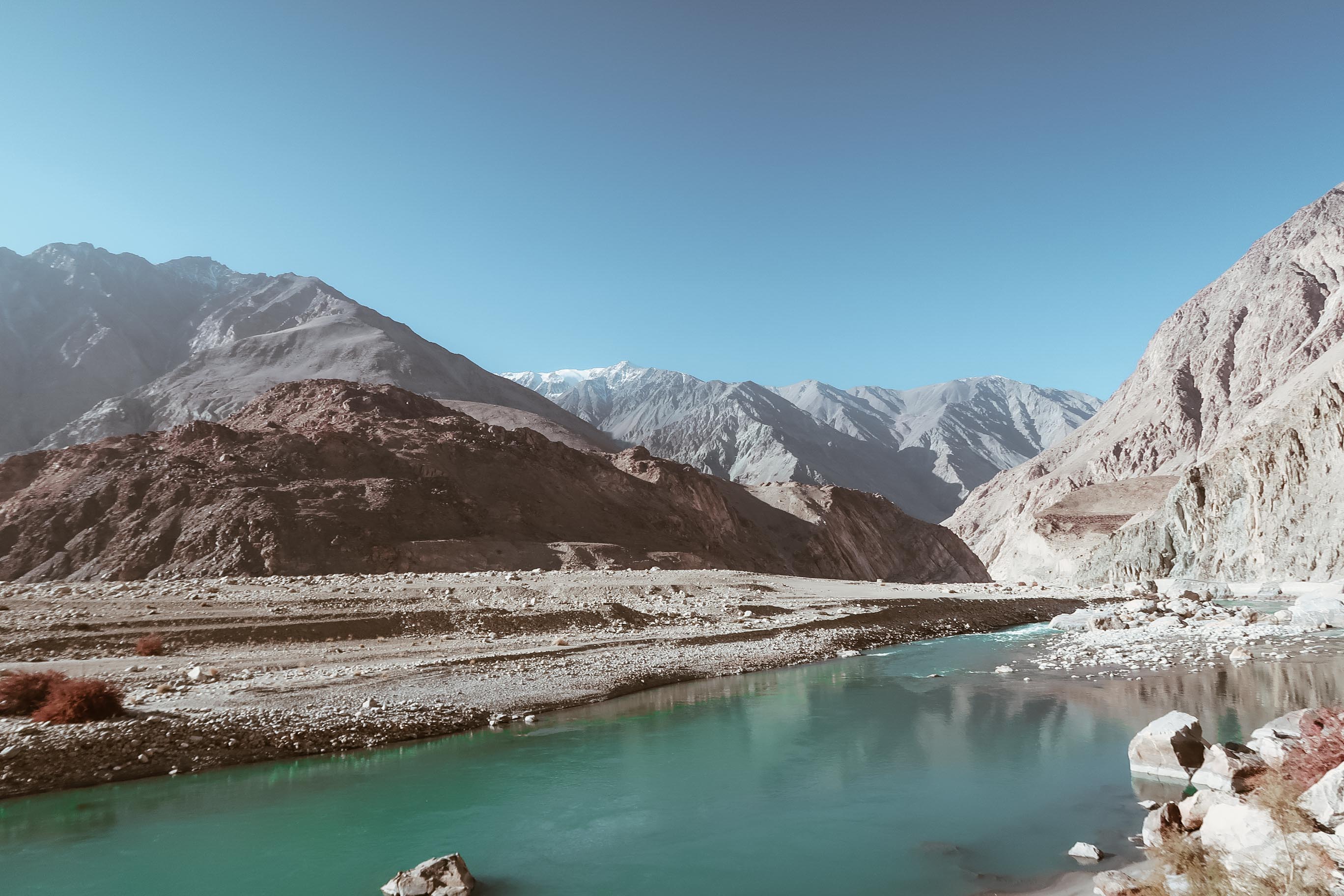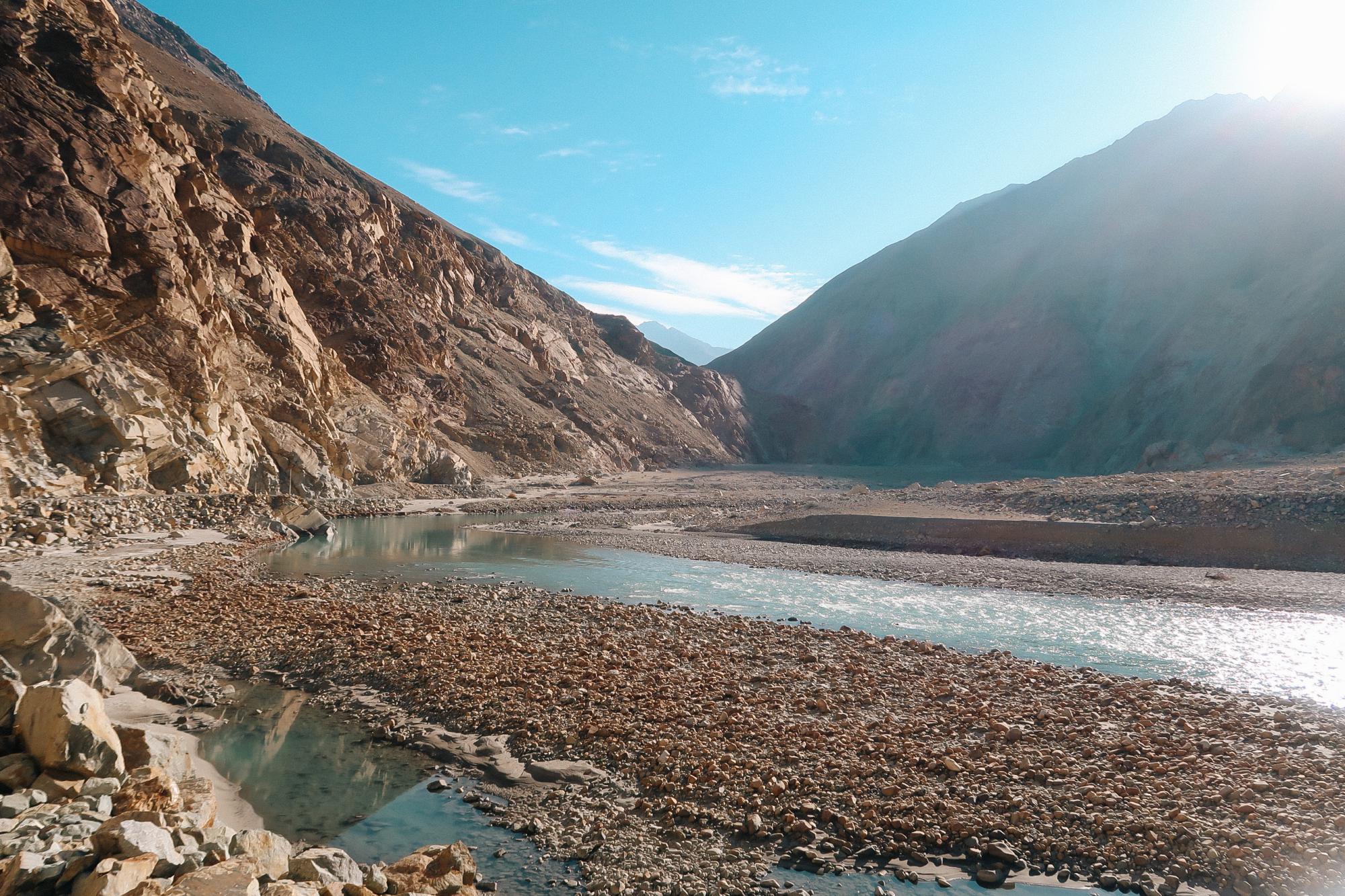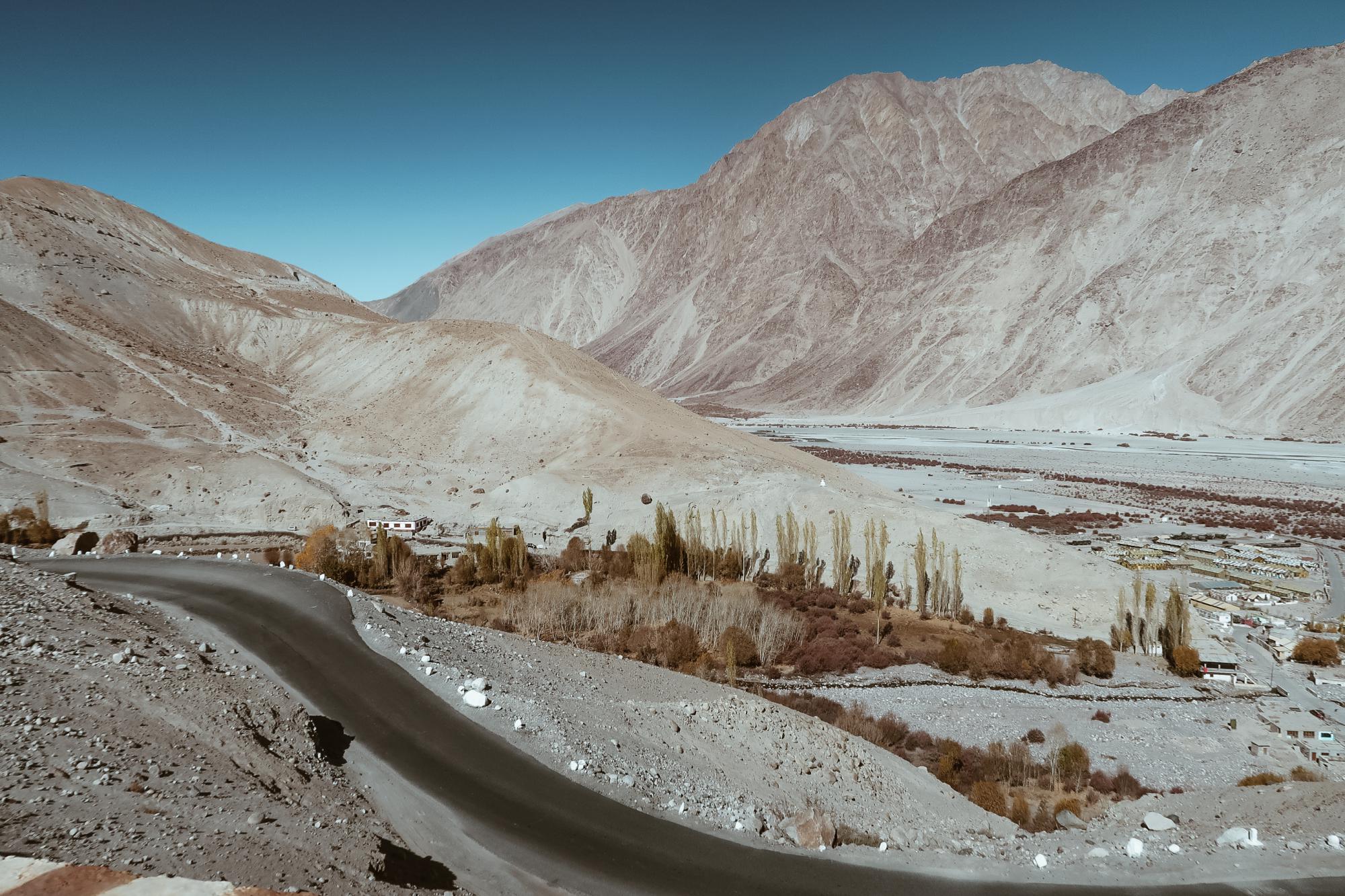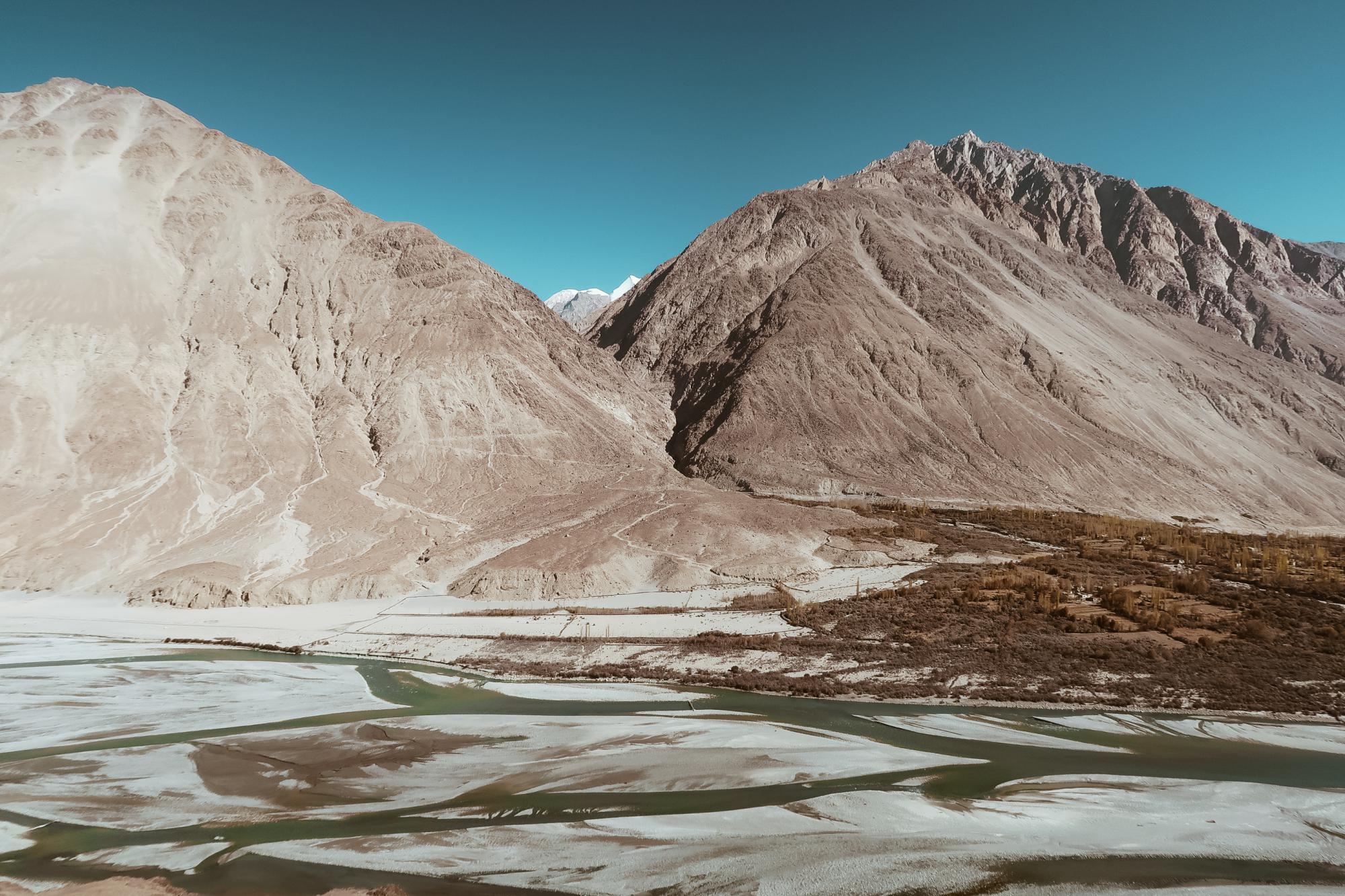 I think we just about half way of our ride and we found a bunch of people with their car just out of the road. Our driver took the initiative to pull over and help them. Not long after that, more than 8 cars passed by and pulled of too. It was just a heart-warming scene to see there was a kindness and willingness to help each other.

We continued to go to Pangong Lake after we finished helping them. Driving around like this and passing some spots where gave me some glimpses back to when I rode the Royal Enfield that I rented by myself. Finally, we arrived and as usual, SO BEAUTIFUL! I could see Kevin's eyes almost drop a tear! We spent about 2 hours in here and we had to drive back to Leh. The drive back to Leh was very long because this time there was no shortcut to take. We arrived in Leh around 19.30 and we came back to our beloved Zaltak Guesthouse with a scooter because we had a super plan for tomorrow.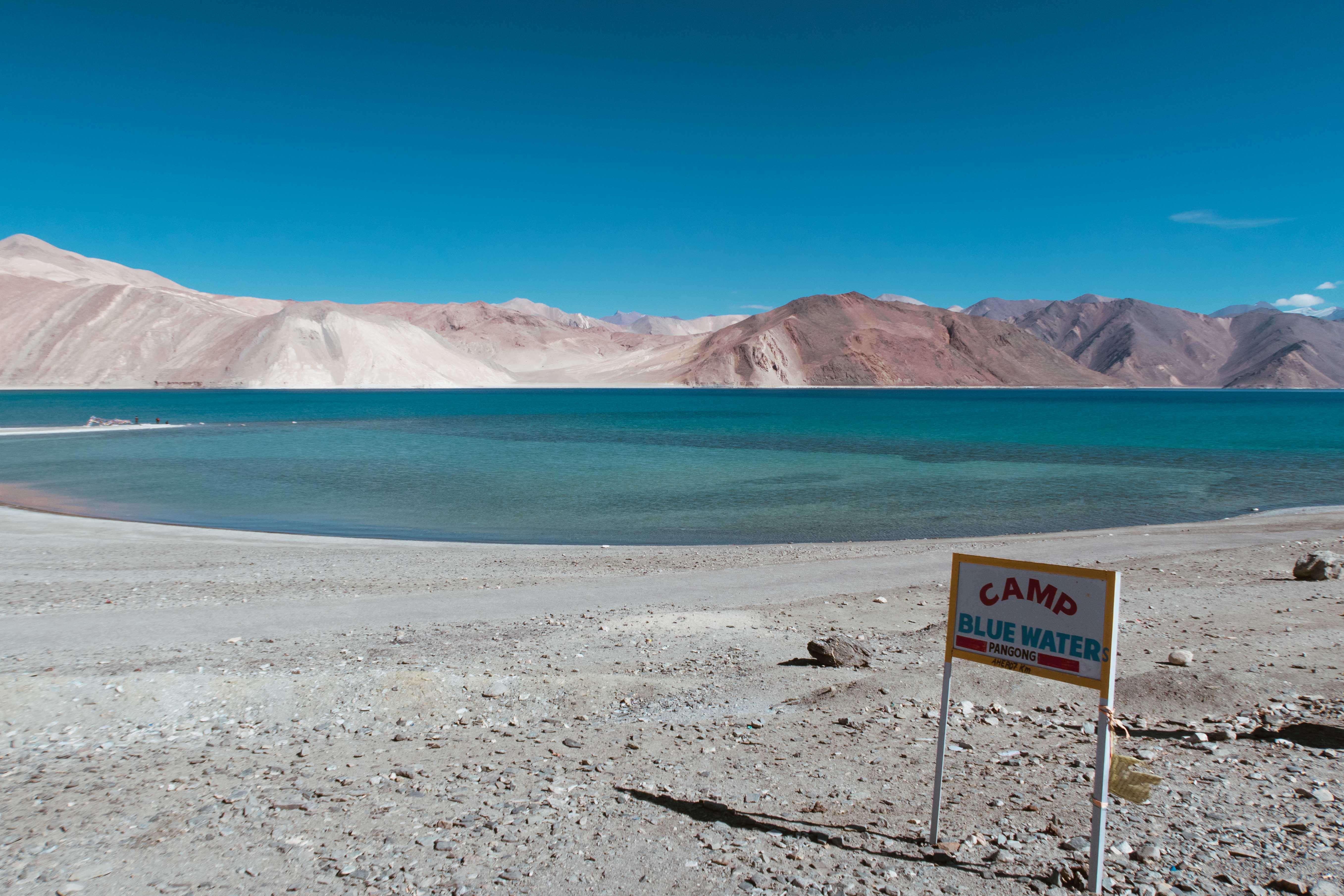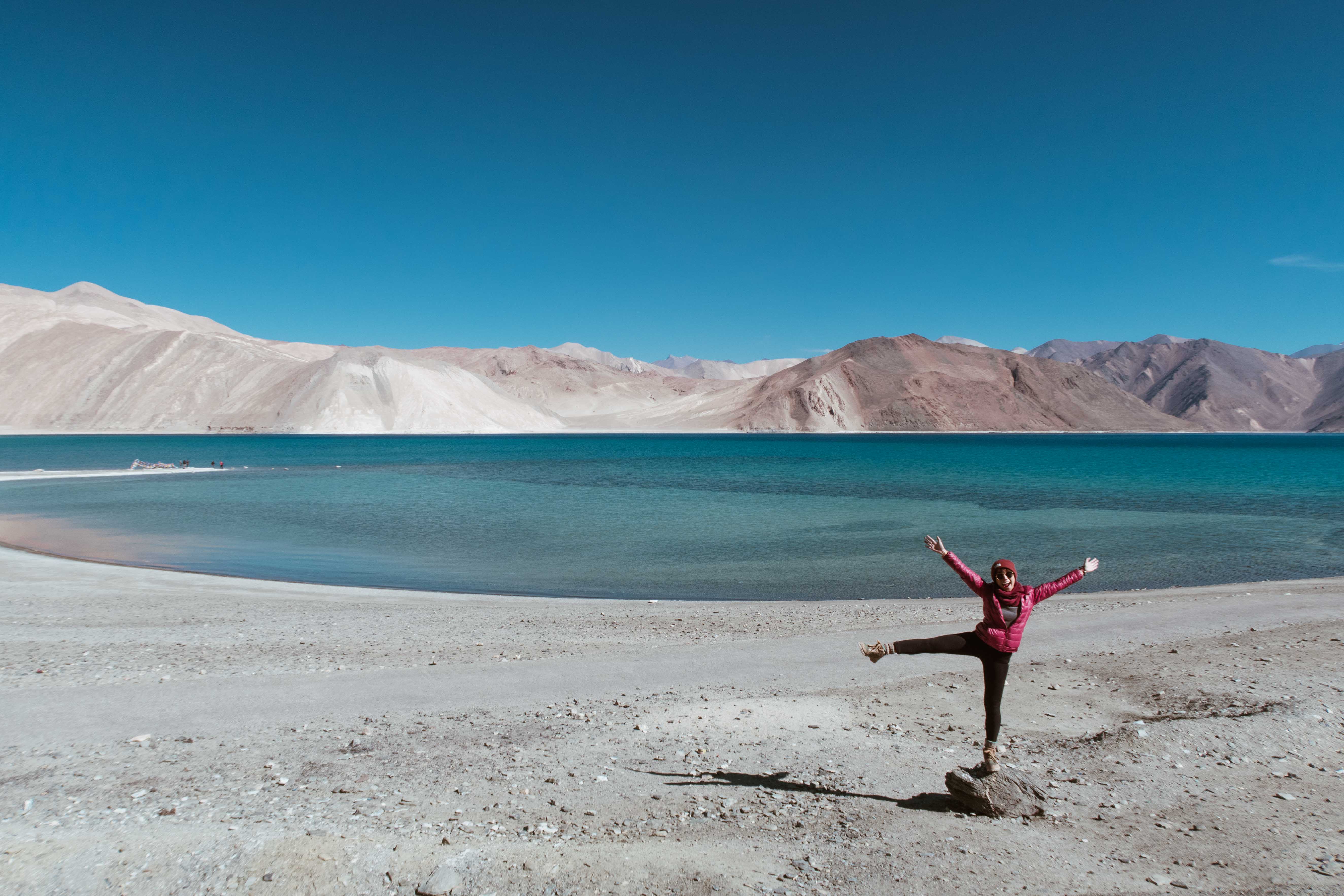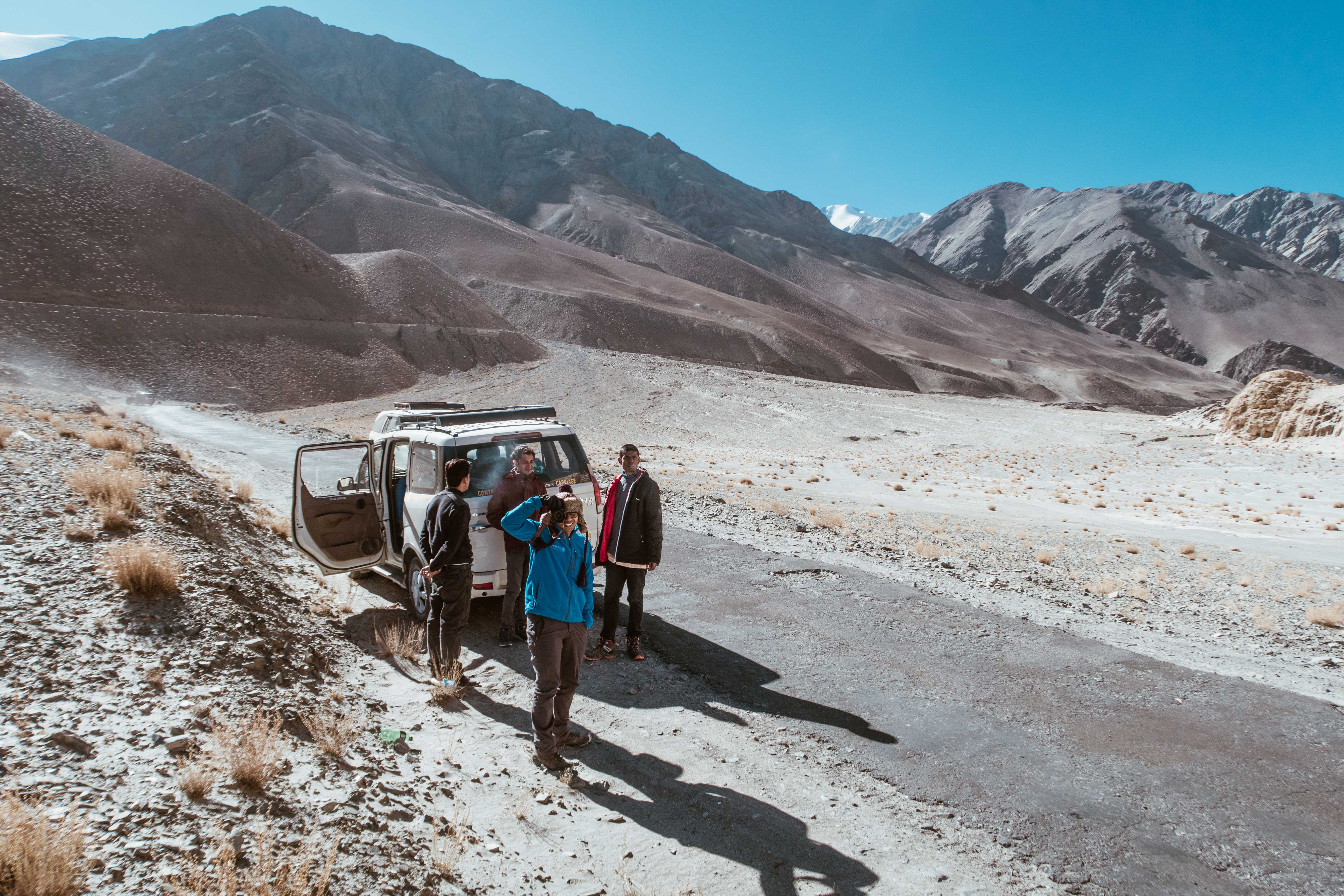 DAY 6
As I mentioned before, we had a super plan for our day 6. We heard from the guy at Yak Travels that a nearby village called Thiksey (which is where he came from) has 3 days monk dance festival and on that day was the last one. We went and joined with Ankit and Abhisek. We all took the scooter and drove from Leh to Thiksey. It was freezing! We had to take a stop at a food place nearby Thiksey to fill our stomach. Then we resumed our journey back to Thiksey. From Leh to Thiksey was just 45 minutes with a scooter. Not too far right?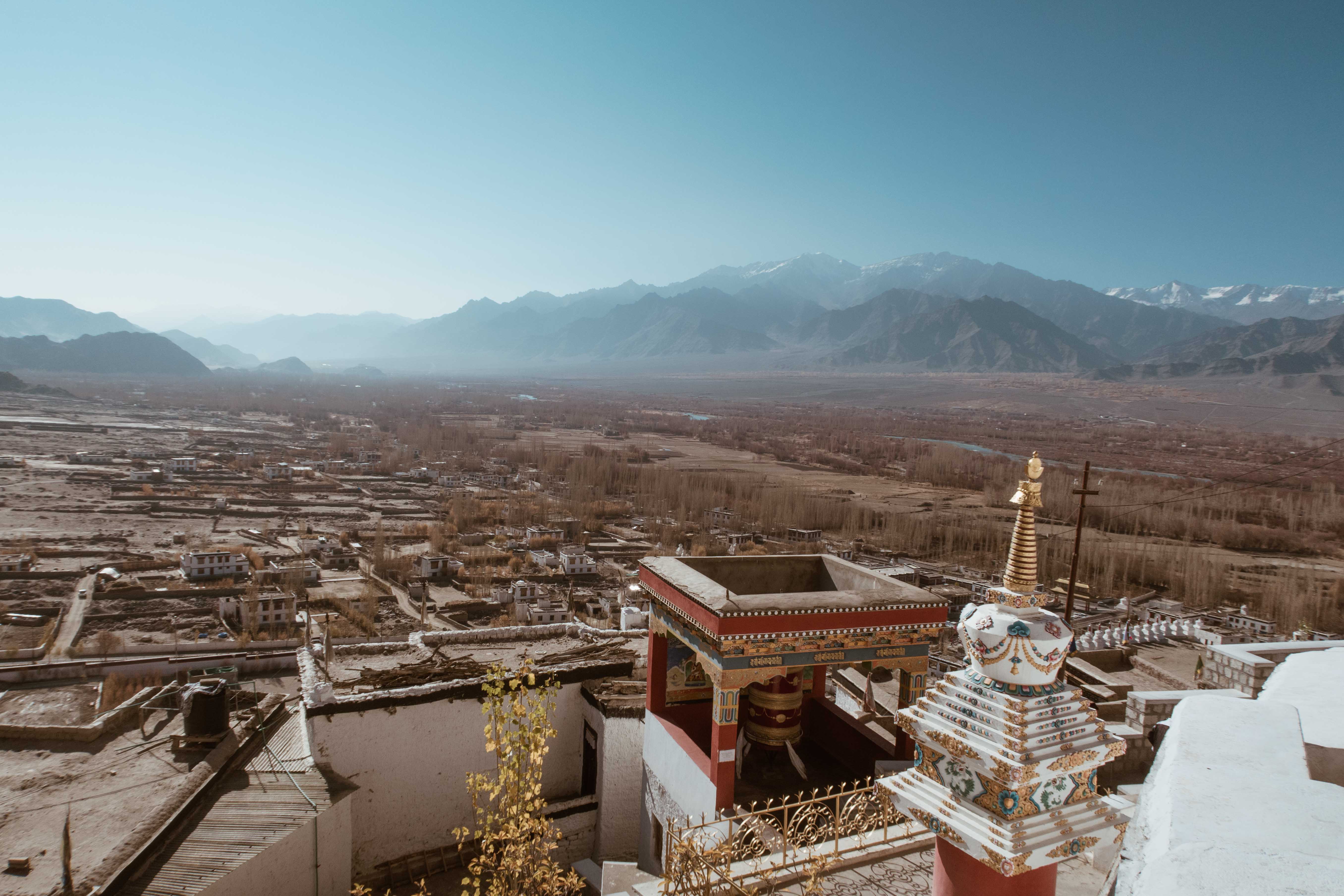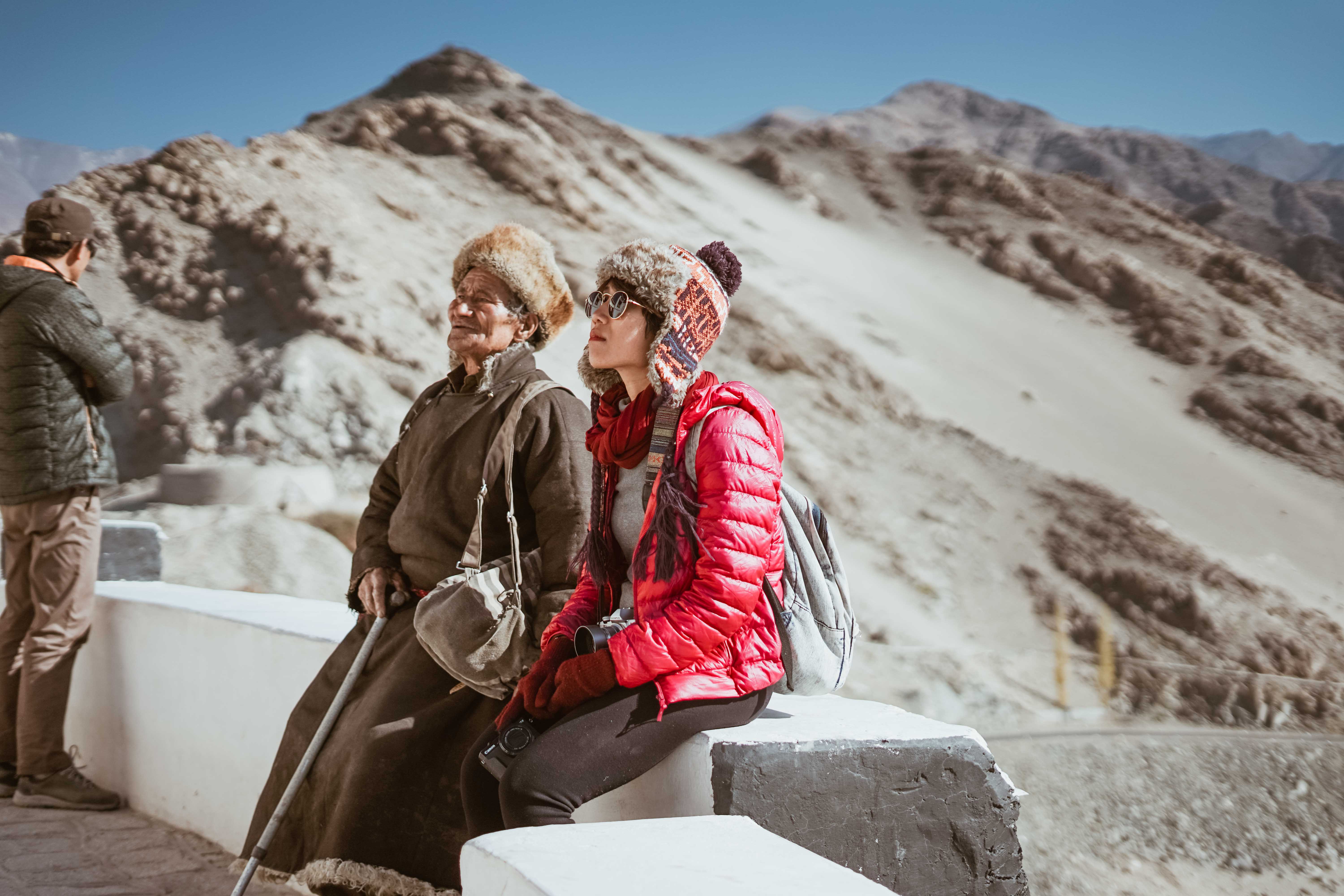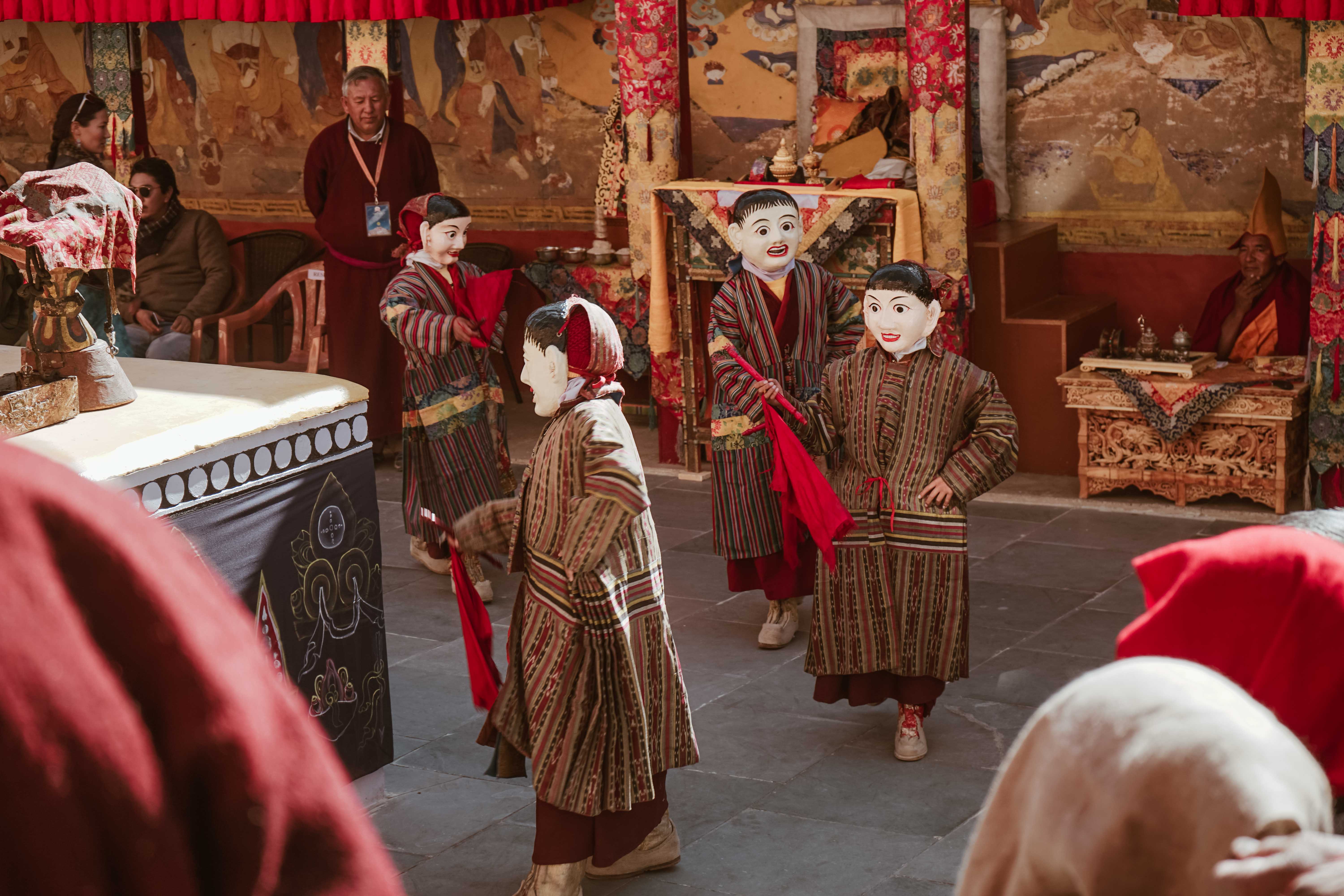 The monk dance was held in the monastery and the festival took from morning to the early evening. I enjoyed the festival because I could see a lot of people from around the world and some other parts of India came just to see this unique dance. Moreover, I got the chance to meet with lots of cute little monks too! Because the day became hotter and hotter, I decided to call it a day. Unfortunately, we did not meet Ankit and Abhisek again because the monastery was so packed and they kept wondering around take some photos. Our goodbye wasn't a proper one and hopefully we'll meet them again someday!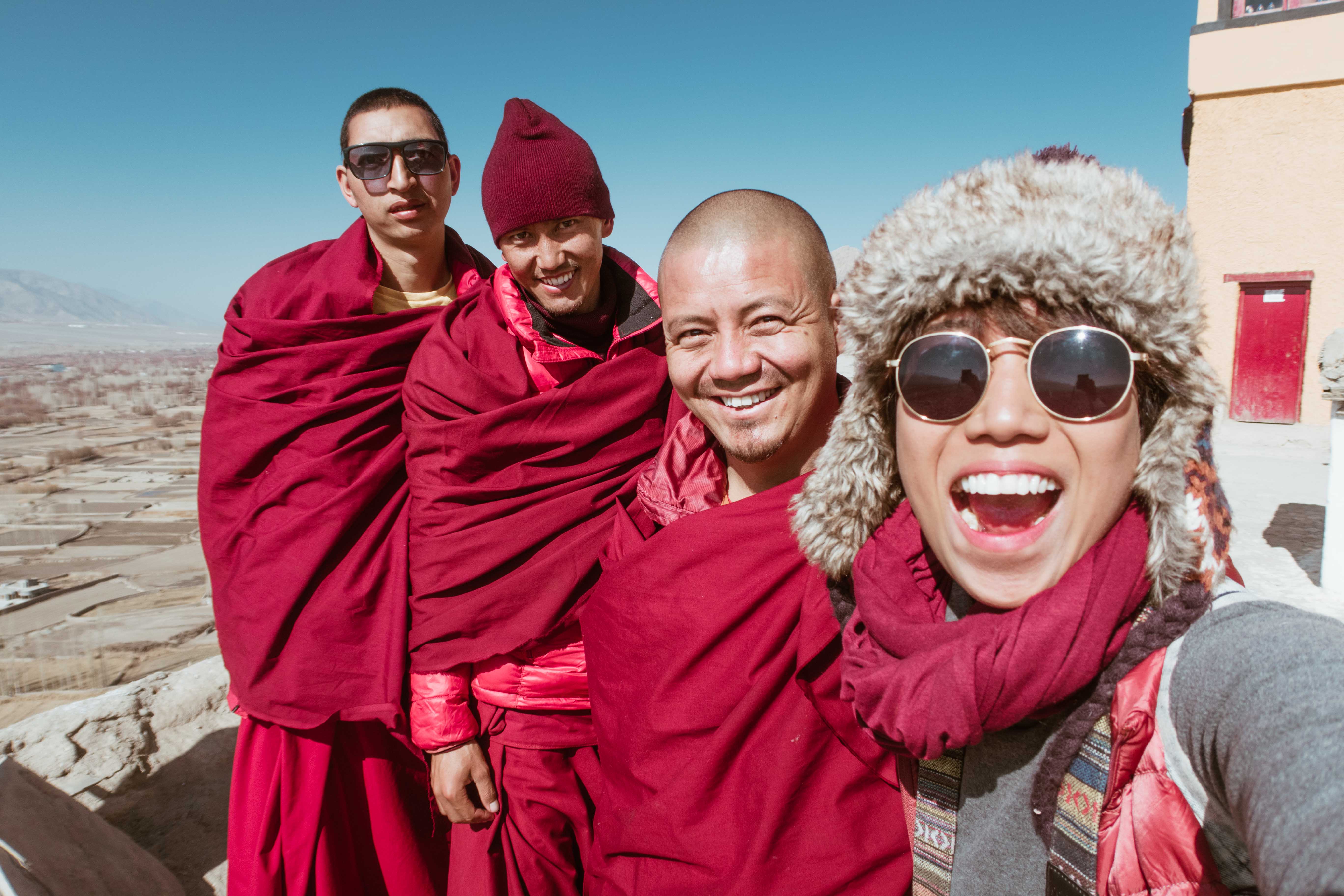 We headed back to the guesthouse and took a little bit of rest before we went to a spot called Magnetic Hill by using Srinagar-Leh Highway. Oh the ride was full of new sceneries and pack of mountains! I felt glorious and I asked Kevin to switch with me because I wanted to drive too!
We arrived at the Magnetic Hill, took us about an hour and easy ride. So what's with Magnetic Hill? Basically is just a gravity hill where the layout created an optical illusion. So what we see supposed to be going down was actually going up but it was a one big place where I could do loads of thing! We went back to Leh after that and tried to figure, "What's next?".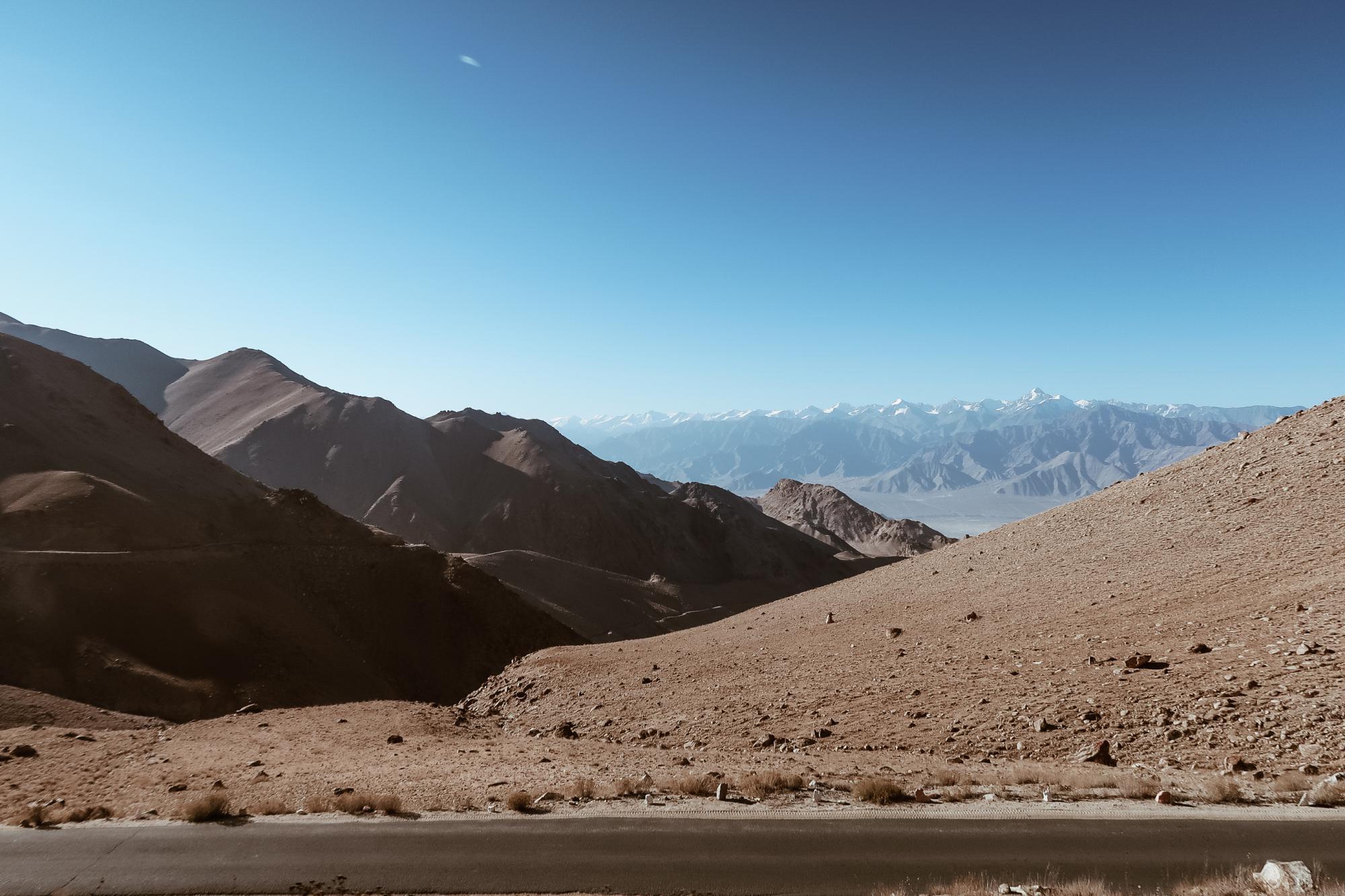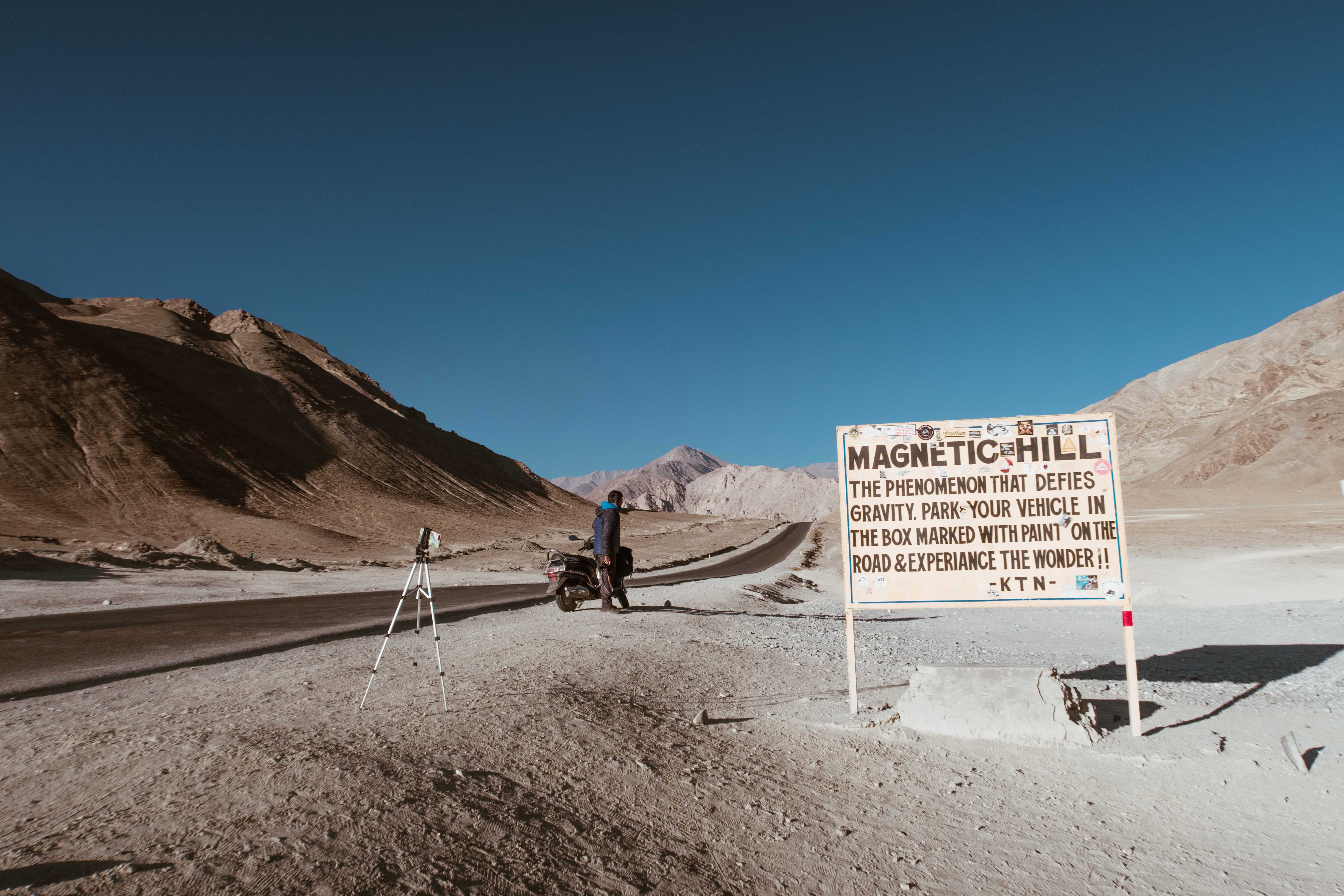 DAY 7
On the day 7 we eventually got a tiresome feeling. So we decided to take a rest and just strolling around in the city. Visiting the bazaar, hoping from one store to another to see what they actually have as their particular thingy, riding around the scooter to find some hidden gems in the city and eating at some different places.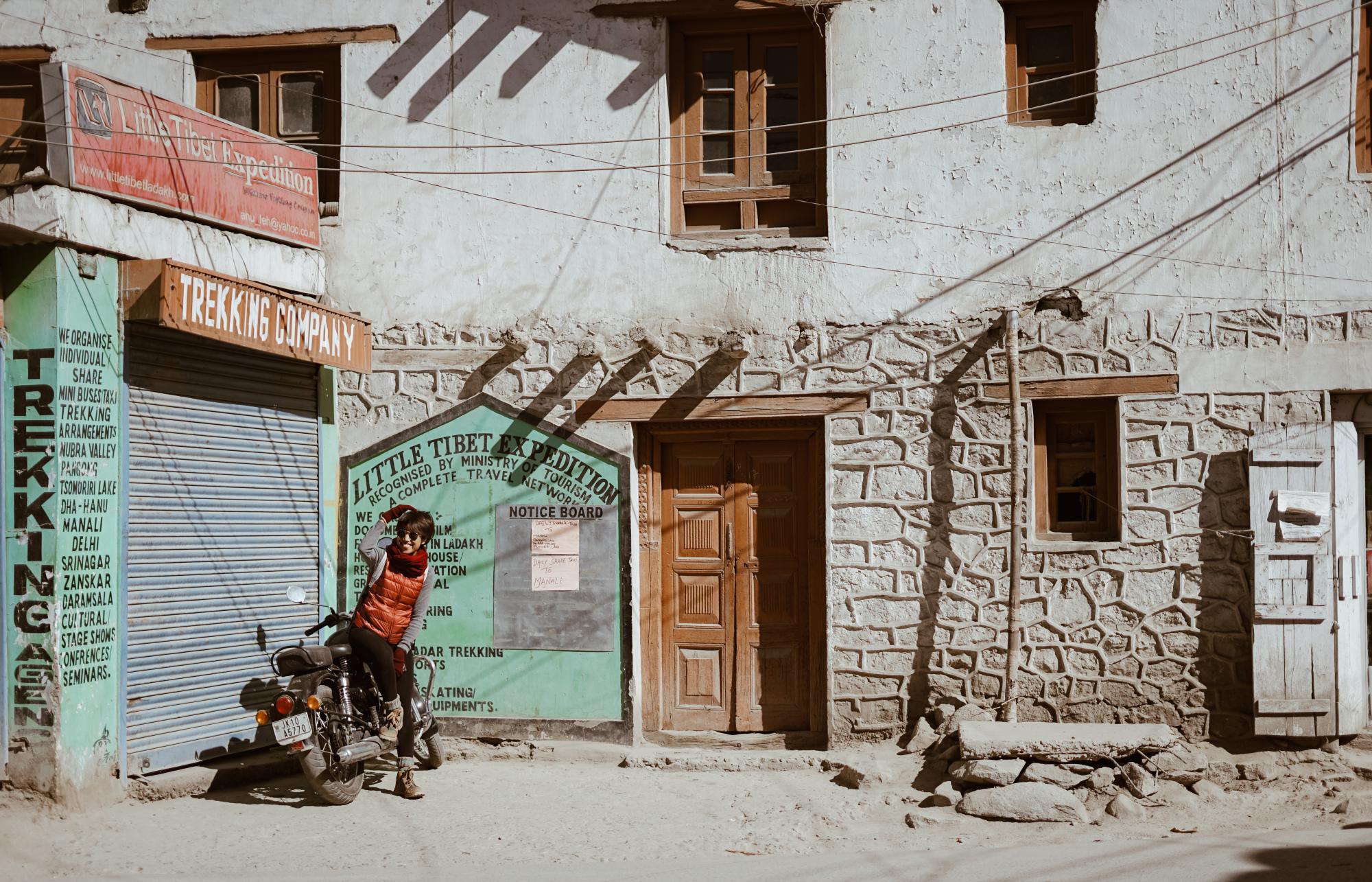 We then found a little park where there was a small stream running down with a crystal clear water. I just sit on the rock and enjoying the peaceful scene while Kevin took some photos of me with the background of range of snowy mountains.
We headed back and just finish our resting day with enjoying the ginger tea that our host made.
DAY 8
Today we promised to do something more than yesterday. We had our Google Map set and our destination was to reach the Stok village. Stok village is located just down below to the mt. Stok Kangri and the doorway to climb the mountain. Our visit this times not to climb it sadly. But just to admire the mountain from close range.

We arrived at the village and surprisingly found nothing and maybe because of the winter? Along the way I could see many puddles turned to ice and when there's an ice there's a freaking cold temperature. What had me the most probably the fact that we could see there was a giant palace with a big statue on it and that must be the Stok Palace. But from where we saw it, it was quite far and I thought it's better not to continue since our gas was running low.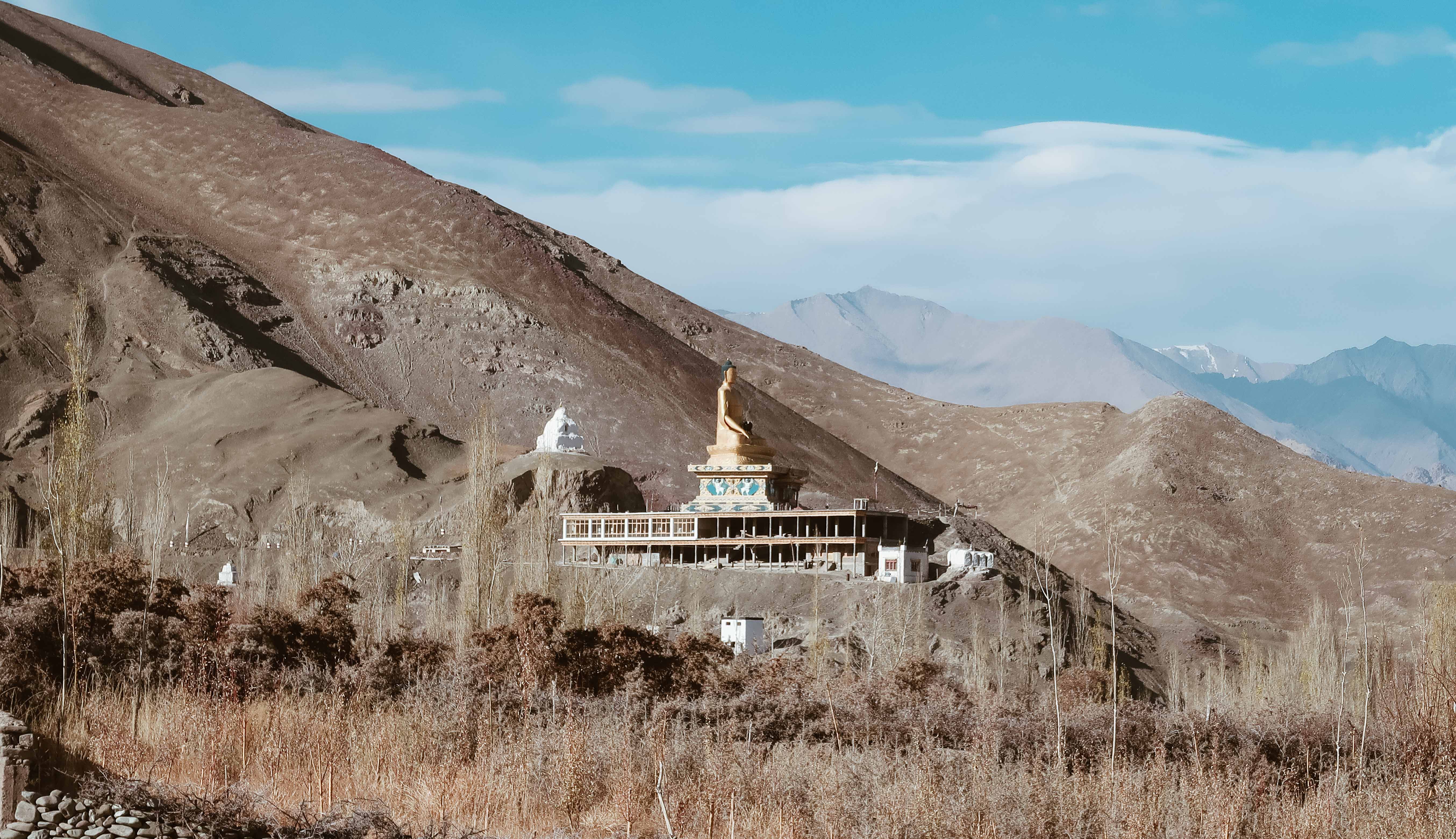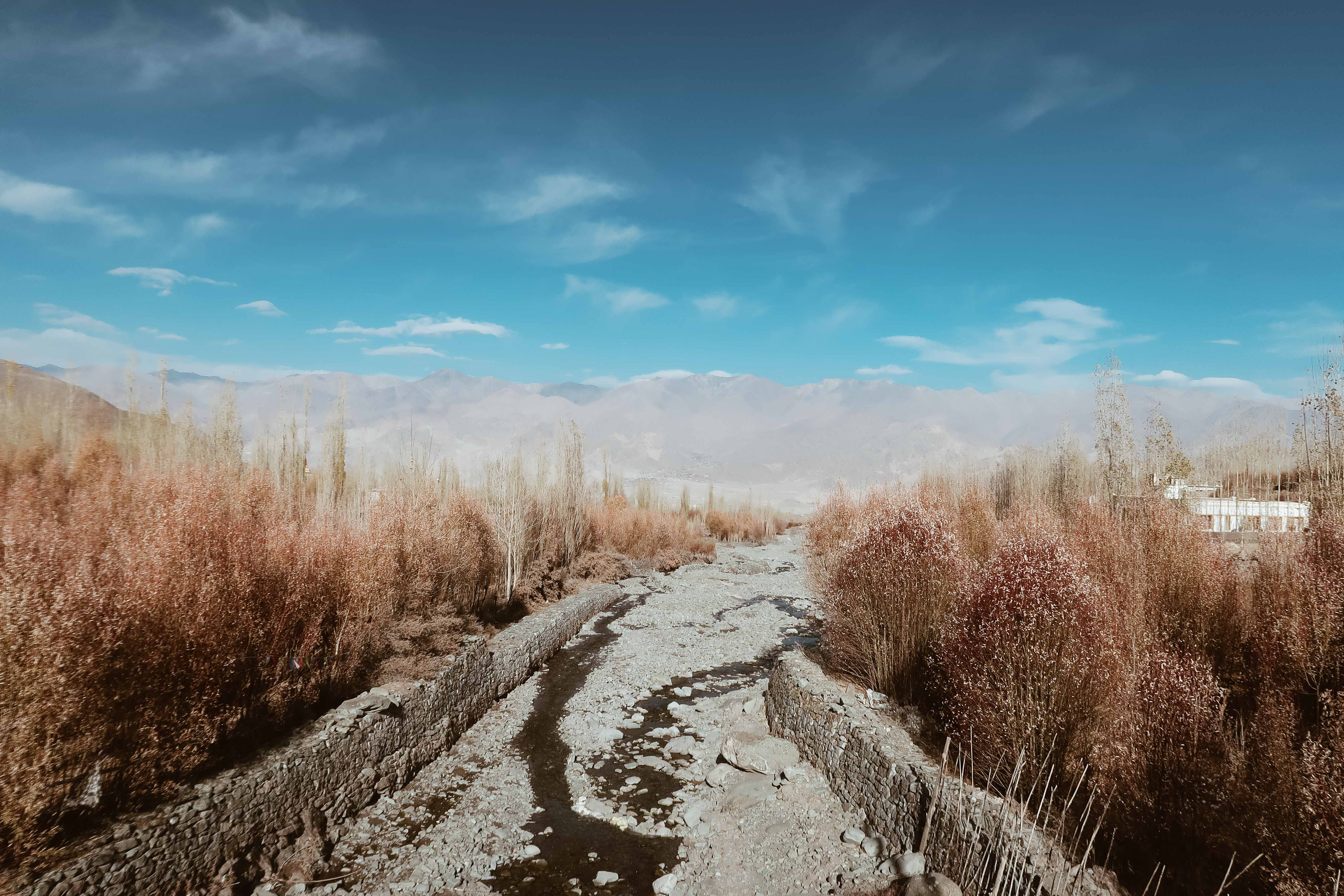 We detoured to a long road where I found it last year and I surprised Kevin by taking him to my spot last year. Glad to know he loved it!
From there, we went to Shey Palace because this is my favorite place to enjoy the sunset. As usual stunning sunset can be seen but not to enjoy too long because the sun quickly covered by the tall mountains. So, this is how we spent the day number 8!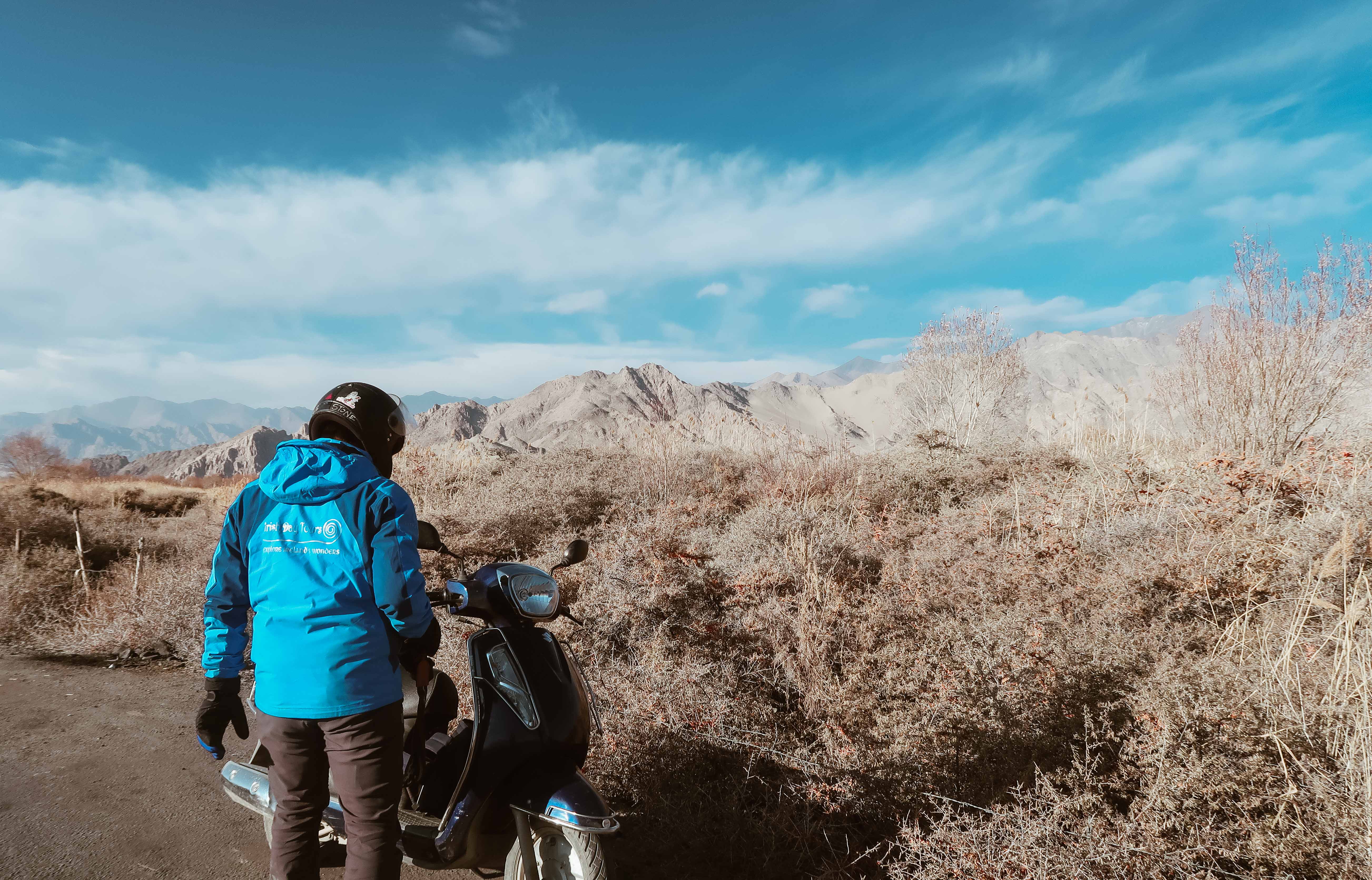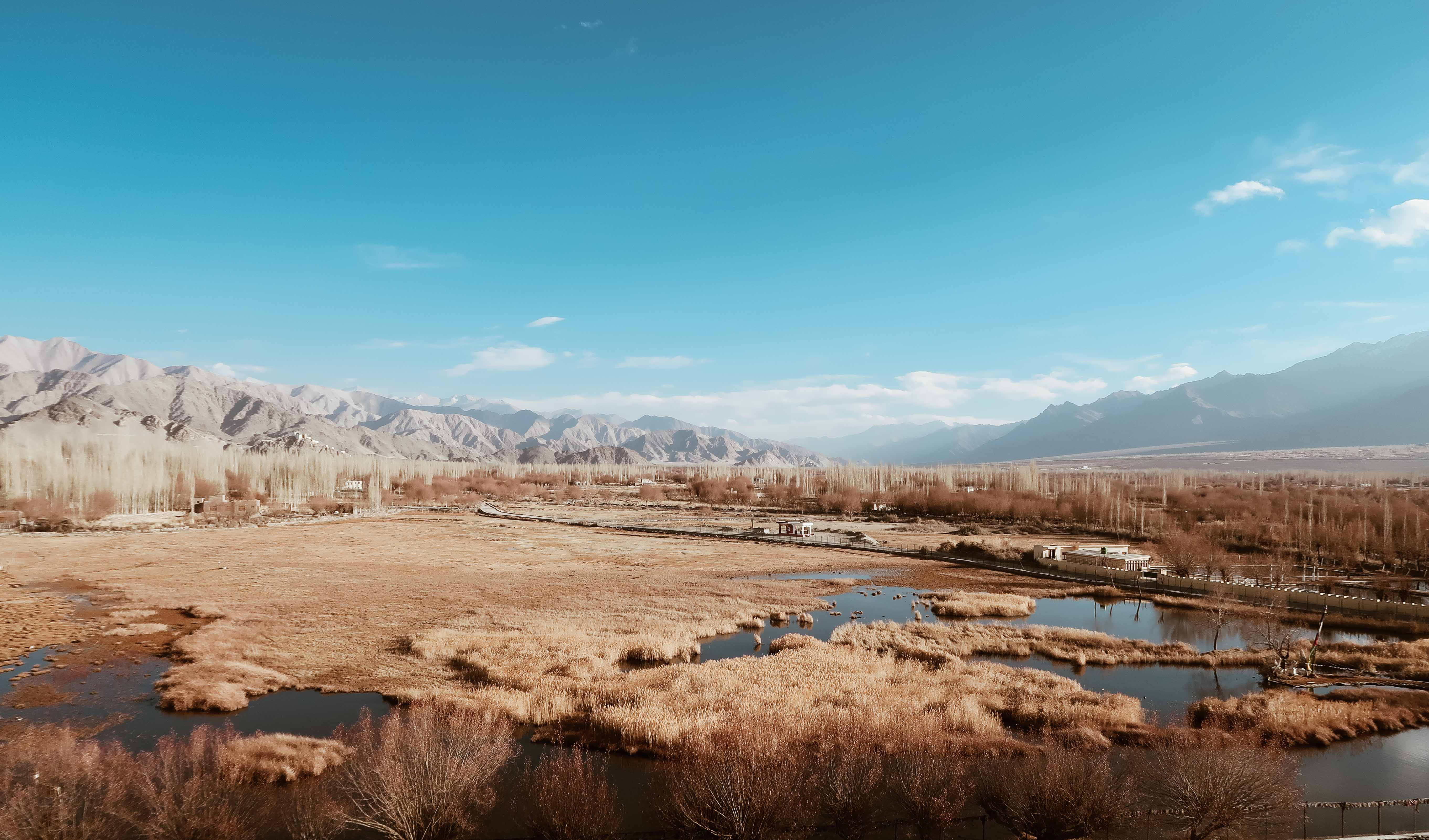 DAY 9
We didn't do much on this day. All I remember is we were walking around the city again and sometimes we had the scooter with us.

Oh! Probably, the most interesting thing that happened on this day was we spent a lot of time to visit the Tibetan Refugees Market. In here, there are a lot of nice trekking jackets, boots, bags and pretty much anything that you can name it though. The best part is, the prices were really cheap! Well, we didn't buy anything. I think I don't really need them because our trip was almost over and I just didn't see the point of taking them back at home. By wandering around the market, I felt enough.

After the market, we thought about going to Leh Palace again. But this time, we wanted to go in. From the inside of the palace actually quite interesting, because we could see more views from different kinds of angle. Moreover, there were some photos from the past and there were few interesting spots. I liked the outdoor hall a lot.

Oh ya! Another most interesting part was the part where we decided to go to Shanti Stupa. So what is this place you may ask? Basically, it is a Buddhist white dome at the top of the hill and from here we could get a panoramic view of the Leh city and the mountains as well. Many people came here not just as tourists but also for praying. When we were there, even soldiers from a nearby camp came here and spent some times to pray and enjoy the view. I love this place!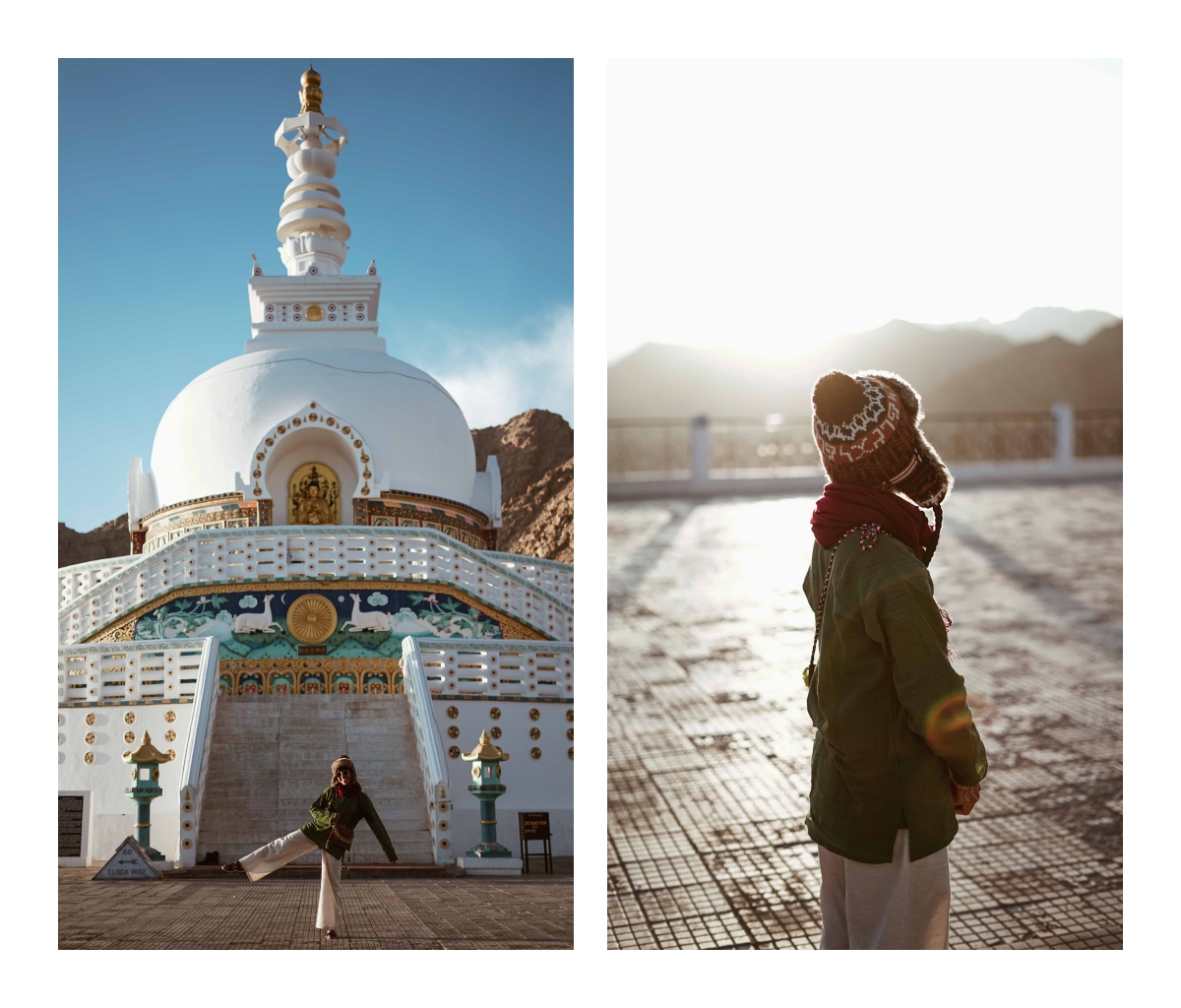 DAY 10
Finally, we arrived at day 10. This day was the day before we flew back to Delhi and home. So, we tried our best not to make ourselves tired. We rested all day long! But, when around 15.00, we both felt we need to go somewhere. At least, to enjoy our last sunset in Ladakh, Leh. Kevin went out from the room to warm up the scooter. Just for your information, to warm the scooter it took him at least 30 minutes. Yes, we were always struggling every single time we wanted to go out.

At this time, we did not know where to go but I just had one in mind. We went to Shey Palace again! I know there are some other places which probably more interesting than here, but I just love spending my sunset time at this palace. Because from here, I could see the mountains and mt. Stok Kangri which stand as the tallest around made it look like the Everest. Then, in between, there was this green and lush park that made it just wonderful to see. I don't quite know how to describe it more to be specific but if I have a chance to go back to Leh for the 3rd time, I definitely want to be here again, at Shey Palace.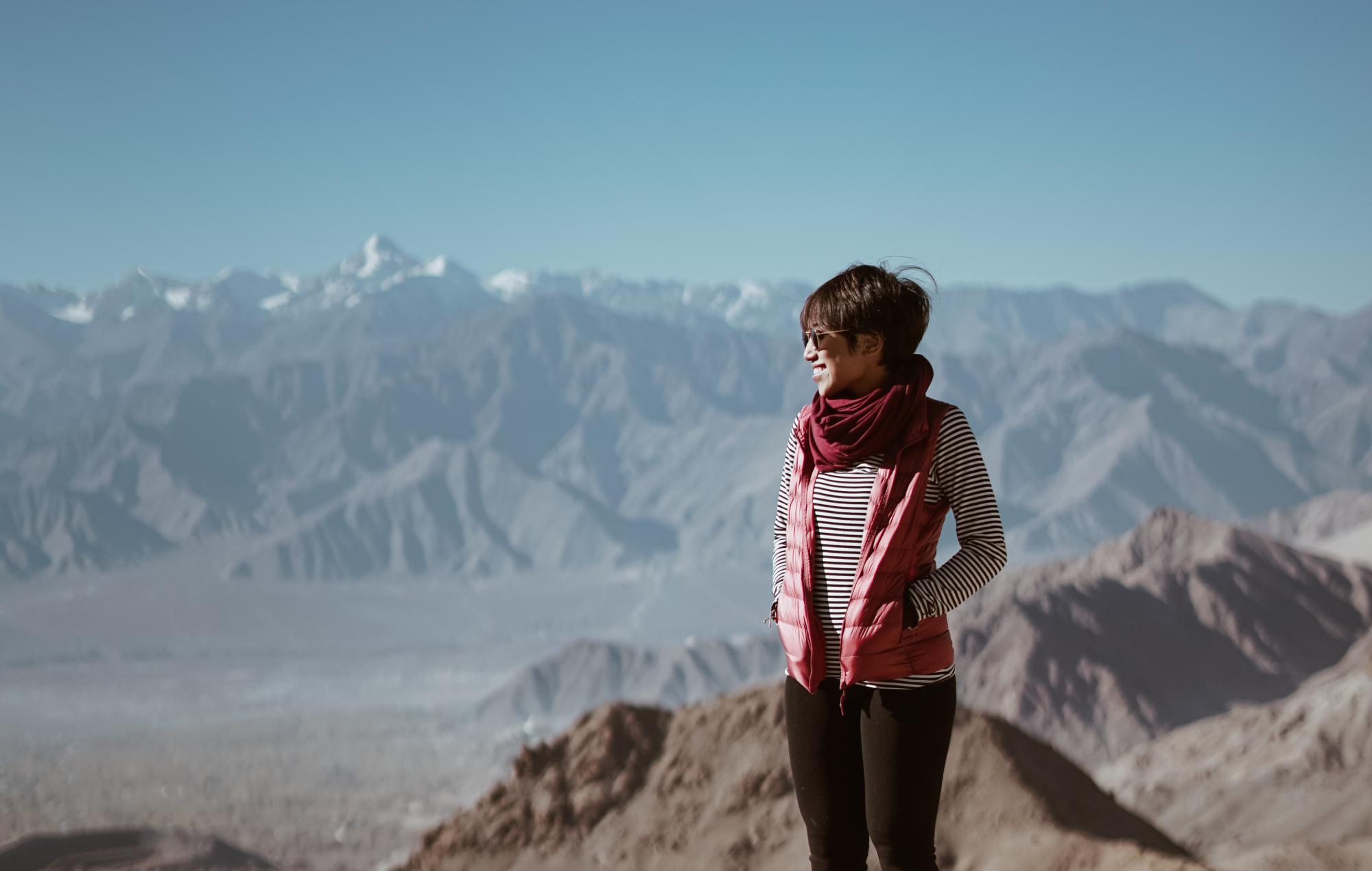 DAY 11
WE FLEW BACK HOME :')


HOW MUCH DID WE SPEND FOR THIS TRIP?
Flight from Jakarta – Kuala Lumpur = IDR 1.6jt (INR 7.500)
Flight from Kuala Lumpur – Delhi = IDR 1.8jt (INR 9.000)
Flight from Delhi – Leh = IDR 1jt (INR 5000)
Taxi from Leh airport – Zaltak Guesthouse = IDR 60rb (INR 300)
Zaltak Guesthouse per 6 nights = IDR 800rb (INR 4200)
Meals per day per person = IDR 50rb (INR 250)
Scooter rental per day= IDR 100 rb (INR 500)
Trip from Leh – Khardung La – Nubra Valley – Pangong Tso Lake – Leh per 2 persons including permits to travel in Ladakh region= IDR 2.5 jt (INR 12.500)
Hotel in Nubra Valley per room = IDR 400rb (INR 2000)
Groceries = IDR 100rb (INR 500)
Shopping = IDR 100rb (INR 500)
Entrance fee Leh Palace = IDR 7000 (INR 35)
Flight from Leh – Delhi = IDR 1jt (INR 5000)
Flight from Delhi – Jakarta = IDR 1.8 jt (INR 9000)